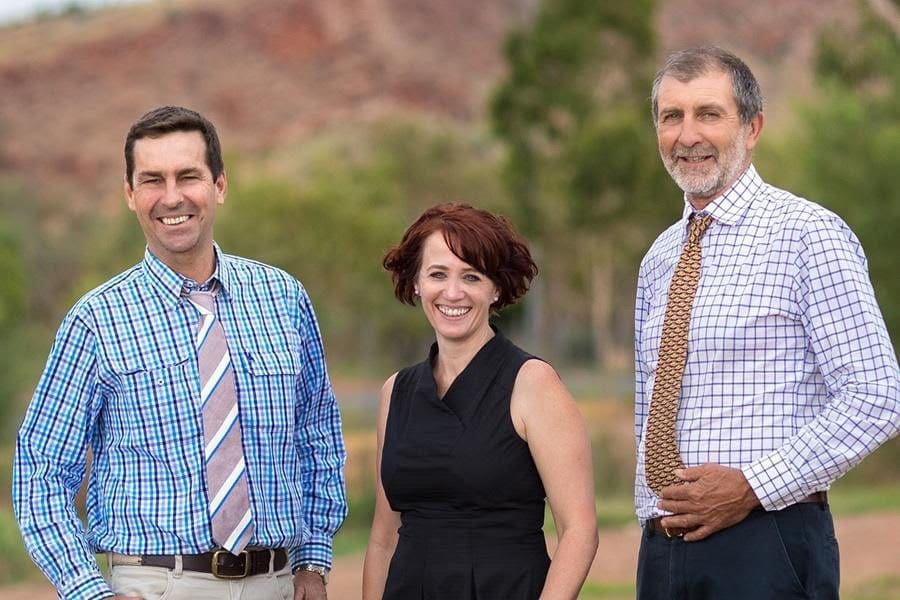 Cattle Council President Howard Smith, CEO Margo Andrae and Cattle Council Vice President Tony Hegarty.
After holding its 2017 annual general meeting in Alice Springs earlier this week the Cattle Council of Australia has announced a Chief Executive Officer to replace Duncan Bremner, who resigned from the position in July.
Margo Andrae, who joined CCA in March to manage its governance, communications and industry engagement activities and who has been filling the interim CEO role since Mr Bremner's departure, has been appointed to the position full-time.
She also becomes the organisation's first female CEO.
CCA president Howard Smith said Ms Andrae in that time had demonstrated her capability to lead the organisation.
He said the Cattle Council board was also delighted to appoint its first female CEO.
Mr Smith said the appointment provides CCA stability and leadership as the industry moves forward in a challenging environment over the coming years.
"Margo's leadership will bring new direction and a stronger focus on communications, stakeholder engagement and advocacy within the Australian cattle industry," Mr Smith said.
Ms Andrae has previously worked with the CSIRO, the Rural Industries Research and Development Corporation, local Government and was involved in the National Vocational Education reform process on behalf of the food and agribusiness sector.
"On behalf of the Cattle Council board and staff I would like to congratulate Margo on her appointment as Chief Executive Officer," Mr Smith said.
Following the 2017 AGM in Alice Springs Mr Smith has now commenced his fourth and final year as CCA president. CCA presidents are elected to two-year terms and can serve a maximum of two terms, meaning Mr Smith's term as president will end at next year's AGM in November 2018.
NSW Farmers' Tony Hegarty is the council's vice-president.
The Cattle Council board also comprises:
Geoff Pearson (Western Australian Farmers Federation)
David Lovelock (Pastoralists and Grazier's Association, WA
)
Amanda Giles (Livestock SA)
Markus Rathsmann (Northern Territory Cattlemens' Association)
Brett Hall (Tasmanian Farmers and Graziers Association)
Faye Tuchtan (Victorian Farmers Federation)
Peter Hall (AgForce, Qld)
Mark Greening, NSW (Independent Director – Southern)
David Hill, Qld (Independent Director – Northern)