Industry stakeholder groups are considering a significant change to the Meat Standards Australia process, which would see the current boning group approach to sorting carcases replaced by a more efficient and accurate linear, index-based model.
The carcase index would combine quality and yield estimates to better reflect differences in carcase quality.
Currently, boning groups are being used as a de facto measure of carcase quality, but in reality are only a crude descriptor of quality, MSA meat scientists say.
An MSA carcase index would provide a more accurate descriptor that could be used to monitor both progress over time, and the impact of changes in management practises on carcase quality.
Providing a briefing on the index concept at a recent processor gathering in Adelaide was Stockyard's chief executive, Lachie Hart.
He said as a program, MSA had seen significant development over the last decade, including:
progressing away from independent grading to using company graders
progressing to include carcases with greater than 25pc Bos indicus content
introducing the effect of HGPs on eating quality
Boning Groups were introduced; initially four, then nine and now 18.
The volume of carcases graded continues to increase each year, now totalling more than two million annually.
A considerable amount of socialised industry funds had been invested in the MSA program, Mr Hart said.
"But as an industry, we need to get a lot better at adopting new science. For example, we're still using an MSA model which was developed in 2005. A further development of the model was released in 2009, and yet, here we are some three years later, and we still have not adopted the new science," he said.
AMIC members represented important links in the chain, and if they were to be responsible for delaying the adoption of science in the supply chain, it would prevent important feedback occurring up the supply chain, and in turn, prevent the necessary innovation to occur in the production sector.
"AMIC has always supported good science in formulating policy. We therefore have a responsibility to promote the commercialisation of the 2009 MSA model and any other developments in the future, to ensure the industry optimises its return on investment," he said.
"It is important to understand that MSA is a science-based program which is constantly changing to maximise value in the supply chain."
Mr Hart stressed that MSA was not a carcase grading system, but a cut-by-cook combination program that accurately predicts the eating quality for each cut based on how it is intended to be cooked.
Boning Groups were developed as a simple way of assembling MSA-eligible cattle into groups so that they can be processed efficiently in a boning room. They had been useful for this purpose, as well as providing a simple format to provide producers with feedback.
"However, I strongly believe Boning Groups have reached their 'use-by' date," Mr Hart said.
He put forward several reasons for this:
Boning Groups grade everything to the lowest quality in each group. Some primals which may have graded 4-star or 5-star will be downgraded to 3-star within the Boning Group, as this is the lowest level achieved by the other cuts harvested within that group.
Boning Groups apply a standard result across all cattle; not on a cut-by-cook method
Therefore Boning Groups can grossly misrepresent many cattle; they are not suitable – in fact potentially misleading – as a genetic or management tool; and are grossly inefficient as a payment tool.
Boning Groups had also become extensively used in the trade as a 'misleading' marketing tool, which was not the purpose for which they were intended, Mr Hart said.
"For example, some marketers say my MSA blades are better than your MSA blades, because mine are from Boning Groups 1 to 2, whereas yours are from Boning Groups 3 to 6."
"This is not only incorrect, it is also deceptive and misleading," he said.
Mr Hart said Boning Groups did not allow for optimisation of the MSA Model. It did not give the flexibility to use or customise the MSA model to fit in with customers' requirements.
"For example, if I have no intention of collecting MSA knuckles, why should I rely on a Boning Group model that does include MSA knuckles in its calculations?" he asked.
Nor did Boning Groups provide a flexible framework to adopt new science or new models in the future.
"This has been made very clear with the potential adoption of the 2009 Model. It is impossible to squeeze the new model into the existing 18 Boning Groups, without it impacting on the outcomes," Mr Hart said.
Index alternative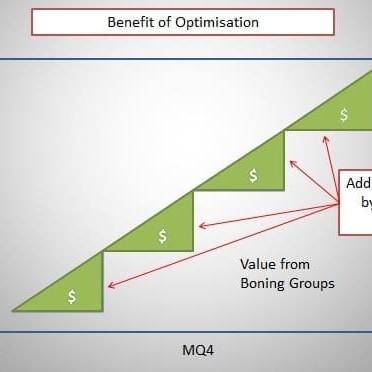 So what does the industry do if it does away with the MSA Boning Group model?
The answer is replacing it with an Eating Quality Index.
Meat scientists who form the MSA pathways committee are developing an Eating Quality Index which promises to be ready for release by the end of 2012.
The objective is to provide an accurate indexing of all cattle graded, based on the eating quality for each primal in that carcase.
The problem is there is no single indicator muscle for quality. For example:
Estimated Bos Indicus content; hang method and HGP treatment have different effects on different muscles.
Ossification and marbling have different co-efficients for different muscles.
The solution MSA meat scientists have come up with is very simple.
There are two components in building an EQ Index:
Quality – described by the MSA model, and
Quantity – described by the weight of the cut or yield (measured directly or predicted).
Therefore, for each carcase, the MSA parameters are uploaded into the system. The model will then calculate the MQ Score for each cut-by-cook method, and from there, calculate an MSA Eating Quality Index for that particular carcase.
What are the benefits?
Mr Hart outlined a number of advantages of establishing an MSA EQ Index.
It is possible that every animal processed in Australia could receive an MSA EQ index. This would allow the industry/MLA to undertake regular quality audits on the Australian beef herd and set key performance indicators around research projects that influence eating quality. This would be a very powerful tool for industry.
Producers would be able to accurately benchmark their cattle against the EQ Index and easily assess the genetics and/or production systems they have employed.
Producers would be able to add the EQ Index to their Estimated Breeding Values
Processors would be able to apply a number of commercial 'Add-ons' to EQ Index.
For example, a processor may add a market value to each cut-by-cook method to develop customised value-based grids to purchase cattle.
A processor may customise the EQ Index to only focus on the cuts-by-cook method they wish to harvest. This will allow the processor to establish customised production lots that they can put through their boning room efficiently. These production lots will be more accurate, more flexible and more relevant than Boning Groups.
What is MSA Optimisation Modelling?
This 'customisation' of the MSA EQ Index and MSA Model is what will become more commonly known as MSA Optimisation Modelling.
MLA is currently working to develop an implementation plan for Optimisation Modelling. As part of this plan, it will come up with a process to meet with each enterprise during the implementation period, to assist them in their 'optimisation' process. The outcome from this process will be different for each enterprise. The process will:
ascertain what each enterprise wants from the MSA model, including:
What primals they want to harvest from their carcases
Whether they want to harvest 4-star and 5-star primals
What productivity constraints they need to work within.
If available, MLA will use historical data from each enterprise to undertake a number of 'what-if' scenarios.
MLA will then assist that enterprise in developing a number of production runs that optimises the harvest of MSA product to meet that company's requirements.
MLA can also facilitate the development of 'add-on' software by third-party IT service providers that allow company management to easily customise the MSA model, analyse the data in real-time and/or develop value based purchasing grids around the EQ Index.
The 'New' 2009 Model
Mr Hart said a situation existed where the industry needed to implement the 'New' 2009 MSA model as soon as possible.
The adoption of the new version of the MSA model would:
Ensure that the model remains relevant to include current industry practices and protocols that impact eating quality
Ensure the model is accurate – achieved through building the data for each possible cut-by-cook outcome combination
Ensure consumer expectations can be accurately predicted for cooked beef outcomes
Deliver a model that will be used as a tool to underpin beef eating quality, ultimately increasing beef consumption.
The new model has a number of changes:
It has added two more cook methods – Shabu Shabu and Yakiniku – which have particular application in Asian markets. These two cook methods also offer opportunities to add value to some primals which would have been 'ungraded' in the previous MSA model.
Further enhancement of the existing model in the area of Tenderstretch and ageing parameters
The measurement of marbling has been increased to 800 to include the better quality genetics now in use (Wagyu).
Some minor enhancements have been made on some primal cuts, such as knuckle eye, and fat cover assessment.
The biggest change from the previous model is in the MQS4 allocation. There is now more weighting on flavour in the new model and less on tenderness. This will lead to a number of areas for further research, but the MSA model suggests marbling, ageing, primal cut and cook methodology will all increase in importance.
Mr Hart said enterprises needed to gain a good understanding of the Index model and how it might be used to optimise the value for each business.
"We also need to endorse the new 2009 MSA model as part of an implementation plan which includes the adoption of the EQ Index and the Optimisation Modelling," he said.
Where to now?
The discussion process among MSA stakeholder groups is now well underway, with state and national council meetings through October. The MSA task force will meet in early December to make a decision on adoption, which could see an implementation and transition phase occur sometime in early 2013.
The new MSA Index model will be discussed during a session at BeefEx, the feedlot industry's biennial conference starting today. Beef Central will provide comprehensive reports from the BeefEx conference in uploads in coming days.