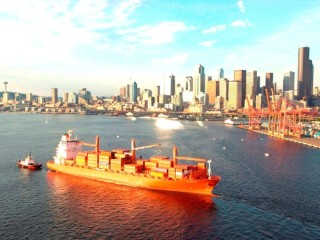 International and domestic meat traders will inevitably exercise 'extreme caution' in buying patterns in the wake of the most turbulent period seen in the global economy since the arrival of the Global Financial Crisis in July 2008.
Yesterday saw unprecedented swings in currency and stock market value in Australia and overseas, creating a sense of enormous uncertainty in the minds of meat traders.
Panic selling saw 5.5 percent wiped off the value of Australian stock market early yesterday before a huge late rally clawed back almost $60 billion in shareholder value. European markets last night dived after opening, all slumping more than 5pc, but later regained ground.
US stocks also plummeted more than 5pc, with the Dow Jones Industrial Average recording its steepest one-day drop since the financial crisis of 2008.
S&P lowered the US long-term sovereign debt rating from AAA to AA+ after markets closed Friday, citing Washington's inability to rein in its mounting deficits. US stocks started falling as markets opened on Monday and hit new lows after US President Barack Obama gave a speech to defend Washington's credit-worthiness and declare that the US "always will be a triple-A country''.
Gold, seen as a safe-haven asset in time of financial turmoil, was yesterday trading for $1716.68/oz on the spot market in New York.
At one point yesterday the A$ fell below parity with the US$, before recovering to close at above US102c on hopes of US intervention on monetary policy. That represents decline of close to 10pc in value from the recent high-point seen on August 1. This morning the A$ has opened stronger again at US103.75c.
MLA economist Tim McRae again reinforced the message that from the meat trade's perspective, "perhaps the only thing worse than a high dollar is a volatile dollar."
"There is undoubted benefit to Australia's export competiveness in seeing the substantial currency falls we have over the past week. But while ever the dollar is performing as erratically as it currently is, international beef traders, at least, are likely to be sitting on the sidelines," he said.
Looking at the circumstances that occurred during the onset of the GFC in 2008, the market was performing strongly up to July, when the dollar peaked at about US98.3c, before dropping like a stone through August/September to around US60c.
While it is unlikely to dollar would decline 28pc over four weeks in this latest event, the fact that the market was bailing out of other currencies in favour of US dollars at present was 'counter-intuitive' and defied explanation, he said.
The prospect of a double rate cut (0.5pc, rather than the more conventional 0.25pc) by the Reserve Bank of Australia for September is now being discussed in finance circles. If it happens, that would normally have a fair impact on the A$, analysts said yesterday. It could also help stimulate domestic consumer spending a little, due to reduced mortgage pressure.
One big factor this time around could be the buying habits of consumers.
In 2008-09, there was a distinct 'trading down' pattern occurring, where defensively-minded consumers abandoned higher-priced steak cuts for secondary cuts or mince, while also shifting out of dining in restaurants and food service in favour of eating at home.
That pattern has not yet fully reversed, and consumers have not yet started 'trading back up' again. While there had been some glimpses of elevated demand for quality product recently, it was still a long way from pre-GFC days, an analyst said.
That begs the question: where do consumers trade to from here, if economic pain becomes more acute and longer-lasting. It really only leaves cheaper proteins like chicken and pork, the analyst said yesterday.
That process would certainly delay any return in higher demand for higher-value product, especially grainfed.
Whatever happens over coming weeks and months, it is likely that the improved competitiveness of the A$ is likely to be overwhelmed by underlying concerns over the global economic malaise, in terms of opportunities for export beef, observers say.