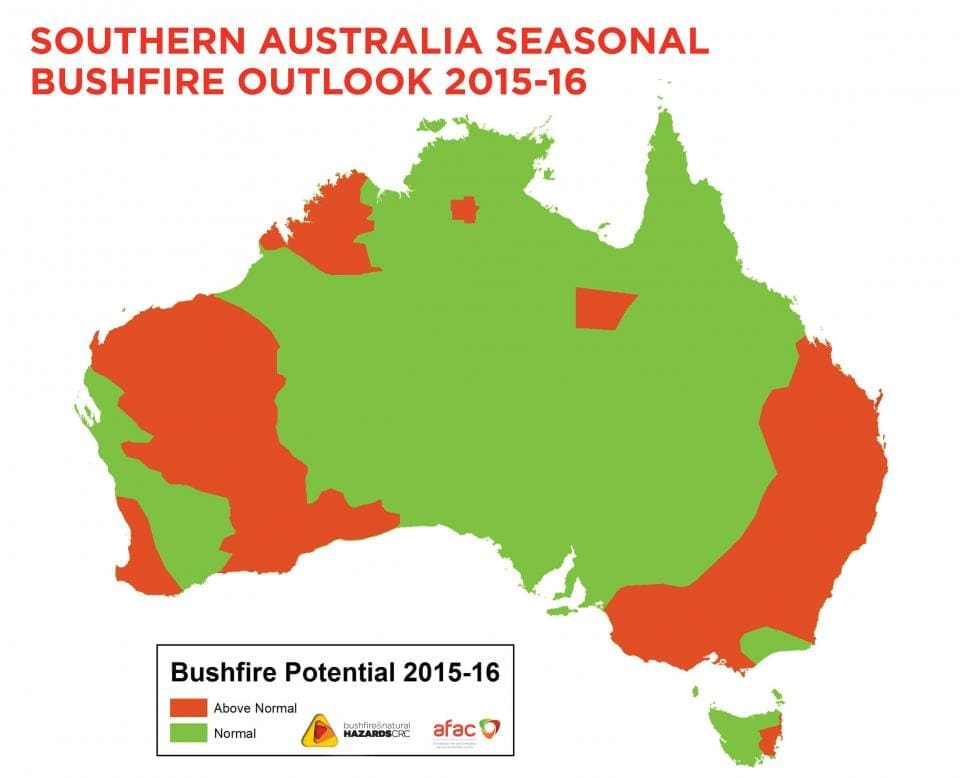 Large areas of southern Australia, especially along the east and west coasts extending inland, face above normal fire potential for the 2015-2016 fire season, despite many fires in some parts of the country over the last 12 months, according to the 2015-16 Southern Australia Seasonal Bushfire Outlook released today.
The outlook is decided at an annual workshop convened by the Bushfire and Natural Hazards CRC and the Australian Fire and Emergency Service Authorities Council (AFAC), and is used by fire authorities to make strategic decisions on resource planning and prescribed fire management for the upcoming fire season. A similar forecast for northern Australia will be released later this year.
In releasing the 2015-16 forecast the Bushfire and Natural Hazards CRC said the above normal forecast is mostly due to a strengthening El Nino over the Pacific Ocean, currently tracking as one of the strongest on record, but is made more complex this year by the influence of warmer sea temperatures in the Indian Ocean.
There have also been significantly below average rainfalls over the last decade across almost all of eastern Australia, the west coast and Tasmania. Such underlying dry conditions mean that any surface moisture from recent rains will quickly decline once temperatures begin to warm. 2014 was Australia's third warmest year since records began and, when combined with such long term rainfall deficiencies, an early start to the bushfire season is likely in many areas.
To view the full forecast click here