THE Australian Agricultural Co has posted an improved operating profit of $30 million for its first half of the 2021-22 financial year, up 28pc on the year before, driven by stronger operating margins.
It is the company's fifth consecutive half-year of operating profit for the nation's largest beef producer.
The result was particularly positive, in context of the reduced meat volumes sold due to the historical impacts of drought and the 2019 Gulf of Carpentaria flood event.
Managing director Hugh Killen said the result demonstrated the strength of AA Co's business in what was still an uncertain operating environment.
"What's especially pleasing is how we achieved the result, with higher margins in-market and growing brand awareness," he said.
Overall, the business delivered a nine percent increase in average meat sales pricing compared to the previous period, driven by strategic market allocation and the continued execution of our branded beef strategy.
"The result was also supported by higher cattle sales margins on the back of record high market prices," Mr Killen said.
Mr Killen said strategic market allocation was a key factor in the result, underpinned by AA Co's strong brand portfolio and distribution partnerships.
Westholme and Darling Downs Wagyu brands now represented 83pc of total branded meat sales, further demonstrating progress against the company's strategy, he said.
There had been a 9pc increase in Wagyu meat sales price per kilogram year-on-year, to $17.52/kg.
"AA Co has continued to adapt to fluctuating market dynamics. Those adjustments have helped drive 55pc growth in branded sales growth in North America versus the same period last year," he said.
There was strong demand for high-value loin and rump cuts in North America, supporting an average branded meat sales price per kilo increase in the region of 33pc.
AA Co had re-allocated some export product away from Asia to realise those premiums, though the region still represented more than 50pc of total meat sales.
There had been promising signs of COVID food service restrictions starting to ease in some markets, Mr Killen said. "We will continue to monitor the changes and look forward to the return of diners to restaurants."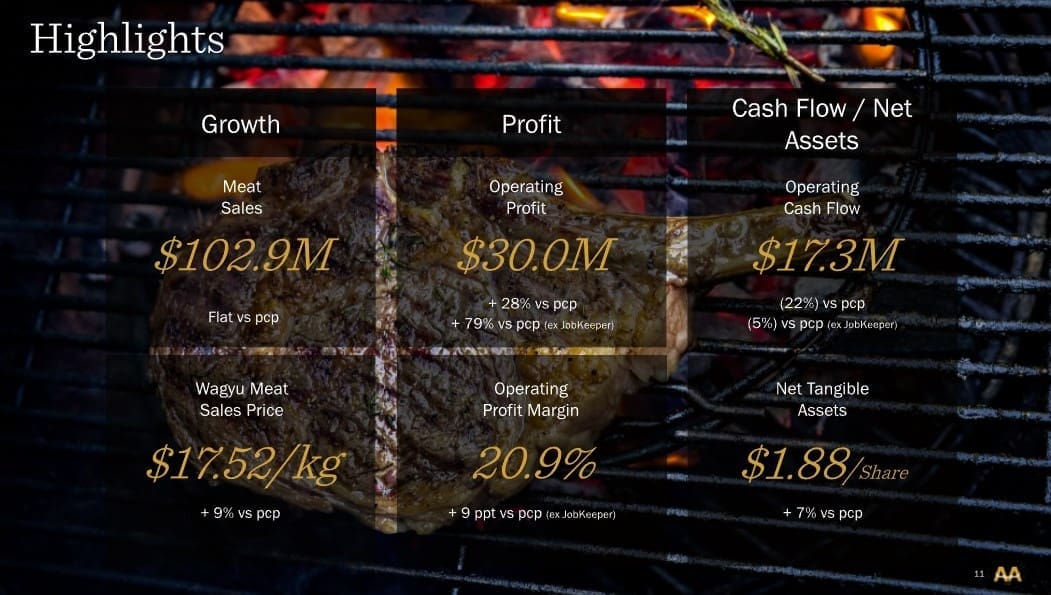 In terms of this year's operating environment, lower calving levels during 2018-2020 due to prolonged drought and the Gulf flood event continued to impact AA Co's meat volume sold in the half, with a decrease of 8pc year-on-year.
This was consistent with the record low slaughter volumes being seen in the broader industry.
Increased brandings during the period contributed to an overall increase in total liveweight kilograms produced of 31pc versus the first half last year.
Cost of production declined 13pc versus the prior period, off the back of improved seasonal conditions; a 31pc increase in kilograms of beef produced, compared with the prior period; and management's continued focus on costs.
A strong improvement in net profit after tax of $85 million, versus the same half last tear, came off a positive (albeit unrealised) $87 million increase in the value of the company's cattle herd, largely driven by current record Australian cattle prices.
AA Co's net assets now exceed $1.1 billion in value, reflecting strong growth in the value of both the company's cattle and the land assets. This is translated into a higher net tangible assets per share figure of $1.88 – a 7pc increase compared with the full 2020-21 year result, and a 22pc increase compared with the same six months last year.
Sustainability Framework
Mr Killen touched briefly on AA Co's new sustainability framework which will be released in detail tomorrow (separate report to follow).
The new framework would underpin the company's future as a food producer and landowner, he said.
"Sustainability has always been a core part of our business. In 2019 we launched our sustainability benchmarking report which was recently updated with our progress and key metrics."
"The framework will embed sustainability at the core of our business and will be used to prioritise our activities, set goals and hold ourselves accountable. It deals with the here and now while helping us evolve together to benefit future generations," he said.