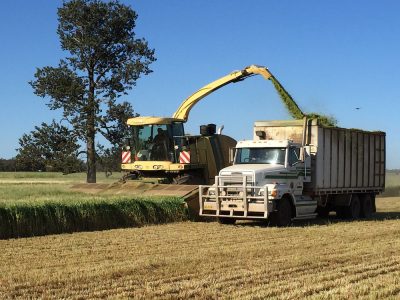 Cattle producers who punted on planting oats back in autumn are now wrestling with the happy dilemma of what to do with one of the biggest and best forage crops they have ever grown.
Stories abound of producers with oats up to their chests and cattle unable to keep up with the mountains of feed growing in front of them.
Numbers are being crunched on buying additional cattle or taking more stock on agistment to capitalise on the excess feed.
However, with the high cost of buying cattle on the current market, and questions about whether prime cattle prices will hold up under the weight of increasingly challenging export market conditions, another option is also gaining traction.
That is to bring in the professionals to chop and bale or ensile surplus oats, to transfer some of the benefits of this great season over to the next inevitable dry spell.
The only catch is that the same wet conditions that have delivered one of the best crops on record are also inhibiting the potential to preserve this crop for the future.
Continued rainfall is making it difficult to get machinery onto wet paddocks.
Silage contractors, already busy with a bumper spring cereal silage season, are already running behind due to the continued wet weather.
One of the largest silage making companies, Lallemand, told Beef Central that demand for silage making services was now being received from cattle producers who would normally graze their oats.
Their crops have "just taken off in front of them", so many are now seeing value in the silage option.
"They have got cattle on their crops but they just can't keep up with it," Jordan Minniecon from Lallemand said.
"With the way cattle prices are, it is difficult to go out and buy another couple of hundred steers to knock it down, so they are turning it into silage.
"It is a great opportunity while the season is good to make silage, because they have a reserve to put away for the next dry time, and they can drought-proof themselves with the feed they have now."
The best time to turn a crop into silage depends largely on whether producers are looking to maximise protein or yield.
Growers chasing the best quality, highest protein silage should chop and ensile the crop at the boot stage, while those going for yield – which is likely to be most beef cattle producers – is to let the crop go through to the soft dough stage.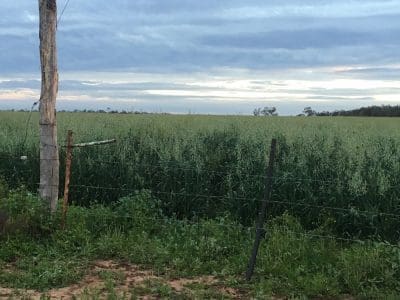 Silage that has been properly sealed and managed silage and which has undergone a good fermentation in the pit will provide a feed resource for years to come.
One producer at Chinchilla still has viable silage that is 30 years old, Mr Minniecon said.
While some blocks could remain too wet and will ultimately have to be grazed, Mr Minniecon said it is likely a lot will still be chopped for silage where it is dry enough to operate.
Oats-fed cattle starting to appear on market
The first crop-finished steers were due to hit southern Queensland and northern NSW cattle markets in recent weeks but have been stalled by wet conditions.
Joe Lehman at Grant Daniel Long, Dalby, told Beef Central this week that the first oats-fed steers were just starting to come on to the market now, with big numbers expected to start flowing over the next fortnight – provisional on continued wet weather.
Good numbers are then expected to remain flowing onto the market through to late November, which could put some pressure on finished cattle prices.
The impact of the wet conditions on the market is highlighted in recent yardings at Dalby, which is Queensland's largest selling centre for prime cattle.
In the past two weeks yardings have been back to 1000 head and 2600 head respectively.
That compares to normal yardings of 5000-6000 head at this time of year, Mr Lehman said,