THE Brisbane Broncos NRL club has moved to publicly reject media reports this week that its nutrition program encourages players to adopt veganism.
Brisbane's Courier Mail reported that Brisbane captain Darius Boyd has been attempting to persuade his Broncos teammates to follow his lead and go vegan in their bid to win an NRL premiership.
According to the report, the star winger/fullback spruiked the benefits of a meat-free diet for the entire Broncos squad after watching the Netflix documentary The Game Changers.
The film, produced by Arnold Schwarzenegger, makes the case for plant-based diets for athletes.
But the article also indicated the move was having little effect, with winger Corey Oates telling the Courier Mail there was no chance of him cutting meat out altogether.
He told the newspaper Darius Boyd had spoken to players about ditching meat, but the Broncos winger said: "I can't live like that every day."
He added not many players were eager to try veganism long term.
As more media outlets jumped onto the story the Brisbane Broncos was forced to release a statement denying its nutrition program endorses veganism.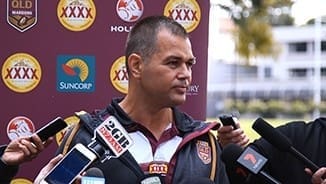 Coach Anthony Seibold said the Broncos' coaching staff had never considered the implementation of a diet that did not include meat for the players.
"We do not endorse or use a diet of this type in our program," he said in the statement.
"And we will not be adopting any approach similar to this kind of diet.
"The Broncos have full-time dietary staff whose important function is to monitor what the players eat, as it is vitally important to our training and development program.
"We also have some high-quality meat suppliers that we value enormously as part of our program.
"If individuals choose this approach that is totally fine for them to make that choice, just as it is if someone gave up a type of food because of religious or ethical beliefs.
"But any suggestion the club would be embarking on a vegan-type approach to player nutrition would be totally incorrect."
'A lot of confusion out there': sports nutritionist
A high profile sports nutritionist told the Red Meat 2019 conference in Tamworth on Wednesday that conflicting messages about red meat in the media meant there was a lot of confusion among athletes as to whether they can or should eat red meat.
Peta Carige, who grew up on a property in Central Queensland, is now a sports nutritionist operating a private practice in Sydney that provides dietary advice to a wide range of elite athletes, including Olympians and professional rugby league players.
She said she is often asked by her clients if it is okay to eat red meat.
"I tell them absolutely, yes, they literally just want a little bit of reassurance they are still allowed to eat red meat."
Despite the initial hype generated around meatless diets by the Game Changers documentary, she said she had been surprised by how short-lived the social media spike generated by the film had been on social media.
"It came up and it crashed quite quickly in my world, people came out against it, all the professionals and online very quickly and all of the athletes.
"So it hasn't had a big impact and people have realised very quickly how biased it was and it was a lot of misinformation."
She said healthcare professionals knew the science behind red meat's role in a healthy diet, and particularly its benefits as a source of iron for females, pregnant and breast feeding mothers and toddlers.
But she said health professionals did not necessarily know how to answer questions about red meat's role in the environment from a sustainability perspective, and she suggested the industry do more to work with them to help them to answer those questions.