While Beef Central prefers to avoid publishing detailed class-by-class stud beef and commercial cattle show results, we spent time at the Brisbane Ekka late last week looking for the stories behind the major competition winners.
This morning we offer some snapshots among successful exhibitors from around the commercial cattle, carcase and stud beef judging rings…
MSA uptake drives interest in yearling Red Angus bulls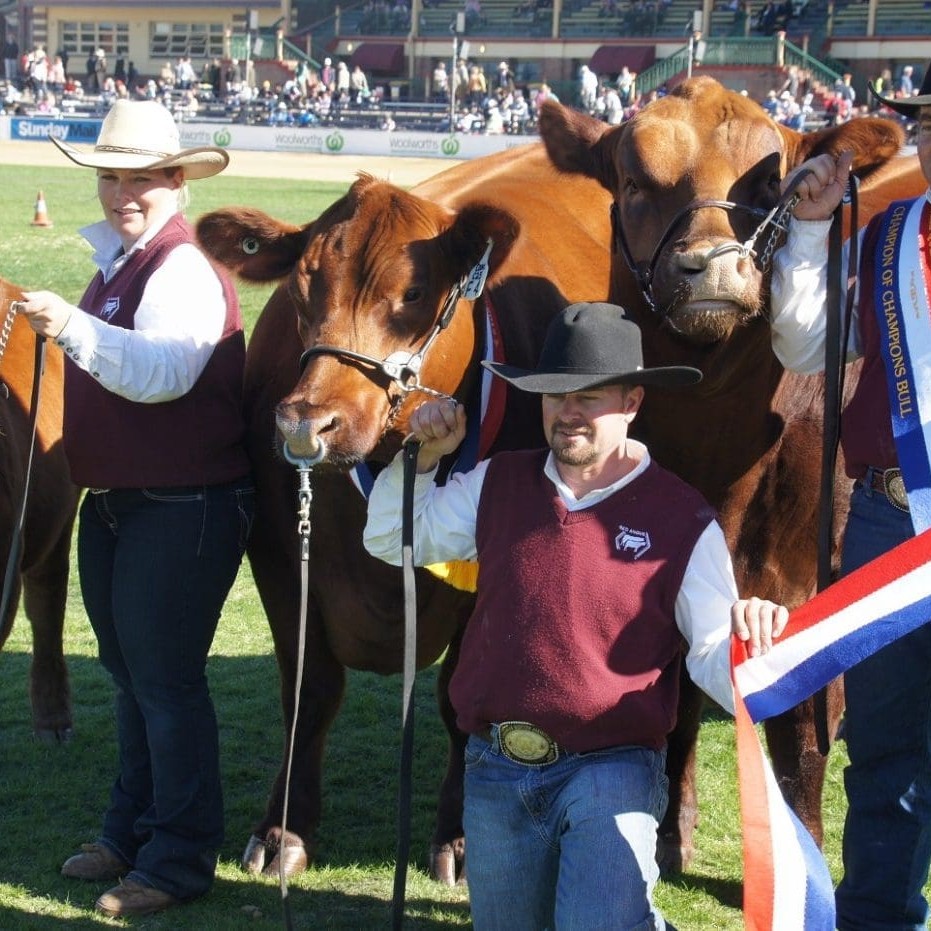 Brisbane's 2012 interbreed champion bull, and a member of the interbreed winning pair was GK Federer F23, shown by Darling Downs Red Angus breeders Gavin and Kirrily Iseppi.
The 23-month-old calf was part of the Hordern Trophy winning interbreed pair at Sydney show this year, and was breed champion at Beef 2012 in Rockhampton in May.
The 1060kg son of Canadian sire, Fine Line Mulberry 26P, will not be offered as part of the Iseppis' sale program this year, but instead has emerged as a popular AI sire since his exposure at Sydney show in April. He has been collected regularly since then, with 'very solid demand' from Red Angus seedstock breeders, at a price of $40/straw + GST.
Federal will head to Melbourne Royal Show in September, following a five-week break, before concluding his show-ring commitments at Sydney Show next Easter.
His sire, Mulberry, was twice Canadian Red Angus bull of the year, and his semen was made available in Australia about four years ago through a marketing deal negotiated by the Iseppis – although they did not use him widely themselves over the first few years after his release.
"But the bit that we have used more recently has really left an impact," Mr Iseppi said.
Mulberry semen in Australia has now sold out, but he is also having something of a resurgence in the North American market. Recently a sale in Kansas, called Mulberry Mayhem, featured an entire catalogue of his sons and daughters, or cows in-calf to him. The catalogue included 300 doses of semen which sold for $280 a straw.
The Iseppis' Brisbane champion is the oldest of their Mulberry calves. He was out of one of the stud's foundation cows, IBR Red Bella R512, bought from Berry and Bella Reynolds. Now 16 years of age, she has missed only one calf during her breeding life, and then only because she was pulled out of natural mating production to be flushed.
The Iseppis have two full brothers and two full sisters to the Brisbane interbreed champion on hand, but no decision has yet been made about their sale futures. It is possible that one or more might be marketed at the BST sale at Molong, NSW on September 13.
While the Iseppis find their biggest registered female market for Red Angus is in the southern regions of Australia, the momentum for bulls is coming from 'anywhere and everywhere' in Queensland.
A lot of it is driven by commercial cattlemen with red-coated herds wanting to push more heavily into MSA supply, or feeders, they suggest.
"We had a buyer last year from north of Muttaburra with 7000 Red and Grey Brahman females, who took every spare Red Angus bull we had at the time, right down to 10 months of age, and paid $5000 a piece," Mr Iseppi said.
"His plan was to join the bulls to lines of heifers, for MSA production."
"There's a lot of red-coated cattle out there, and following the live export dilemma of last year, it has obviously shaken a few northern commercial breeders up and prompted them to seek some diversification in genetic type," he said.
Mr Iseppi said his entire annual herd bull crop was now turned-off as yearlings, 10-12 months of age, with no bulls apart from show cattle held for a second year. "Typically they are buying them during a six-to-eight week block around now, and they are going out into the paddock in October-November."
With the run of good seasons, yearling bull matings were probably more of a proposition in northern Australia now than they could be at other times, when seasons were less favourable.
Mr Iseppi agreed that there was a greater temptation to run young bulls in a year like this. "But we still tell clients there is no point in taking these young bulls home and flogging them at 16 months of age, because while they are well-grown, they would not come back and perform next year. But if they use them right the first year, they will get an extra season out of them."
Three year mission to sell 'Northern Angus' concludes
The Raff family, perhaps Queensland's best-known breeders of Black Angus cattle, on Friday completed a three-year mission to elevate the national awareness of the quality of 'northern' Angus seedstock on a high note.
Their senior and grand champion Angus cow Raff Blackbird DE349 was judged interbreed champion female among 25 competitors.
David and Jill Raff and son Andrew and his wife, Anna attracted a few headlines three years ago when they broke a 20-year abstinence from show-ring competition. Many were surprised at the time, given that the Raffs are dogged supporters of objective measurement. The notion of subjective assessment by a single judge in a show ring seemed to be at-odds with their broader approach to cattle breeding and selection.
The Raffs first showed cattle at Brisbane exhibition in 1974, but gave it away in 1993, to focus on more 'contemporary' cattle assessment and measurement.
So why perform a back-flip and re-enter the show ring in 2010?
"It's simple," David Raff said.
"Most of the Angus breed's seedstock industry is located in southern Australia. We could say what we liked about the quality of our own (Queensland-based) Angus cattle, but we were having trouble getting southern breeders to come up and have a look."
The problem, in the Raffs' minds at least, was about perception. Queensland was being tagged as an insignificant outpost for Angus seedstock production, and that 'all the best bulls were being bred in the south.'
"We decided there was only one way around the problem: to take our cattle back to the breeders, and the best way to do that was to get back into the show-ring again."
The results achieved, as well as the greater impact on southern breeder awareness and recognition, have far exceeded the Raffs' expectations.
Since their return in 2010, they have produced a string of Royal and other major show breed and interbreed champions, led by perhaps the most highly decorated Angus bull of all time, Raff Empire. Empire was decorated Melbourne and Sydney champion in the past 12 months as well as at Rockhampton's Beef 2012, his final showing.
He earned a total of 11 inter-breed supreme beef exhibit titles over the past two years including the Dubbo Beef Spectacular and Melbourne Royal Angus Feature Show.
Empire was described by Melbourne Angus Feature Show judge David Bondfield as "the reason why Australia should be exporting semen to the US, not importing it." He is Raff's highest ranking MVP sire excelling in average daily gain, carcase weight, rib eye, scrotal size, weaning weight and yearling weight. At 32 months he weighed 1222kg, with a hip height of 60 inches.
Another of Raff's senior bulls, R. Dallas, was grand champion in Brisbane three years ago, and last Friday's Brisbane grand champion Angus female and interbreed champion, Raff Blackbird DE349, broke through for her first major win, having been 'bridesmaid' more than once.
"When we gave showing away in 1992, we perhaps felt that the show-ring lacked relevance, but I still believe that it is the only way you can truly benchmark your cattle against others – both within your own breed, and others. Above that, it is the networking achieved among fellow seedstock producers, seeing what each other is doing and why they're doing it," David Raff said.
The past three years' show-ring campaign for the Raffs had cost them a 'substantial six-figure sum,' he admitted.
"But we're in the business of producing a commodity. There is no use doing that if you don't get out there are market it effectively. It's part of the business, and we just have to be professional about it, and try to do it better than anyone else."
So was their show campaign successful? The stud's female production sale in March this year provided a useful barometer. A catalogue of 120 registered cows and heifers sold for an outstanding $4534 average, with active buyers from every mainland state.
Just as they did back in 1992, the Raffs now feel they have now achieved their mission, and have again withdrawn from showing stud animals.
But is it forever this time?
"We'd never say never," David said. "Andrew is still young, and he has his own young family coming through. It's possible we'll be back again. But we went in with a three-year strategy in mind: that cycle is now complete, we think we have met our objective, and we're sticking to it," he said.
The Raffs will offer a number of half-brothers to Raff Empire in their 2012 on-property bull sale on September 24.
Big Central Qld win in Santa ring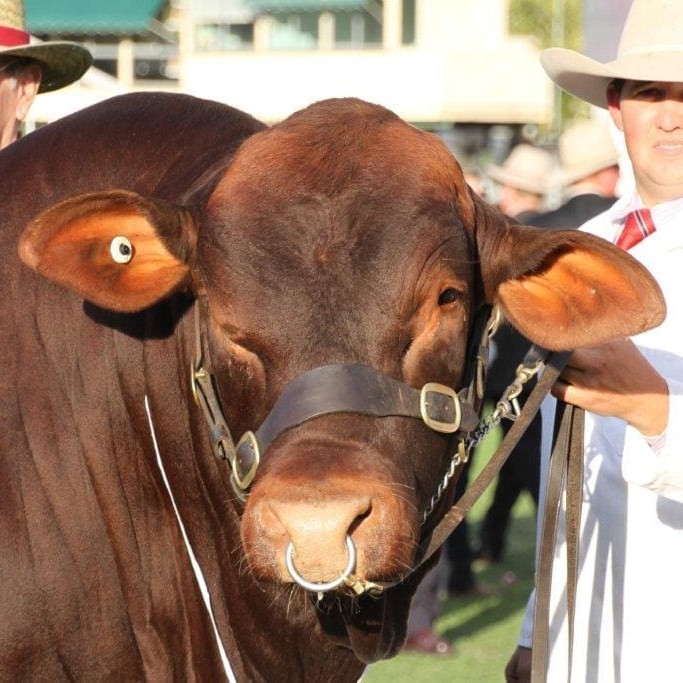 The World Santa Gertrudis Congress held in Brisbane during this year's Ekka was the catalyst for the largest showing of Santa cattle seen in Australia since 1993, numbering more than 200 entries.
Breeders from three states lined cattle up before judge, NSW commercial breeder Rob Hart. Some classes included up to 25 catalogue entries.
Clinching a significant bull and female grand championship double was Central Queensland breeder, Jason Wolff, Canowindra Stud, Emerald. The stud has not shown in Brisbane for 15 years, instead 'keeping it local' exhibiting at a few shows on the Central Queensland circuit. However this year's Congress was seen as a special occasion, and the results, with a team of just three head, certainly vindicated the decision.
Senior and grand champion Santa bull (pictured above) was Canowindra Jag, a son of little-heralded herd sire Nungaroi Utopia, while senior and grand female was Canowindra Ikea Rose, a Wattasanta Agooden daughter.
Both entries figured prominently in the interbreed bull and female standings, finishing fifth and fourth respectively against some outstanding opposition.
More on the World Santa Congress in coming Beef Central uploads.
The full Brisbane Show stud beef results are available via the RNA website, click here.