LATEST mobile technologies shaping the future of primary industries in Australia and New Zealand will be showcased at a conference being held in Brisbane early next month.
MobileTech Primary Industries 2014 will concentrate on the rapidly emerging mobile technologies and innovations suitable for use in agriculture, based on:
smartphone and tablet platforms
mobile apps
satellite mapping and communications
robotics and aerial drones used for mapping, surveillance and land management
remote sensors used in stockwater management and other applications
electronic tagging and support technologies
intelligent data
M2M (Machine to Machine, referring to technologies that allow both wireless and wired systems to communicate with other devices of the same type)
real-time analytics and
cloud-based platforms.
The inaugural event held in New Zealand last year was so successful organisers have scheduled 'mirror' events on both sides of the Tasman this year, a few days apart. The Australian leg of the conferences will be held at Brisbane's Mercure Hotel on 5-6 August.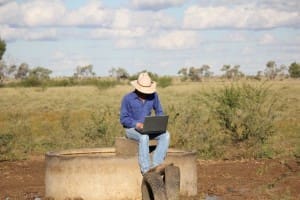 The event series was developed after extensive consultation with a wide range of primary producers, technology providers, researchers and industry bodies.
Speakers will include experts in a wide selection of mobile and electronic technologies, helping delegates understand what new tools, platforms and technologies are being made available for the agriculture sector. Examples will show how mobile innovations are being applied and used within different primary industry sectors.
Attendance is likely to be drawn from tech-savvy primary producers looking for IT-based efficiency and labour-saving solutions to management challenges, together with technology decision-makers, R&D managers, researchers, policy makers and technology suppliers.
MobileTECH 2014 has a strong lineup of speakers with cutting-edge expertise across the mobile technology field. Here's a snapshot of just some of those that are particularly applicable to the livestock sector:
Ivan Andonovic is director and chief technology officer of Scottish firm Silent Herdsman Ltd, a leading provider of predictive analytics software for beef and dairy farmers. The Silent Herdsman product triggers its alert via wireless technology to any mobile device such as a stock manager's mobile phone, tablet or laptop. Uniquely, its wireless technology can travel over long geographical distances meaning it's suitable for farms with 100 to 20,000 head under management.
Andrew Bate is not only director, SwarmFarm Robotics, but also a grain and beef producer from Central Queensland. He will outline his work with two universities to develop robots, including prototypes already being used in the field, for improving the productivity in the livestock and cropping industries.
Richmond, North Queensland beef producer William Harrington, director, Harrington Systems Electronics, will discuss advances in remote monitoring systems
Dr Claire D'Este, Autonomous Systems Research Program, CSIRO is currently working for the Sense -T initiative and will be discussing how robot intelligence can be improved and used out in the field by using sensor and image data from the cloud.
Ben Richmond, Rural Strategy Manager, Xero is leading the push to take a new model recently launched in New Zealand global and help harness the power of the cloud to lift the performance of the rural sector.
Shane Murphy is general manager, KORE Wireless, the world's largest M2M (machine to machine) provider. As a leader in this fast growing technological sector, Shane has a special interest and will be discussing the future of M2M and application to Australia's primary industries.
Ben Jones, Director, PASource is an agricultural scientist discussing the vexed problem of making precision agriculture data mobile. Ben has researched various topics in precision agriculture, crop agronomy and farming systems as well as working on the family farm. He founded PASource to help farm advisers and farmers get over some of the technical complexities of precision agriculture data, and allow them to focus on actually using it.
Tim Neale, Director, FARMpos runs PrecisionAgriculture.com.au, a company that focuses on injecting spatial into agriculture and NRM, and helping farmers and decision-makers make the most from this new technology. Tim has been consulting for 13 years, working all over Australia, and internationally in Africa, NZ, Asia, and Canada.
Setting the scene for the Australian leg of the conference will be ABARES executive director, Karen Schneider, speaking on leadership, productivity and growth within the primary sector.
She will be followed by Andrew Button, managing director, Mobile Mentor, speaking on the evolving landscape of enterprise mobility and what it means for the primary industry. Other speakers will look at unmanned aerial vehicles (UAVs) and how they are taking the world by storm.
There will also be a series of quick-fire technology showcases on latest mobile technologies, products and services.
To check out the full two-day program including who's presenting, visit the event website, www.mobiletech2014.com