The Intercollegiate Meat Judging (ICMJ) movement this year celebrates its 25th year, with almost 1800 students involved since the program kicked off in 1990. Starting with this report and alumni profile this morning, Beef Central will publish a short series of articles in coming weeks, documenting the success and achievements of the ICMJ in inspiring bright young candidates towards career paths in the meat and livestock industry.
Looking back on the extremely long list of Intercollegiate Meat Judging participants from the past 24 years is nothing short of inspirational.
Since its foundation in 1990, more than 1780 students from 27 tertiary establishments across Australia have competed at the annual Intercollegiate Meat Judging contest.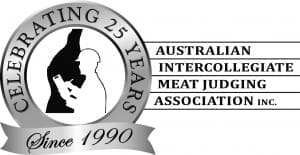 This year is the 25th year of ICMJ, and fittingly the registrations for the upcoming annual conference, workshop and competition are the largest ever. Charles Sturt University in Wagga Wagga will again host the five-day event this year starting on July 8.
More than 160 students and 35 coaches are registered for competition this year, from ten Australian universities and agricultural colleges. Four international teams from Japan, Korea, Indonesia and the US will also be in attendance.
ICMJ was founded in 1990 by prominent industry member, John Carter, with the aim of exposing and encouraging students into careers in the meat industry. Mr Carter experienced first-hand the impact that the American Meat Science Association meat judging program was having on the US industry and wanted to foster a similar culture in Australia.
This vision for increasing the number of university graduates in the Australian meat industry has been backed from day-one by Meat & Livestock Australia, Australian Meat Processors Corporation and Australian Pork Ltd.
The aims of ICMJ have continued to be achieved year after year.
ICMJ Association president, Brad Robinson, said as demand for Australian beef continued to grow around the world, the meat industry career opportunities for graduates became ever-stronger.
"The growth of the ICMJ program going into its 25th year, continues to bring graduates and businesses together," Mr Robinson said.
Now manager of Kerwee Lot Feeders on Queensland's Darling Downs, Mr Robinson is himself a past Australian ICMJ team member.
'With agriculture currently seen as one of the largest growth industries in Australia, prospects and demand for ICMJ graduates has never been better," he said.
"ICMJ not only provides students with a greater knowledge of meat judging and the attributes of trimness, muscling and quality that make up the evaluation process, it also provides students with the skills of decision making and justification. The program continues to provide industry leaders through its graduates, now numbered in the thousands, and continues to be highly regarded within the industry during recruitment."
With continued growth in the meat industry through science, innovation and technology, the demand for enthusiastic agriculture graduates with a knowledge of the entire supply chain from conception to consumption has never been higher.
Teys Australia, which hosts and sponsors the ICMJ beef contest at its Wagga Wagga processing plant, has seen the value of fostering ICMJ graduates.
Teys' general manager of corporate affairs and innovation, Tom Maguire, said it was pleasing to see so many past ICMJ participants make a real and important contribution to his company, and the broader Australian beef industry.
While the Tertiary conference and competition in the centre-piece of the calendar for ICMJ, the not-for-profit association run entirely by volunteers also hosts numerous competitions around the nation for secondary school students. ICMJ believes firmly in educating students about the end-product at any age, and encouraging younger people to think about a career in the industry.
Since 2001, ICMJ has coordinated secondary schools meat judging contests in locations including Tamworth, Scone and Wingham in NSW and Gympie (Qld). These contests have engaged more than 30 different secondary schools and 150-200 students annually.
The objective of ICMJ at all levels is to provide an opportunity for students to learn and to build the pool of intelligent young meat industry stakeholders, fired with enthusiasm who will give the Australian meat industry the expertise and drive to compete in the meat quality world of the future.
ICMJ achieves its objective through:
Exposing students to the fundamentals of meat science and meat quality education
Providing training and a non-threatening competitive environment to assist students develop confidence and communication skills
Providing an opportunity for students to acquire and apply knowledge of practical aspects of meat science
Raising students' awareness of career opportunities that exist in the meat industry
Exposing student to new technologies within the meat industry.
Alumni Profile: Jasmine Nixon
ICMJ Involvement:
Competed for University of New England in 2009
Shortlisted for Australian ICMJ Team 2009
Coached of UNE ICMJ team in 2011
Graduated with a Bachelor of Livestock Science in 2012
How did competing in ICMJ in your 2nd year of University impact your path forward?
"I always enjoyed working with beef cattle because that was my background, but ICMJ certainly broadened my horizons to look further down the supply chain than just production. Understanding the importance of the science behind meat quality and being able to communicate that back to a production base is what I found to be interesting and important."
What is the most useful thing that ICMJ presents students?
"It really gives students direction and a sense of purpose as it shows where your degree can send you and you learn this through networking with presenters and committee members, who can be board members of MLA, managers, CEOs or COOs of large companies, researchers and other stakeholders working in many different fields of the industry. Not only is the content that you learn great, but the networking opportunities with other students studying similar courses is fantastic."
Did having ICMJ on your resume help you getting a job in the industry?
"At the end of fourth year, I applied for some jobs and ended up taking a graduate position with Teys Australia in Food Safety and Quality Control. I think ICMJ was good to have on my resume as it demonstrates a uni student with initiative, enthusiasm and passion. Having to get up early and train before uni, give up holidays to attend the conference, organise team sponsors and other engagements all shows that you are genuinely interested in the industry."
What was your role as a graduate in the QA department?
"The first 12 months after uni I was in QA at the Wagga Wagga plant which wasn't anything close to where I imagined I would be when I started uni. But being part of QA gave me a really good grounding of the entire production. In QA we worked on research into shelf-life of products, effectiveness of chillers, carcase chill rates, a lot of microbiology-based work, research into the micro loads associated with spray chilling, and got a general understanding all QA manuals and SOPs."
Are you still in the QA team?
"After 12 months I moved across into the livestock team where I now work with our producers on a daily basis, and assist with the scheduling, accounts and reporting aspects within our procurement team."
What does a typical day in your role entail?
"My days are mostly in the office but can also be out at the yards or even in the chillers. In the office I do some data analysis, give feedback and results to producers, help with producer queries, and more recently working on benchmarking our producers."
Would you rather be anywhere else?
"Working in an abattoir was not where I expected to end up after spending four years at university, but it has taught me a lot more about the beef supply chain and has given me a new perspective on the challenges and opportunities that we face in Australian agriculture. Agriculture is an exciting place to be – yes, there are challenges – but there are also endless different opportunities within agriculture. That is something I hope to share and encourage a new generation to take on the challenge to help feed the world."
Next week's article will focus on changes to the program and location through the past 25 years of ICMJ, as well as profiling another alumni member.