EXPORT beef giant Brazil has suspended its beef exports to China, following confirmation of two separate cases of atypical BSE on Saturday.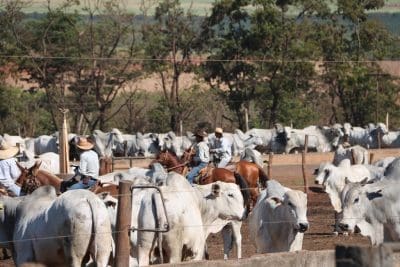 Brazil's Ministry of Agriculture announced the export control measure on Saturday morning. The measure complies with the sanitary protocol between the two countries for the detection of Bovine Spongy Encephalopathy (BSE).
The export ban took effect immediately, a statement issued by the director of Brazil's Department of Inspection of Products of Animal Origin (DIPOA) said.
It is unclear when Brazilian beef exports to China may resume. When Brazil registered its last atypical case of BSE in 2019, sales to China were suspended for 13 days.
China, along with Hong Kong account for about 60pc of Brazil's beef export shipments. July volumes totalled about 91,000 tonnes – the second highest monthly figure on record – meaning any prolonged closure could put significant strain on China's imported beef supply. Prices began to rise in Chinese wholesale meat markets soon after the decision was announced on Saturday morning.
As the graphs published here show, Brazil in July accounted for 39pc of China's entire beef imports. Due to declining trade, Australia no longer justifies its own pie-chart 'slice' in China trade statistics, but instead is now included in the 'other' category, marked in brown.
Brazil's withdrawal leaves China in the unusual position where its largest (Brazil, 39pc) and second largest (Argentina, 24pc marked in blue on the pie chart) imported beef suppliers are both out of the China market at present.
Argentina recently extended its export trade ban on beef until the end of October.
Brazil has never registered a case of classic BSE, however atypical cases occurred in 2012, 2014 and 2019.
Brazil's Agricultural Defence Secretariat of the Ministry of Agriculture, Livestock and Supply confirmed the occurrence of two separate atypical cases (when the animal develops the disease spontaneously, due to old age) of BSE, registered in the states of Minas Gerais and Mato Grosso.
The two cases of atypical BSE were detected during ante-mortem inspection in two cull cows that were of advanced age, which ere lying down in their pens, the ministry said in a statement.
The statement made the point that the World Organisation for Animal Health (OIE) excluded the occurrence of atypical cases when recognising each country's official risk status for BSE.
"Thus, Brazil maintains the classification as a country with an insignificant risk for the disease, not justifying any impact on the trade of animals and their products and by-products," it said.
According to the ministry, all sanitary risk mitigation actions were completed even before the issuance of the final result by the OIE's reference laboratory.
"There is no risk to human and animal health, and the beef did not enter the food chain," the statement said.
The ministry also stated that it officially notified the OIE about the cases, as required by international standards.
How two cases were detected at the same time, at different locations, was not explained.
The temporary suspension of meat exports to China would take place until the Chinese authorities concluded their evaluation of the information passed on about the cases, the ministry said.
China meat market analysts, Meat International Group this morning said the confirmation of atypical BSE in Brazil had added more uncertainty to the Chinese beef market.
"Exporters in other countries are watching the situation closely," it said. "This is likely to have a large impact on China's supply in coming months… as Brazil's share could produce a shortfall of 40pc in imported beef supply. Global price increases for Chinese beef suppliers are likely." MIG said.
Prior to Brazil's BSE confirmation and withdrawal from China, analysts had anticipated growth in imported beef volumes into China in August and September, expected to reach 197,000t and 216,000t, respectively.