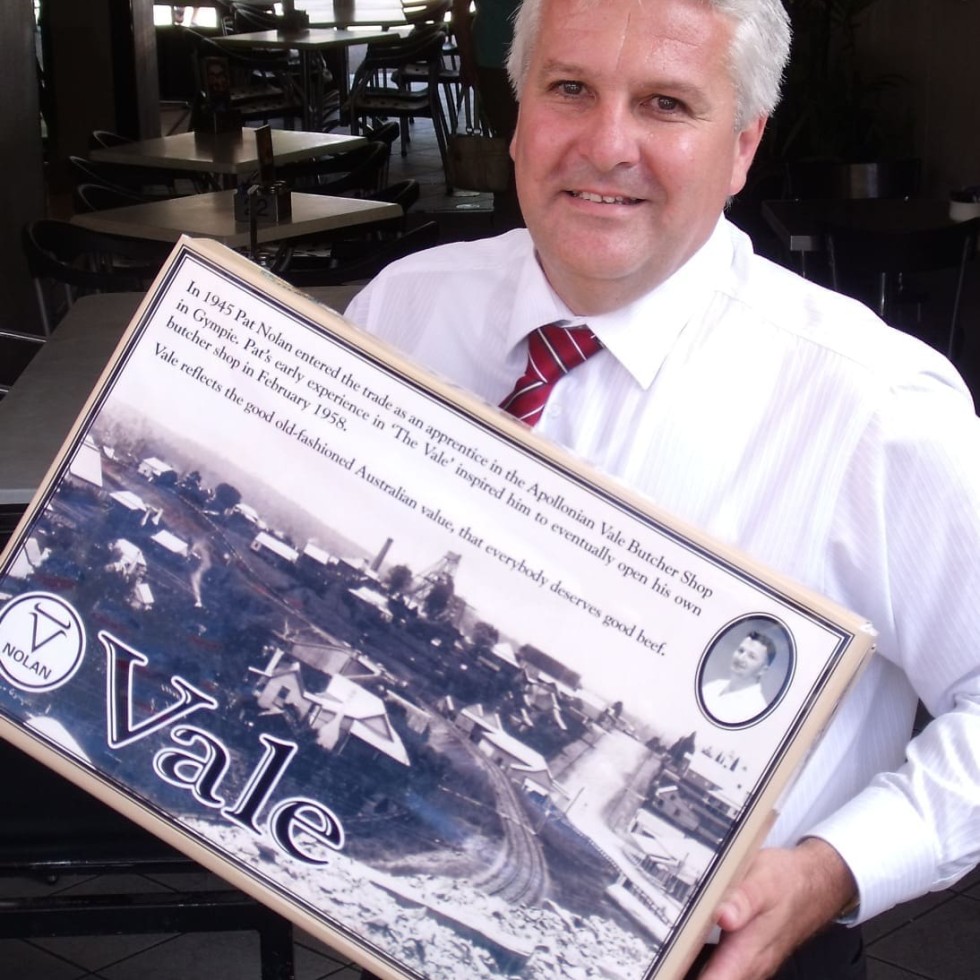 As Australia's larger and better established MSA-backed beef brand programs continue to mature, their managers are finding opportunities to extend their products in different directions, based on market signals and changing economic circumstances.
A good example is being seen in this afternoon's official launch of Nolan Meats' latest branded product development, Vale.
The Nolan brothers – Michael, Tony and Terry – have built a solid foundation in retail and food service sector support for their Nolan's Private Selection MSA brand produced out of their Gympie (Qld) processing plant over the past eight years. But over time, it has become increasingly apparent that a second, 'entry-level' brand program was needed.
"The community generally is facing tougher economic times, and people were telling us, your meat's great, but it is a little expensive for everyday use," Terry Nolan explained during the launch.
In many respects, specifications for the flagship Private Selection product was designed to pitch it as the 'best of the best' in the YG cipher category. Not only does it carry a tight AusMeat meat colour spec (1B-2), but it is all-Halal processed; nil HGP; and closely contained in portion size variation.
"It ticks just about every box, in the yearling grain assisted product segment," Mr Nolan said. "But the downside to that is that it is relatively expensive, alongside some other product in the marketplace."
A catalyst for change was provided in October last year when Nolan's won the Premier of Queensland's Export Achiever Award (see Beef Central's story, "AEMIS success drives Nolan exporter award").
"We decided we should celebrate that achievement as a starting point to expand our brand program," Mr Nolan said.
The family business was started more than half a century ago by patriarch, Pat Nolan, and it was decided to use the 'heritage' value of a family-run business operating continuously for 54 years as a foundation.
In typically playful Nolan family manner, they found a quirky link with the business's early history to build the new brand identity around.
They settled on the word, 'Vale", the abbreviated name of the old Apollonian Vale Hotel, a nearby watering hole where Pat Nolan and his mates would gather for a few quiet beers after closing the butcher shop of an afternoon.
"The agenda behind the 'Vale' brand was not to add a lot of cost to the product," Terry Nolan said. "We did not want to take it down the Certified Organic route, or the Natural route, but instead to build on the solid brand platform that we already had in place with Private Selection," he said.
Certain brand attributes remained a 'given' however.
"Food safety and animal welfare are non-negotiable, and we think we do well in both areas. What else tells the customer about good meat? We saw MSA as being the third corner of the platform, along with animal welfare and food safety," Mr Nolan said.
One of the descriptor terms linked to the 'Vale' brand name is "Everyone deserves good beef," and the specifications set for compliance are designed to get as many cattle into the program as possible – provided they meet MSA requirements.
"It's about good old-fashioned value: good quality meat at a good price," Mr Nolan said.
To achieve that, the 'Vale' program broadens meat colour out one score beyond Private Selection, accepting an MC3. Unlike Private Selection, Vale will also take HGP-treated steers and heifers, further expanding livestock capture opportunity, and the program will not carry Halal certification. Typical days on feed may be about 40-50, but there will be no grainfed descriptor applied.
Aging requirements will also differ, with Private Selection carrying a maximum of five days, and Vale, 14 days, with tenderstretch. Similarly, while most of the slaughter animals will present with milk or two teeth, if a four-tooth steer comes through, provided he sits below an ossification score around 250, he will go through.
In essence, Vale is a 'no-frills' branded product, which, because of its MSA background and Nolans' advanced processing capability including tenderstretching and industry benchmark-setting chiller management for lighter carcases, is guaranteed to eat tender, every time.
It also means the product will hit a sharp wholesale price-point, for more budget-conscious buyers.
"Through all the production variables, we estimate we can be 8-10pc more cost-efficient in the Vale program, than what we are in Private Selection.
For argument's sake, if we are wholesaling a Private Selection cube-roll at $24/kg, we would think we could pitch the equivalent item under the Vale MSA brand at $22/kg or less. Blades might be priced at $6 and $5.50/kg, with an unbranded GFYG blade at $5."
Nolans is now confident that 95pc plus of carcases presented for MSA grading through the plant will comply with either the Private Selection or Vale labels.
The plant may also expand its kill tallies as a result of the brand extension. Current throughput is around 450 daily, and the Nolan family has hopes to build that to 500/550. That will be partly driven by Vale, partly by export opportunities, and partly by consumer response.
Nolans started killing a few cows in the tough early years of the GFC in 2008-09, packing an economy-type product which helped keep the daily kill tallies up.
Now with the Vale program, the business is heading back to 100pc MSA kills again, 90 percent of which will be grainfed, while still delivering a 'value-for-money' entry level product.
Asked whether Vale was better suited to either retail or food service segments, Mr Nolan said it would be about choice.
"I would estimate that 80 percent of our MSA product will still go in the Private Selection carton, with Vale being close to 20pc of production. But currently that non-Private Selection product simply goes out as GFYG cipher, without any particular identity," he said.
"If there is a true and sustained demand for Vale, as we hope there will be, we may need to pack more Vale product, and that may even mean changing supply chains with the re-introduction of HGP into the feedlot situation, in some pens, for example."
"It's alright to say consumers do want this or don't want that, but sometimes what they say and what they buy are two different things. We will make our supply arrangements on the basis of customer purchasing decisions, not on what they say they will do over matters like HGP," Mr Nolan said.
For both brands, Nolans will target milk and two-tooth carcases 220-300kg, providing a range of cut and portion sizes for different market segments and more efficiency at plant level.
"We are conscious of our very good market for tenderstetched T-bones, and nobody wants a T-bone off a 340kg animal," he said.
In many cases, both food service and retail butcher customers may stock both Vale and Private Selection simultaneously.
"I'd say it will be driven by occasion. If I'm having beef at home five nights a week, I'd probably be a Vale customer; but if I'm having friends over for a barbecue or dinner party, I'd be more likely to buy Private Selection."
"The message is, it's about choice."

Maintaining R&D momentum on MSA
Commenting during this afternoon's launch on the recent achievements of the MSA program, with uptake by major processors and supermarket groups and total throughput last year of 1.4 million bodies, Mr Nolan said the industry had not yet gone close to unlocking the total MSA story.
"The general industry may think that too much money has already been spent on MSA, but I'm a great believer in the saying: the more you think you know, the less you really know."
"I think there are strong grounds for a lot more research in areas like HGP use, genetic markers and chilling regimes. We have already plucked the low hanging fruit, but I think the industry could double its expenditure on MSA research and still get good value for the R&D dollar."
"We may have 80 percent of the science right, but there's still a lot to be uncovered. And we need to continually remind ourselves that from the date of research to the date of uptake can easily be 10-15 years."
Nolan Meats' key wholesale markets are Sydney, Brisbane/Gold Coast and the Queensland regional areas north to Rockhampton. Smaller volumes go into Melbourne and Adelaide.