Amid one of the worst rural fire seasons on record, thousands of rural fire brigade volunteers in Queensland are facing disqualification from fighting fires because they don't have blue cards.
The blue card system is used in Queensland as a prevention and monitoring system to prevent people who have been convicted with crimes against children from working with young people.
The Queensland Fire and Emergency Services department has told rural fire brigade volunteers that because they could come into contact with children while performing their role, they must have blue cards.
The QFES had originally imposed a deadline of December 31, 2019, for volunteers to have blue cards to enable them to continue to fight fires, but following an angry response from the rural fire community it has granted an extension to March 31, 2020.
The Rural Fire Brigades Association Queensland (RFBAQ) has accused the department of badly mishandling the issue, which it warns could result in as many as 75 percent of Queensland's 22,000 volunteer members of rural truck brigades dropping out of active service.
RFBAQ general manager Justin Choveaux said the issue is the result of Departmental lawyers having a meeting and "interpreting a semi-colon a different way".
'From community defenders to threats to society'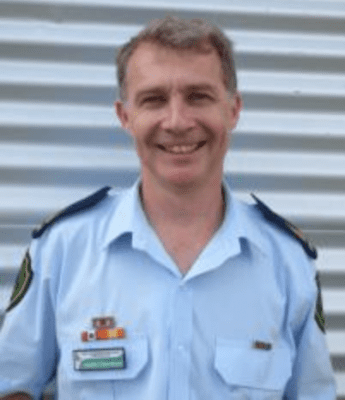 "What they have done is they have said the rural fire brigade protects people, property and the environment from bushfire, so if you are protecting people therefore you are a healthcare provider, now we know you are a healthcare provider, you need a blue card," he said.
"What that meant was a brigade volunteer who was a fantastic person defending their community who we put on a pedestal on a Tuesday, the lawyers had a meeting on a Wednesday and they took the semi-colon a different way for the first time, and then on Thursday that person became a threat to society.
"That is exactly what happened."
Mr Choveaux said that despite making that determination three years ago the QFES had failed to act on the roll out and was now rushing to force volunteers to apply for blue cards in the final months of the year.
"We spoke internally, we told them it is not going to work, you're going about it the wrong way, this is something that should be implemented over a number of years," Mr Choveaux said.
"You wont make children safer by making the community less safe.
"You have decided to do it, lets go about it in a way that actaully works."
'Bureaucracy gone mad'
Katter Australia Party MP Shane Knuth told State Parliament this week his office has been bombarded with rural fire volunteers "angry at being treated like criminals"
Daily industry news straight to your inbox
Rural fire volunteers in Queensland are already subject to a mandatory criminal check before being accepted as members of their local rural fire brigade.
"A blue card won't pick up anything that a mandatory criminal check won't," Mr Knuth said.
"This is bureaucracy gone mad – rural firies are not healthcare workers, they fight fires".
QFES: Making Queensland a safe place for children
In a statement the Queensland Fire and Emergency Services (QFES) said it is committed to protecting the community it works with and making Queensland a safe place for children.
"In line with this commitment and following professional advice, QFES commenced screening of relevant staff and volunteers for blue cards in accordance with the requirements of the Working with Children (Risk Management and Screening) Act 2000.
"QFES staff and volunteers who need to hold a blue card, but do not currently, are required to apply before 31 March 2020. This includes Fire and Rescue Service (F&RS), State Emergency Service (SES) and Rural Fire Service (RFS) personnel (excluding Primary Producer Brigades and Fire Wardens)."
A spokesperson for Queensland Minister for Fire and Emergency Services Craig Crawford said that as of Monday, 14,481 applications from volunteers for blue cards have already been lodged (across the various services listed above, which includes the SES).
"It's important to note, the requirements for a volunteer's ongoing involvement in QFES activities have changed, and it is for the volunteer to decide if they want to continue serving their local communities under these changed requirements," the spokesperson said.
In its statement to Beef Central the Queensland Fire and Emergency Services (QFES) said it "makes no apologies for taking every step to ensure Queensland is a safe place for children":
"QFES firmly believes both its paid and volunteer workforce should reflect the standards expected by the community it serves. It believes Queenslanders have a right to expect their most vulnerable – children – will be protected.
"A large percentage of QFES personnel, staff and volunteers, may come into contact with children, either directly or indirectly, as part of their role with QFES and therefore require a blue card. While this requirement is categorised under the banner of providing a health, counselling or support service under the Working With Children (Risk and Management Screening) Act 2000, it does not relate to first aid courses or qualifications. It relates to situations where personnel are required to protect, reduce potential danger to or help injured people – all core functions of fire and emergency services personnel. 
"QFES would like to assure the Queensland community that claims SES volunteer numbers have dropped from 33,000 to 5,000 are misleading and untrue. QFES currently has a paid and volunteer workforce of approximately 33,000 Rural Fire Service volunteers, 5,300 State Emergency Service volunteers, 2,200 permanent and 2,000 auxiliary Fire and Rescue Service personnel.
"Currently, approximately 25 per cent of QFES personnel required to apply for a blue card have submitted their application. QFES is taking proactive steps, including face-to-face engagement, to support its staff and volunteers in making an application for a blue card.
"As part of QFES' commitment to ensuring its workforce is blue card compliant, volunteers will be required to demonstrate their commitment to continuing with the organisation by completing a valid blue card application form prior to having new uniform requests processed. This does not include Personal Protective Equipment.
"QFES takes the safety of children extremely seriously and is committed to ensuring its people, policies and procedures prioritise the safety of Queensland children."
The 33,000 Rural Fire Service volunteers include around 22,000 members of rural fire truck brigades and about 11,000 non-truck brigades, which includes Primary Producer Brigades (PPB) in the state. At present PPBs do not require blue cards under the changed rules.
Mr Choveaux told Beef Central this week that 75 percent of the 22,000 rural fire truck brigade members have not yet applied for Blue Cards.
Affected volunteers included "lawyers, doctors, truck drivers, stop-go people, primary producers, it is everybody", he said.
'The true hazard of this'
He feared the issue will lead to a regression in the State's rural fire fighting capability.
"What they are saying now is if you have a fire on April 1 (2020) and your brigade has 15 members and only 7 have a blue card, those 7 will be able to get onto the truck and will be able to fight the fire, and the other 8 members will not allowed to be on the truck, will not able to wear PPE and will not be able to fight the fire supported by the fire service and workers compensation.
"This is the true hazard of this.
"We will go back to a situation of the pre rural fire brigade days where we are in an ad hoc and haphazard manner trying to defend our communities."
Mr Choveaux said no other volunteer fire service in the country is currently required to have to have the equivalent of blue cards.
He said members of rural fire brigades have to undergo criminal history checks which focus on assault, fraud and arson, and suggested that be made broader to cover any crimes against a child that would be covered under a blue card.
That would provide the same level of protection of a blue card, without the significant institutional costs from volunteers having to renew blue cards them every three years, given rural fire brigades already lack adequate support staff and would struggle to to administer that requirement.
He said the QFES had gone about the roll out "in completely the wrong way".
"We said it should have been two to three stage roll out, you shouldn't have let it be run by people who said 'do it, and if you don't do it I will say do it again, or then I will threaten you by not giving you a uniform – gee, didn't that put everybody off.
"The QFES has gone about in completely the wrong way because the QFES has no empathy for volunteers and it has no understanding of volunteers – everybody who is in charge of QFES is from a non volunteer background, they all come from fire and rescue."