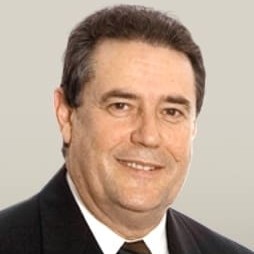 Former Meat & Livestock Australia senior manager Allan Bloxsom has been appointed chairman of AusMeat Ltd, the body responsible for establishing and maintaining national industry language and standards for meat production and processing.
He replaces Tony Wharton, who retires this month after 11 years as AusMeat chair.
The position was advertised widely, including appearing on Beef Central during September.
It is anticipated that the role will also include chairmanship of the Australian Meat Industry Language and Standards Committee, which will take on a heightened importance given the current high level of industry scrutiny of the way cattle and carcases are described and priced.
Mr Bloxsom has broad experience within the red meat industry, working within both the commercial sector here and overseas, as well as the red meat industry service delivery company.
A butcher by training, he joined AusMeat in 1991 as the organisation's southern area manager before being appointed the following year to the role of business development manager for the US market with the former Australian Meat & Livestock Corporation. Mr Bloxsom returned to Australia in 1995 after accepting a role as general manager of the Mid-Coast Meat Company (MidCo) near Macksville in NSW, where he worked until 1998.
After the closure of MidCo, he worked for a period as chief executive of the Hereford Prime brand/supply chain program, before taking on the position in 1999 as Europe regional manager for Meat & Livestock Australia, based in Frankfurt.
He then returned to MLA head office in Sydney where he served in several senior management positions, most recently as general manager – industry systems. In this capacity his direct responsibilities included key programs like the National Livestock Identification Scheme, Meat Standards Australia and Cattlecare.
In 2010, along with general manager marketing David Thomason and several other senior staff, Mr Bloxsom was retrenched by MLA. He then established his own consultancy business, including working closely with large New Zealand and Australian meat processors and brand supply chains.
During his time with MLA he also served as a director on the AusMeat board.
The AusMeat board this week acknowledged the long and extensive contribution made by Tony Wharton, who has now retired as the regulatory body's chairman.
A gathering of industry representatives this week paid tribute to the valuable role Mr Wharton has played, not only within the AusMeat board, but on behalf of the broader industry in setting and maintaining the National accreditation Standards, and in particular, in his role as chair of the Australian Meat Industry Language and Standards Committee.
"All sectors of industry expressed their gratitude for his fairness and balanced approach in achieving a consensus in the approval process for development and adoption of numerous Certification and Accreditation Standards over the past 11 years," AusMeat chief executive Ian King said.
Mr Wharton came to the board at AusMeat with a wealth of experience as a red meat processor. He started his meat industry career in New Zealand, rising from being a labourer as a student, to general manager of the largest meat plant in the country.
He then moved to Australia in 1980 after accepting a position heading up the Queensland Government's network of publicly-owned abattoirs, in Brisbane, Toowoomba, Maryborough, and Townsville.
He was a member and later chair of the Meat Research Corporation, a member of the Meat Industry Council, and chaired Project 2, which developed advanced quality systems for processors. He was also an inaugural board member of Food Science Australia.
He has also provided strong leadership and direction to the evolution of business services delivered by AusMeat, adding to the core Meat Industry Standards a suite of food safety, animal welfare and international certifications covering more than 40 programs.
Cattle Council of Australia this morning welcomed the appointment of Allan Bloxsom as AusMeat's new chairman, and that of the Australian Meat Industry Language and
Standards Committee.
CCA president Andrew Ogilvie said that he looked forward to working with Mr Bloxsom during his tenure.
"Beef producers will be following Mr Bloxsom's lead with close interest as he takes on the challenge in his new role as Chairman of AusMeat and the Industry Language and Standards Committee," Mr Ogilvie said.
Cattle Council is driving a study of the future requirements for the language used in the beef industry, including the AusMeat language, to ensure the best outcomes for the Australian beef industry particularly to provide opportunities to differentiate the Australian product in international markets.
"Beef producers are calling for changes calling to make the language relevant to the modern beef industry and consumer, both in Australia and internationally," Mr Ogilvie said.
More on the industry language white paper project in an update to be published on Beef Central later today.
Mr Bloxsom will formally take up his chairman's responsibilities in early 2014.