HAS the dramatic turnaround in profitability in Australian red meat processing operations this year lowered the appetite among prospective Chinese investors seeking to establish a processing interest in this country?
At least two of the large Chinese investment deals disclosed earlier by Australian-owned processors have failed to go ahead.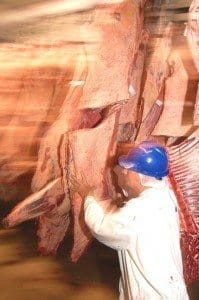 When those deals were first agreed to, the balance sheets of Australian processing had arguably never looked better, with an abundance of cheap cattle being pushed to market by drought, and a hungry international customer-base keen to source Australian product.
But wind the clock forward to 2016, and most processor balance sheets have become mired in red ink, with big losses being written on virtually every beast killed, as the national herd sinks to 20-year lows.
Yesterday, Bindaree Beef confirmed to Beef Central that its proposed $140 million investment deal with China's Delisi Group had not been executed. We first wrote about the proposed investment deal with Delisi, one of China's largest pork processors, seeking for a 45pc stake in the Bindaree business, in this article in September last year.
Two contract agreement completion deadlines over the deal came and went in July and August this year, without result (see earlier report).
Bindaree yesterday told Beef Central that it remained in discussions with the Delisi group about the prospect of finalising a capital raising deal, but also confirmed that discussions had re-opened with 'others' about potential investment, along the lines of that proposed earlier with Delisi.
Other parties (plural) were now in the process of due diligence over investment in Bindaree, a spokesman said.
Asked whether that meant that any deal with Delisi was now much less likely, he repeated that Bindaree was still in discussion with the company, as part of a 'process' that the company was going through. The company has not confirmed whether a deposit was paid earlier by Delisi.
The spokesman confirmed that Price Waterhouse Coopers, the financial advisors involved in Bindaree's original capital raising process, were again involved in the latest round of discussions and due diligence with potential investors.
Some of the potential investors were involved in the original discussions, while others were new to the process. Most were looking to invest 'in their own right,' rather than co-investing in Bindaree with others, the spokesman said.
Part of Bindaree's proposed China joint venture agreement with Delisi involved spending $20-$30 million on a processing facility in Qingdao (see earlier story), which was 'still an option,' the spokesman said, provided a capital raising deal could be struck and completed with Delisi.
He said Bindaree was continuing to progress its plan to grow its integrated supply chain business, linking collaborating beef producers with the company's brand programs, either grassfed or grainfed.
"Despite the Delisi capital rising deal not reaching a conclusion, we are still looking to grow and integrate our supply chain," he said.
Bindaree, like most Australian beef processors, had felt the squeeze during the past 12 months due to restricted cattle supply, but was currently processing about 4000 head per week, he said.
The specific reasons for Delisi's apparent hesitancy to complete the earlier $140m deal remain unclear, but overwhelming speculation is that it is linked to current processing industry profitability.
The Bindaree spokesman confirmed that despite the Delisi group investment in Bindaree not proceeding at this point, there was no suggestion that the company would now dispose of its Myola feedlot near North Star, purchased in September last year after the Delisi deal was announced.
The Myola purchase was not contingent on funds coming from the Delisi capital raising, he said.
Myola was currently operating at close to capacity, and the company was exploring expansion plans for the site.
Churchill deal fails to eventuate, but perhaps for different reasons    
While the circumstances are somewhat different, a second large processor has told Beef Central that an earlier agreement with Chinese investors had failed to eventuate.
Churchill Abattoir near Ipswich, west of Brisbane, had reached joint venture agreement with Taihua Food Co, based in Qingdao city, in the Province of Shandong. The new joint venture was to be called Taihua Churchill Food Co, but Taihua ultimately walked away from the commitment, sacrificing a substantial deposit.
Churchill is one of Australia's largest domestic-only beef abattoirs. Located near Ipswich, west of Brisbane, the business has been heavily focussed on supplying the Woolworths supermarkets' northern supply chain for the past 15 years, but planned to upgrade to an export licence following the capital injection, to supply beef into China.
Initially the trade was to be in frozen bone-in quarters, but a later phase of the proposed plan included a dedicated export boning room built to cater for boxed boneless cuts. The proposed JV was going to raise $35 million to upgrade the Churchill plant to export status and add a second daily killfloor shift, doubling capacity from 3000 to 6000/week.
Churchill is jointly owned by the DA Hall & Co, one of Australia's largest poultry and pork producers based on the Darling Downs, and managing director Barry Moule.
Mr Moule said Taihua, a major producer and distributor of frozen fruit and vegetables in China, suffered a significant business setback following a food safety incident with frozen berries last year, which had caused the company to walk away from the Churchill deal.
He said Churchill was still in discussion with a range of investors – Chinese, Vietnamese and Australian – over possible investment in the plant.
Tabro Meats show signs of stress
Further south, Chinese-owned Tabro Meats continues to show signs of considerable financial stress, closing for a second time this year a month ago. The Tabro Meats abattoir at Lance Creek, shut down in December last year for a holiday break, but the facility lay dormant until the end of April.
Tabro Meats was purchased by the Chinese-owned HY Holdings Australia in 2014 and last year the company flagged plans for a $26 million expansion.
Tabro's chief executive Jack Jiang told local media the most recent October 15 closure was "for two weeks only for internal work," but local beef industry sources who live close to the facility say it has killed only skeleton numbers, one day a week, for the past fortnight.
Several large livestock agencies told Beef Central they refusing to trade with Tabro, such is the concern about the company's financial position.
Appetite for expenditure from Chinese investors is also being seen in the feedlot industry.
One Chinese/Australian joint venture feedlot business is apparently struggling with cash flow for livestock purchases, because of the Chinese investor's reluctance to inject further 'phase two' funds into the business, a reliable source told Beef Central.