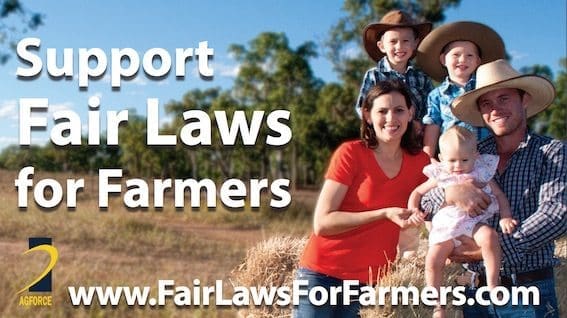 Billboards urging Queenslanders to "support fair laws for farmers" will go up in Brisbane, Bundaberg and Townsville this week as AgForce seeks to drive home the message that tougher vegetation management restrictions will cost jobs and push up food prices.
AgForce General President Grant Maudsley said the billboards were the next stage of AgForce's "Fair Laws for Farmers" campaign and would be displayed for at least the next two months.
"Queensland agriculture has the potential to grow from $17 billion a year to $30 billion over the next decade, but that growth will be stifled if the Palaszczuk Government's proposed changes to vegetation management laws go ahead," he said.
"AgForce has always said we are willing to work through a science and evidence based process on this legislation, but the Queensland Government has been more interested in appeasing extreme green views than developing good policies.
"Farmers just want a fair go. Farmers just want sensible land management laws so they can grow their businesses, create jobs and produce more food and fibre."
Mr Maudsley said the three locations chosen were in key electorates for the Palaszczuk Government.
"The Brisbane billboard is located at the busy intersection of Moggill Road and Jephson Street in Environment Minister Steven Miles' Mount Coot-tha electorate while the Bundaberg billboard is in the heart of Agriculture Minister Leanne Donaldson's electorate," he said.
"We have also chosen to have a billboard in Townsville to send a message to the three local Labor MPs, particularly Assistant Minister Coralee O'Rourke, that they should be supporting fair laws for farmers if they are serious about 'developing the north' and creating more local jobs."
The billboards follow the establishment of a website – www.fairlawsforfarmers.com with farmer videos explaining how the law changes would affect them and protest rallies in Central Queensland and Cape York.
Mr Maudsley said more protests were being planned and AgForce was crowdfunding to support the campaign via the new website.
"Right across Queensland, landholders are telling us they want to take direct action targeting the politicians who support these ridiculous laws," he said.
"We just want fair laws that provide certainty to landholders and stand the test of time. We just want fair laws that allow farmers to get on with the job of producing high quality food and fibre for Australia and the rest of the world."
Source: AgForceQld: More information is available at www.fairlawsforfarmers.com and Queenslanders can join the conversation on social media with #FairLaws4Farmers.