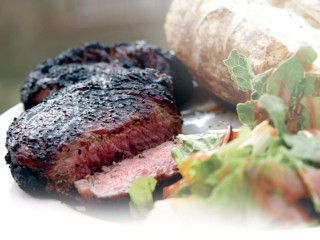 One of Australia's largest and most successful coffee shop/cafe chains has announced plans to expand into the mid-range steakhouse food service market, with intentions to roll-out up to 100 Ribs & Rumps restaurants over the next ten years.
The Coffee Club has grown from a single cafe 20 years ago to 270 outlets across Australia and overseas, mostly franchise-owned, following the boom in coffee consumption across the nation.
Recently the company took on a large equity partner – a Thai-based company with strong franchise connections with the McDonalds and KFC brands – fuelling speculation that it might be in the mood for vertical expansion beyond the already crowded café segment.
This week Coffee Club announced its first major acquisition in its quest for growth – steakhouse franchise Ribs & Rumps, formerly owned by Meat & Wine Co, which has five outlets in Sydney and the Gold Coast, and two overseas.
A company spokesman said the chain would sit mid-way between 'lower-profile' steakhouses like Hog's Breath, Sizzler and Outback Jack's and top-end ones like "The Cha Chas and Moo Moos of this world."
Coffee Club sat in much the same middle-market segment, providing some synergy between the two businesses, the spokesman said.
Mid-priced steakhouse chains have not always found the going easy in Australia, with businesses like Outback Steakhouse and Lone Star Tavern enjoying nothing like the support they see overseas.
One explanation for that put forward by a respected Beef Central contact this week was the nation's endearing love of the 'pub/club' scene, with subsidised meals (often steaks) fuelled by poker machine royalties.
Coffee Club plans to build-on and improve the Ribs & Rumps model, opening two new restaurants in Queensland by the end of November – one in Brisbane's trendy Fortitude Valley and the other in the mining-driven Central Queensland city of Mackay. Others are likely to follow early next year in Melbourne and regional cities like Wollongong and Townsville.
The grand plan suggests there will be 10 Ribs & Rumps outlets established each year for the next ten years. While beef volumes would be relatively modest in the early stages, if the business grows at anything like the rate envisaged, it will become a very large food service beef customer indeed.
One report suggests each outlet would be about 400sq m in size, with the intention of turning over $4-$5 million each per year.
The existing Coffee Club cafés are already large users of red meat in Australia, particularly for items like steak sandwiches and Thai beef salad. The extended café/bar/restaurant franchise model also includes burgers and various steaks.
JBS Australia is the supplier to that contract, portioned and pre-prepared through major providoring company, Bidvest.
The steak sandwiches are sold at a price point, but still requiring consistent, good quality grassfed rumps. New beef products, including some with well-known brand identity, are also under development for the Coffee Club chain.
At one point some years ago, the Coffee Club was close to adopting seam-cut MSA rumps for use in its popular steak sandwiches, but the plan was never executed.
Two different reasons were given by sources close to the project. The first was the unanticipated labour cost associated with seaming rumps, and the different demand for individual sub-primals like eye medallions, rostbiffs and rump caps. Another Beef Central contact suggested Coffee Club was simply looking for cheaper options than what MSA rumps could provide.