The agriculture sector was responsible for the largest proportion of 'distressed' property listings in Australia during the January-March quarter, according to a report compiled by property advisory and valuation firm, LandMark White.
Agriculture accounted for 23 percent of all receiver/mortgagee property listings across Australia in the March quarter.
Prior to the latest quarterly survey, the farming and livestock sector had not made up any more than a single-digit percentage of all 'distressed' property listings, LandMark White's report said. LandMark White is not connected with the Landmark agency business.
Contributing to the latest result was a number of rural aggregations being broken up and sold off by receivers, the report said.
Across the other sectors, the listings in the March quarter were far more evenly spread than usual. After agriculture, the next highest was residential at an atypically low 19pc of the total, followed by industrial and leisure at 16pc and retail at 15pc.
As usual the smallest number was provided by the office sector, with only 4pc of the nationally advertised receiver sales.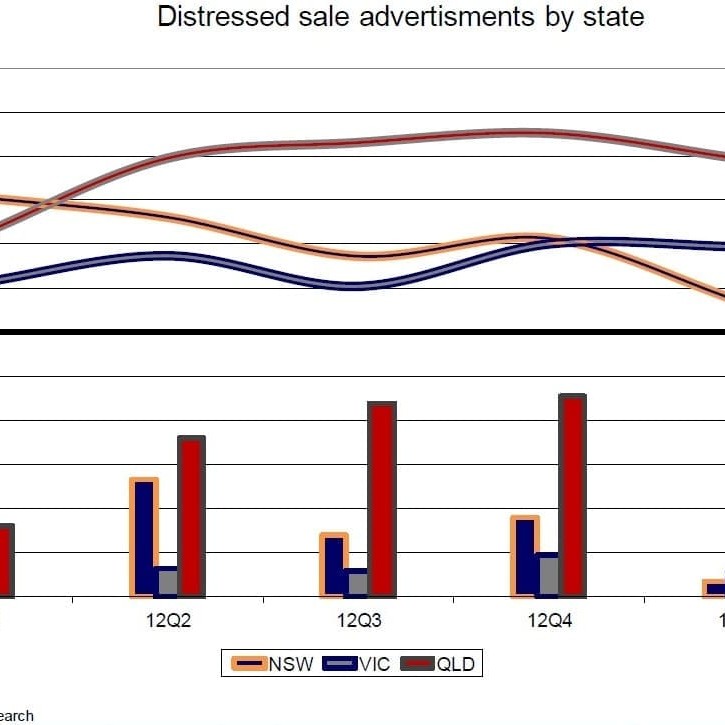 For the fourth time in six quarters, more than 50pc of all distressed property listings (not just agriculture) were in Queensland, with the Sunshine State making up 54pc of the national total during the first quarter this year, and 53pc across the last 12 months.
The New South Wales share of distressed listings fell significantly in the March quarter, accounting for only 9pc of the total, versus 22pc across the full year.
The growing share of receiver sales found in Victoria has continued in 2013, as 15pc of all advertisements placed by receivers and mortgagees were located in the Garden State in Q1. This was up from 11pc in the December 2012 quarter and 10pc in the year-to-date.
Possibly of more interest than the quantum figures is the number of receiver sales as a proportion of total sales within each state. This "distressed ratio" shows that each of the eastern states saw a decline in the proportion of advertised properties that were receiver sales.
New South Wales saw the most positive change, as only 7pc of all properties advertised were listed by a receiver or mortgagee – a record low. By comparison, the proportion in the same quarter of 2012 was 31pc and the next lowest was 17pc in the September quarter of 2012.
Although the distressed ratio in Queensland dropped by 6pc, it remains stubbornly high at 39pc of all property advertisements. Victoria saw the smallest improvement in the distressed ratio, with a drop from 20pc to 19pc, which meant that for the first time in the series, Victoria had a higher ratio than NSW.
As usual, the vast majority of receivers' stocks advertised for sale were in regional rather than metropolitan areas, the LandMark White report said, with regional (non-metropolitan capital city) properties comprising 80pc of the national number in the March quarter. Over the full year to date, the split was 78pc to 22pc.