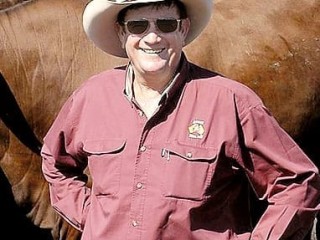 Large corporate and family-owned beef levy payers met with Meat & Livestock Australia and Cattle Council representatives in Brisbane on Thursday, exploring a range of issues surrounding industry structures, the way they operate and the way they are funded.
About 30 of the nation's largest levy payers met with MLA chairman Don Heatley, deputy Rob Anderson and chief executive Scott Hansen in what was described afterwards by participants as a 'frank and open discussion.' Also present were CCA president Greg Brown and chief executive David Inall.
Much of the dialogue focussed not on MLA, the industry service delivery company itself, but on the role and performance of peak councils, participating stakeholders said.
While MLA itself chose not to disclose the contents of the meeting, one of the large levy payers present was Central Queensland cattleman Graeme Acton, who runs about 150,000 cattle with his brother Evan under their Acton Land & Cattle Co banner.
He said discussions often drifted away from MLA-related operational or policy issues into broader industry structures and representation.
"It was obvious that that was foremost in most attendees' minds," Mr Acton said.
"Many felt it was important to get the peak council structures right and the interaction between the peak councils and MLA. Do that, and the rest will fall into place," he said.
He suggested there was widespread consensus around the room that the current CCA structure was in need of reform.
One of the suggestions put forward was direct election of CCA members by levy payers, rather than through the state-based farmer representative bodies.
"Many producers still think the MLA boardmembers are elected. In reality they are appointed, but the CCA boardmembers should be elected, as occurs in a commercial business. They, in turn, should appoint the MLA board members," Mr Acton said.
His suggestion, which he said attracted no opposition within the meeting, involved a 'two-tiered' CCA board voting process, as currently occurs with class-A and class-B voting within the meat processing sector.
Fifty percent of CCA members would be elected under a weighted voting system based on the amount of levies paid, and the remaining 50pc on a one vote per levy payer process. That would provide an opportunity to adequately represent the interests of the large number of smaller levy payers, which currently made up 50 percent of MLA's levy stream, Mr Acton said.
"There has always been a little wariness between the larger and smaller levy payers, and such a system would go a long way towards easing that," he said.
Some discussion also focussed on the parlous financial positions of industry peak council groups, and how that could impact on their ability to function.
Each time a merger or acquisition happens within the processing sector, such as the recent Teys/Cargill union, or the earlier acquisitions made by JBS, up to $50,000 could be removed from AMIC coffers annually.
Similarly, CCA was being starved of funds from some of its constituent state-based member bodies, which are operating under considerable financial stress (see earlier Beef Central story, "Exclusive: CCA facing membership crisis").
Stakeholders at the meeting suggested that either CCA had to be assured of adequate funds to function properly, or another alternative would need to be found.
"Some would say it has become dysfunctional now," Mr Acton said.
"CCA currently operates with just four staff and an annual budget of about $1 million. You can't run the entire $10 billion Australian cattle industry on that," he said.
"The industry needs and deserves a strong Cattle Council in order to give MLA, the service delivery company, direction. If it doesn't, we run the risk of MLA becoming too unwieldy, and becoming a great big bureaucracy," Mr Acton said.
Some stakeholders at the meeting were planning to seek discussions this week with Federal Agriculture minister Joe Ludwig about the perceived need to restructure and reform the peak council process.
Funding peak councils through levies?
One of the possibilities being put forward was funding peak councils through a contribution from the cattle transaction levy.
"In the environment that the industry is going to be in from here on in, no peak council or state farm organisation is likely to be able to raise funds voluntarily," Mr Acton said.
Ken Warriner from Consolidated Pastoral Co said rather than robbing either research & development or marketing funds from the existing $5 transaction levy, it could be that a case could be built to raise the levy to generate appropriate funds to run peak councils.
"I'm not against the state farm organisations or the peak councils, but if they are going to be effective, they have to be funded by industry rather than Government," Mr Acton said.
"The trouble now is that the state farm organisations, like AgForce in Queensland, are financed to a considerable extent by the State Government. Ag Minister Tim Mulherin has just given AgForce another $1.2 million to fight the mining industry. That way they become beholden to the Government, and cannot act independently, in the industry's interests."
Obviously there would be a legislative process to go through in order for a percentage of the transaction levies to fund the peak council activity.
"But it is the only way we can see for them to survive and govern the industry the way it should be," Mr Acton said.
"The industry needs to develop a clear plan, widely supported by stakeholders, to take to the Minister in order to get him to approve the use of industry levy funds to fund the Cattle Council operations. It can be done through a system that is not going to cost a lot of money, and will more closely connect industry stakeholders with their industry's affairs."
One prospect being floated is a general public forum, possibly to be held the day prior to this year's MLA annual meeting in Longreach on November 17, to discuss some of the peak council representation and financing matters. More details as they come to hand.