The bad news for early plant-based protein pioneer Beyond Meat turned to bizarre over the weekend with reports that its Chief Operating Officer was arrested for allegedly biting a man's nose after an Arkansas college football game.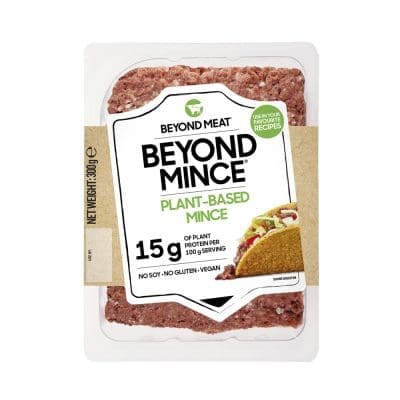 US media reports said COO Doug Ramsey was arrested for "terroristic threatening and third-degree battery" after allegedly biting a man's nose in a parking garage after a University of Arkansas game.
Local television station KNWA/Fox24 reported that Mr Ramsey allegedly punched through the back windshield of a Subaru after it made contact with the front tyre of his car.
The Subaru owner then got out of his car, and Ramsey allegedly started punching him and bit his nose, "ripping the flesh on the tip of the nose," according to the report.
Mr Ramsey has been the operating chief of Beyond Meat since December and previously spent three decades at Tyson Foods, overseeing its poultry and McDonald's businesses.Beyond Meat was a darling of the much-hyped plant-based "meat" sector when it was publicly launched three years ago.
Beyond Meat "is crashing"
With its processed pea protein patties promoted as "the future of food" in seemingly countless media articles, its stock quickly soared to $234 a share, with a market capitalisation of $14 billion.
Deals with distributors, retail grocery chains and fast-food restaurants were announced, along with investment and celebrity backing from the likes of Bill Gates, Leonardo DiCaprio and Snoop Dog.
Even meat processing giant Tyson Foods was an early investor, before selling its stake to create its own plant-based protein products.
But the initial hype that drove Beyond Meat's stocks to spectacular highs has since given way to a far more sobering reality of disappointing sales, operating challenges and slow growth prospects.
On Friday the stock closed at $18.29, for a market cap of $1.16 billion.
"Even that's probably too high" too high, the Washington Post's Andrew Boucher wrote in an article headlined "Beyond Meat is Beyond Hope".
"@BeyondMeat's market capitalization reached a high of $14 billion in 2019 with a stock price around $150. On Friday the stock closed at $18.29, for a market cap of $1.16 billion. Even that's probably too high."

Everything 'green' turns to sh*t.https://t.co/KIZ3n9iFTN

— Steve Milloy (@JunkScience) September 19, 2022
"The question that many investors, cheerleaders or financial analysts apparently didn't bother to ask: Who's going to eat this?
"If you're a vegetarian, good for you. But how many vegetarians are there? According to Gallup, about 5% of Americans "consider themselves" vegetarians. Out of the gate, we have a product that 95% of the population has little use for."
The hits for the company only keep coming.
It has recently become the target of a civil class-action lawsuit brought about by three customers who allege the company has misled consumers about the amount of protein in its products.
The plaintiffs have accused the company of using labelling and marketing claims that are not supported by the product's actual protein content.
Beyond Meat is also facing other suits, with another also alleging false advertising which overstates the protein value of its products, with the plaintiff producing independent lab tests to back the claim.
Investment website The Motley Fool has reported that Beyond Meat's stock is now trading below its IPO price, and has listed 10 reasons to sell Beyond Meat Stock, which includes its view that "The plant-based meat craze is over".
"Beyond Meat initially grew like a weed because restaurants and retailers were eager to test out its plant-based meat products. But that enthusiasm waned throughout the pandemic, and it's continuing to fade as inflation pushes consumers back toward cheaper meat-based products."