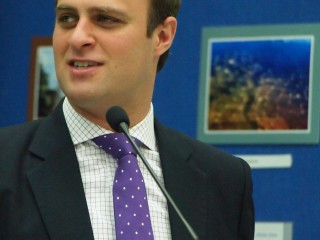 Beware environmental groups bearing 'voluntary' certification schemes.
That was the key message of an address to rural landholders at the Property Rights Australia's annual conference in Rockhampton last weekend by Tim Wilson from the Institute of Public Affairs.
Mr Wilson, who describes himself as one of the few people in Australia who is paid to keep environmental groups accountable, has studied the strategies used by Environmental Non-Government Organisations (ENGOs) to achieve widespread adoption of their environmental goals.
He told the conference that while ENGOs assumed the moral high-ground, the approaches they used to convert voluntary certification schemes into involuntary schemes after they were introduced challenged ethical boundaries and fair trade practices.
Mr Wilson said he had no issue with voluntary certification schemes initiated by ENGOs when they remained voluntary, and when producers and consumers had a choice about whether or not to be involved.
However he said ENGOs had a well-documented history of applying public and commercial pressure to make voluntary schemes mandatory after they were introduced.
"If you join their scheme and you do not comply or if you leave, there is a massive publicity campaign against you or your industry," Mr Wilson said.
He said the World Wildlife Fund's introduction of "Market Transformation Initiatives", such as the sustainable roundtable process it is steering with major multinational corporations to introduce voluntary certification systems in a range of agricultural industries, including beef, was a case in point.
He said ENGOs recognised that the adoption of schemes was hampered by their voluntary nature, so they employed a variety of public and private strategies after voluntary schemes were introduced to stimulate their widespread adoption. These actions included campaigning for national legislation and tax incentives, influencing public procurement policies and introducing start-up grants.
He said ENGOs initially worked on getting the major players in each industry to adopt certification schemes, because of the power they had to influence the rest of the supply chain.
The WWF's own assessment had identified that between 300 and 500 companies controlled at least 70 percent of the trade in each of the 15 commodities that they have identified as having the biggest environmental impact.
Of that number, 100 companies controlled 25 percent of the trade across all commodities, affecting around 50 percent of all production.
When they succeeded in getting major players on board, and these companies began to push certification schemes back down the supply chain, primary producers were ultimately left with little choice about whether to be involved, he said.
Mr Wilson said a proven tactic was for different ENGOs to work in unison to achieve common goals.
A favoured approach was for an "activist" ENGO with a reputation for radical action such as Greenpeace to "harangue" large businesses over their environmental, social or economic record.
Another "middle-of-the-road" ENGO, such as the WWF, then established a voluntary certification scheme that, if adopted, enabled the targeted business to address those concerns and remove the criticism of the activist ENGO.
"While a clever strategy, if as explicit as it appears to be written, it raises questions about whether these ENGOs may be colluding to the point of warranting questions of extortion," Mr Wilson said.
Mr Wilson wrote about ENGOs and the tactics behind imposing involuntary certification schemes in a September 2011 paper for the Institute of Public Affairs titled "Naked Extortion".
He expressed concerned that ENGOs effectively became the owner, operator and controller of certification schemes, with little apparent accountability.
He said businesses that adopted certification standards were essentially locked in and could not leave without criticism. Meanwhile certification standards increased over time, adding further costs that businesses had little choice but to absorb.
Once a majority of participants were on board, ENGOs then pushed for Governments to enshrine certification standards in legislation.
Property Rights Australia chair Joanne Rea said the group has consistently argued against the Australian beef industry's involvement in the Roundtable for Sustainable Beef.
"The roundtable process fits neatly into WWF's strategy for its Market Transformation Initiative which starts with a voluntary, easy–entry scheme but which will be ratcheted up over time," she said.
Other speakers at the weekend's conference included South Australian member of parliament Anne Bressington; Peter Manuel, founder of the Food producers and Landowners Action Group of South Australia (FLAGSA); Lestar Manning from P&E Law; Phillip Sheridan from Palmer, Rennick and Stevens, Kyneton, Victoria and landowners Andrew Rea from Bowen and Trent Hindman from Wyandra.
Landowner Andrew Rea from Bowen told the conference that he is dealing with at least nine different resource or resource infrastructure companies, which amounted to a huge and uninvited impost on his time.
Wyandra landholder Trent Hindman, who was fined $110,000 and a further $13,000 in costs for renovating turkey bush infested country without a permit, provided an update on the progress of his appeal.
PRA awards life membership to former chair
Former chairman of Property Rights Australia John Purcell was presented with life membership of PRA, less than a month after being awarded Order of Australia Medal by the Queen in her Jubilee year for services to Australia's rural industry.
Mr Purcell is a former chair of Property Rights Australia and coined its slogan "Stand your Ground". He is also a former President of the Cattlemen's Union of Australia from 1984-1986 and again from1994-1997.
As CU president he was instrumental in negotiating the Cape York Heads of Agreement between the CU, the Wilderness Society (TWS), the Australian Conservation Foundation (ACF), the Cape York Land Council (CYLC) and the Aboriginal and Torres Strait Islander Peninsula Regional Council on the 5 February 1996.
Members of the PRA board for the 2012-13 year are Joanne Rea, Dale Stiller, Ashley McKay, Ron Bahnisch, Christopher Leeds and Trent Hindman.