HOW do Australian cattle producers have a say on how their levy funds are spent for the purposes of Research and Devevelopment?
One part of the answer is through the annual series of Beef Up and producer feedback forums held throughout the year across the country by the northern, southern and western Australian research committees.
Yesterday in Miles about 50 cattle producers attended one of 11 BeefUp forums that will be held across the Northern Australian region this year.  The Northern Australian Beef Research Committee (NABRC) divides northern Australia into 11 regions, each with its own sub research committee, with one Beef Up Forum held in each region each year.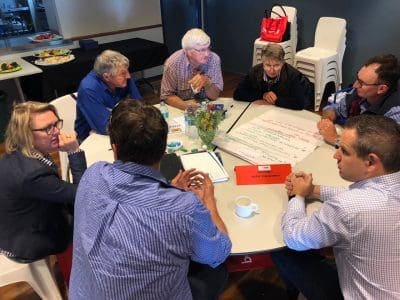 In addition to providing producers with information on existing research and the latest practical adoption information, each BeefUp Forum includes a dedicated workshop session where producers form groups to identify research priorities of importance to their own operations and their region.
There have been six BeefUp forums held across Northern Australia so far in 2018 with a further five to go at Spyglass Research Station in Northern Queensland tomorrow, followed by Augathella (Oct 10), Mundubbera (Oct 17), Julia Creek (Oct 31) and Alice Springs (Nov 5).
The Miles forum yesterday provided an opportunity for producers in the Southern Queensland region of NABRC to have a direct say in the research and development priority setting process.
Chair of the Southern Queensland Region Beef Research Committee, Andrew Gray, a cattle producer from Texas, said priorities identified at the regional forums are collated and assessed for consideration by the NABRC Board. It was often the case that priorities identified at regional forums were already being addressed by existing research, so not all made it through the process, but at each forum priorities could make it all the way through to a national project call.
NABRC chair Lee Fitzpatrick told yesterday's forum he was yet to attend a BeefUp forum where he could not identify examples of priorities set by that same region in previous BeefUp workshops that had not resulted in research funding.
Should R&D receive a greater share of levy funds?
In a Q&A session at yesterday's forum a question was raised about the small share of funding allocated to Research, Deveopment and Adoption from each $5/head cattle transaction levy compared to marketing.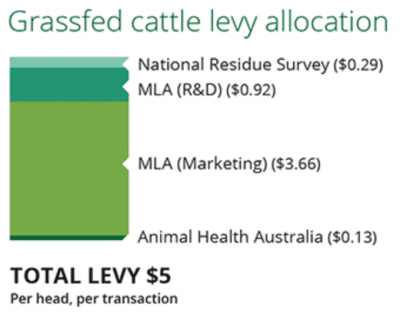 Under current legislation, funds from every $5 per head transaction levy are allocated as follows:
73.2 percent ($3.66) is directed to MLA for marketing purposes;
18.4pc (92c) is directed to MLA for Research, Development and Adoption;
5.8pc (29c) goes to the National Residue Survey; and
2.6pc (13c) to Animal Health Australia.
Levy funds allocated to RD&A in the Australian cattle industry are boosted through matching Government funding for research and development and private investment leveraged for some projects through the MLA Donor Company.
The size of the levy has remained the same for 12 years.
In 2006, with global perceptions of the food safety of beef suffering from a series of BSE detections in cattle in Europe, North America and Japan, the Australian cattle industry voted to increase the transaction levy per head from $3.50 to $5.00.
All of the additional funding was directed to increasing marketing activities for Australian beef, with the marketing component increasing from $2.16/hd to $3.66/hd.
In 2009 an industry panel reviewed the levy arrangements and recommended it be maintained at $5 per head.
In 2016 a Senate Inquiry into marketing and R&D levies in the agricultural sector recommended the Department of Agriculture review the process for establishing and amending agricultural levies, including modifications to levy components. The same inquiry recommended the establishment of levy payer registers, which among other things would enable better communication with growers on levy allocations in each sector, work which is understood to be still progressing.
Under current arrangements, changes to the allocation of funds from the $5/head cattle transaction levy would require changes to legislation, which would need the support of the peak industry council, the Cattle Council of Australia (CCA).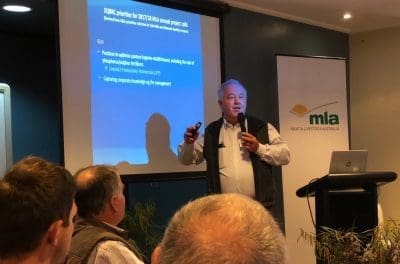 NABRC chair Lee Fitzpatrick sits on the CCA's RD&A committee and told yesterday's forum the issue of levy funding allocations had been discussed recently.
"At the last meeting of the CCA RD&A committee a few weeks ago we put it back on the table to take to the CCA board to pursue that very issue, the ability to tweak the distribution of the levy," he said.
He said a small tweak to levy funding allocations had the potential to significantly increase funding for R&D projects.
While current drought conditions would make this concept a hard sell at present, the long time that has passed since the last levy increase suggests the industry could see the case for a levy increase debated when conditions improve.
Since the levy was increased to $5 per head in 2006, changes in CPI effectively meant that the value of the levy had declined by 30 percent over that time.