NFF, RSPCA support livex penalty crackdown, Labor should follow: Littleproud
Minister for Agriculture David Littleproud says both the National Farmers Federation and the RSPCA support his Bill to double penalties for livestock exporters who do the wrong thing, and has called on Labor to help the legislation pass through Parliament. "Labor are deliberately stalling bigger penalties for wrongdoing by live exporters for a political stunt – to get a headline," Mr Littleproud said. "If Labor won't listen to me on putting the politics aside, they should listen to NFF President Fiona Simpson and RSPCA Policy Adviser Jed Goodfellow. Punt the political games and let's get a result for animal welfare and the people on both sides of this debate." NFF President Fiona Simson: "What we don't want is for politics to be played around this issue — political point scoring is not going to help anyone." RSPCA Policy Adviser Dr Jed Goodfellow: "We would like to see tougher penalties for exporters implemented now."
New origin brand for New Zealand red meat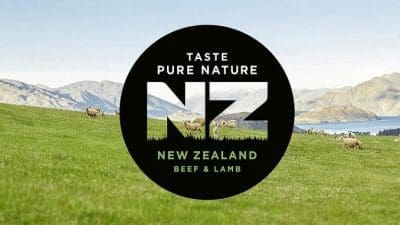 A blueprint and a new brand for New Zealand's sheepmeat and beef overseas has been unveiled by Beef + Lamb New Zealand (B+LNZ). The Red Meat Story and Taste Pure Nature origin brand will be used as a global brand platform to underpin exporters' marketing programmes and enhance the positioning of New Zealand red meat. It is expected to start appearing in export markets by the end of the year. Taste Pure Nature has been developed in conjunction with B+LNZ's processor partners and farmers over the past 12 months, and has involved extensive consumer, customer and market analysis. The program has also been influenced by significant quantitative research by the B+LNZ's market development team and the organisation's recent research into alternative proteins. Taste Pure Nature brand assets will be available for New Zealand exporters to use in all markets with the brand appearing on packaging, advertising and other material. In addition, B+LNZ is working with meat processing companies on two pilot programs in China and the US. These programs will aim to build demand and visibility for NZ beef and lamb through active in-market promotion of Taste Pure Nature to key distributors, foodservice and retail channels including consumers. If successful, B+LNZ will work with processing companies to extend the active promotion to further markets.
Cattle Producers Australia forum at Albury next Monday
Cattle Producers Australia (CPA) will host an industry forum for grass-fed cattle producers in Albury Cattle Producers Australia (CPA) next Monday, June 25. CPA's Implementation Committee has invited ACCC agriculture commissioner Mick Keogh to provide an overview of the outcomes and recommendations of the ACCC's Update Report on The Cattle and Beef Market Study released in May 2018. CPA Implementation Committee chair Dr Paul Wright, said the forum will be "a great chance for local producers to meet, share their concerns, learn more and discuss options." The industry forum will be held on Monday 25 June 2018 at The Commercial Club, 618 Dean Street, Albury from 1.30pm. Registrations can be made free online at https://bit.ly/2Mk92Fk or by calling 0431 117 630. More information at www.cattleproducers.com.au
US FDA to set guidelines for "cultured meat'
The US Food and Drug Administration has announced it will establish guidelines on developing "cultured" food products made from cells from animals that are multiplied using non-traditional food technologies. The US Government agency says the use of animal cell culture technology as a method of food production and manufacturing raises many important considerations from a technical and regulatory perspective. "This is a dynamic space that's gaining interest among companies for various reasons, including appealing to consumers motivated by animal welfare concerns and commercial incentives, including environmental impact, for replacing traditional animal-derived materials for non-animal derived components," an FDA statement said. It said a public meeting on July 12 meeting will provide an important opportunity for the FDA to share its initial thinking for how its intend to appropriately apply its existing regulatory tools and policies to this "novel area of technology". "Our intent is to engage in a public discussion on this evolving technology to ensure we understand and consider all aspects as we determine the FDA's approach to these novel products."
Most wouldn't try plant based 'meat' burger regularly: survey
Less than 30 percent of consumers who tried an Impossible Burger plant-based burger, developed to replicate the taste, texture and smell of beef, would expect it to become a regular part of their diet, a survey of consumers in California conducted by NZ's Ministry for Primary Industries found. The NZ agency undertook the research to quantify their preferences towards new plant protein products and selected the US because of its size as a market and the significant funding of new plant protein products that has occurred there. The survey said that overall the taste and texture, price and convenience of preparation of the product still "tended to disappoint". Despite this, consumers were motivated to try the product by the environmental credentials and media hype. Findings included:
Most consumers (95%) have never heard of the Impossible Burger and less than 2% of respondents have tried the burger.
People who have tried the Impossible Burger like it most for its environmental credentials.
Low tolerances in the cooking process mean the final product quality can vary.
Many vegan and vegetarians do not like the product as they do not want meat substitutes.
Impossible Foods are grappling with perception around GMO status which is important to maintain the environmental credentials of the product.
Reviewers were more impressed by the appearance than the taste
Could seaweed provide future livestock feed?
Canadian scientists want to study whether red algae can one day be used as a sustainable livestock feed. Wade Abbott, a research scientist with Agriculture and Agri-Food Canada's Lethbridge Research and Development Centre, said study will aim to confirm whether the intestines of cows and other animals can digest and unlock energy from seaweed cell wall material, according to the National Post. Seaweed would be a good alternative to grains in livestock feed that could help solve a lot of problems in agriculture, he said. A major challenge is balancing a booming population and appetite for meat with shrinking arable land and fresh water. "Seaweed in that sense is actually remarkable because it grows in the ocean, so you're not competing with land required for human food," said Abbott. "It doesn't require fresh water. It doesn't require arable land. It's loaded with micronutrients. It has a rapid growth rate. The benefits of aquaculture go on and on."