A REPORT card released today into the sustainability of the Australian beef industry highlights the advances being delivered by producers, and demonstrates that consumers can have trust in the way red meat is produced, from paddock to plate.
The Red Meat Advisory Council's 2019 Australian Beef Sustainability Annual Update shows an industry that is achieving major milestones in its care for people, land and livestock.
The report card, released at a dinner in Sydney last night, demonstrates the contribution that cattle producers make to sustainably managing almost half of the Australian landscape and the significant contribution the sector has made to the national emissions profile and health of regional and rural communities.
The update reports against the priorities of the Australian Beef Sustainability Framework, an industry initiative that aims to meet changing community expectations and support a thriving beef industry.
Highlights include reducing the carbon accounts of the sector by 56 percent, demonstrating the ambition to be net carbon neutral by 2030 is 'on track.'
Self-directed approach
RMAC chairman Don Mackay said the 2019 Sustainability Update sent a clear message to customers and other stakeholders that the industry is demonstrating a self-directed approach to improving the environment and welfare of animals in its care while producing high quality and nutritious beef.
"The 2019 update for the first time benchmarks our industry's commitment to achieving the right balance of tree and grass cover and shows that forest and woodlands on beef-producing land nationwide are increasing, and removal of primary forests has declined more than 90pc since 1990," Mr Mackay said.
"Our customers recognise the important role beef producers play in managing the landscape, biodiversity and our grasslands, and our 2019 Update captures this."
Value in collaboration
Chair of the framework's Sustainability Steering Group, Tess Herbert, said the report demonstrated the value that can be gained through collaboration.
"In developing our sustainability report card, we've continued to collaborate with industry, beef business, Australia's major financial institutions and agribusiness, technical experts and key customers around the world," Mrs Herbert said.
"Our report is evidence this collaborative approach works. It shows that we have achieved a better outcome for our industry and the environment in which we operate over the past year.
"Australia remains 100pc exotic disease free and producers are doing more to support animal health by increasing vaccination rates by 11pc in the past year," she said.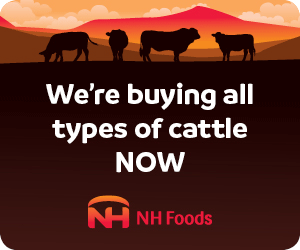 Mrs Herbert said she and the framework team were pleased that the report showed that despite huge challenges such as drought, Australian beef farms were more profitable, reporting a 4.4pc increase across the board in returns over a five-year period.
She emphasised that the report also identified where further work was required.
"We can now look at the change in balance of tree and grass cover across 56 Natural Resource Management regions. We will now work with producer groups and other interested parties to build on primary indicators for the dual benefit of improving production and the environmental base."
Reinforcing clean & green image
Mr Mackay said the take-home message from the 2019 report card and the best thing for customers to do was to buy Aussie beef and support a sustainable industry.
"Australian beef has always traded on being clean and green and by capturing data across a wide range of indicators, we can now further demonstrate this to our customers and other stakeholders. This evidence is essential in helping ensure that consumers continue to feel great about eating the world's best beef," he said.
Report highlights
Animal welfare
More producers are using pain relief on their cattle, since it became commercially available in recent years. An estimated 15pc of the national cattle herd are now treated with pain relief for routine, necessary husbandry practices. This is an increase of 11pc on last year
Vaccination rates against clostridial diseases are up to 82pc of the national cattle herd, up from 71pc last year; and
86pc of Australian cattle are polled, reducing safety concerns and removing the need to de-horn animals.
Economic resilience 
A National Livestock Genetics Consortium was established to deliver improvements worth more than $400 million; and
Beef farms saw a 1pc increase on their rate of return in 2017-18 compared to the previous year.
Environmental stewardship
There was a 56pc reduction in the beef industry's absolute greenhouse gas (i.e. carbon dioxide equivalent) emission from the Paris baseline year of 2005 to the latest reporting period of 2016, largely through a focus on improving productivity and landscape management practices;
The amount of land with coverage from trees and shrubs, including remnant and regrowth increased by 1.1pc between 2016 to 2017 and 1.3pc from 2008-17 in beef producing areas; and
52pc of cattle-producing land is managed by beef producers for environmental outcomes through active management.
People and the community
39pc of feedlots audited voluntarily implemented an antimicrobial stewardship plan in the first year of the guidelines' release; and
Launched the Rural Safety and Health Alliance to invest in work, health and safety solutions.
The best thing consumers can do is eat sustainable Aussie beef
AgForce Queensland Cattle president Will Wilson said the 2019 Australian Beef Sustainability Annual Update presented a picture of an industry that cared deeply about people, the land and its livestock.
"This report highlights the role cattle producers play in sustainably managing almost half of the Australian landscape and the significant contribution the sector has made to the national emissions profile and the health of regional and rural communities," he said.
"Producers are in business to provide the food and fibre products that customers want and customers' expectations about how we produce the food they eat is constantly changing. That's why it's important we transparently demonstrate to customers and government that our on-farm practices have integrity and that we are continuously improving."
Mr. Wilson said it was important for the industry to unify its efforts and to demonstrate a self-directed approach.
"Industry already delivers safe, high quality, nutritious products at an affordable price and is committed to continually improving how we do things – a key focus of AgForce's efforts to Advance Sustainable Agribusiness," he said.
"The Australian Beef Sustainability Framework takes significant steps in providing evidence, base upon which customers can continue to trust us to look after what is important to them, voluntarily and without unnecessary regulation."
"The industry is on track with transitioning to being carbon neutral by 2030 – slashing emissions with a reduction of 56pc in the period 2005 – 2016, largely through improving productivity and land management practices by producers."
"This is a clear message to global consumers that the Australian beef industry is serious about addressing greenhouse gas emissions.
There were a lot of positives to take from the report and some areas that required further improvement and more work, he said.
Improvement requires involvement from whole of industry. Producers, as environmental stewards, need to engage with the Framework to ensure that the indicators reflect the best environmental outcomes on the ground.
"We are confident about the role of grasslands and cattle in carbon sequestration and biodiversity and see the need to push for more attention in this area. Doing this will help facilitate investment into research to determine the beef industry's current benchmark of emissions versus sequestration.
The report needed to match AgForce's current goals to stimulate sustainable on-ground practices by producers, instead of the current destructive vegetation legislation with its perverse outcomes, Mr Wilson said.
"The Framework should continue to demonstrate the importance of economic resilience," he said. "Sustainability is a consequence of a long-term profitable beef business."
About the Australian Beef Sustainability Framework
Launched in 2017, the Australian Beef Sustainability Framework was developed by the Australian beef industry in collaboration with stakeholders to meet the changing expectations of consumers, customers, investors and other stakeholders. The Framework defines sustainable beef production and tracks performance over a series of indicators, to promote the industry's longevity and prosperity.
Click here to download the full report
Ag's GHG emissions in decline
Meanwhile, the Federal Government's quarterly update of Australia's National Greenhouse Gas Inventory released today shows that while the national emissions continued to grow last year, emissions from the agriculture sector decreased by 3.3 percent over the year to December 2018.
This decline was driven mainly by decreases in emissions from rumen fermentation, reflecting a decline in the beef cattle population, the report said. In addition, there were decreases in emissions from agricultural soils and field burning of agricultural residues. This was the result of a return to more regular production conditions following the above average to exceptional yields in much of the Australian cropping region in 2016-17.
Emissions from agriculture include methane, nitrous oxide and carbon dioxide. Methane and nitrous oxide emissions are estimated for enteric (rumen) fermentation and manure management in livestock.
In the year to December 2018, agriculture accounted for 12.9pc of Australia's national GHG inventory.