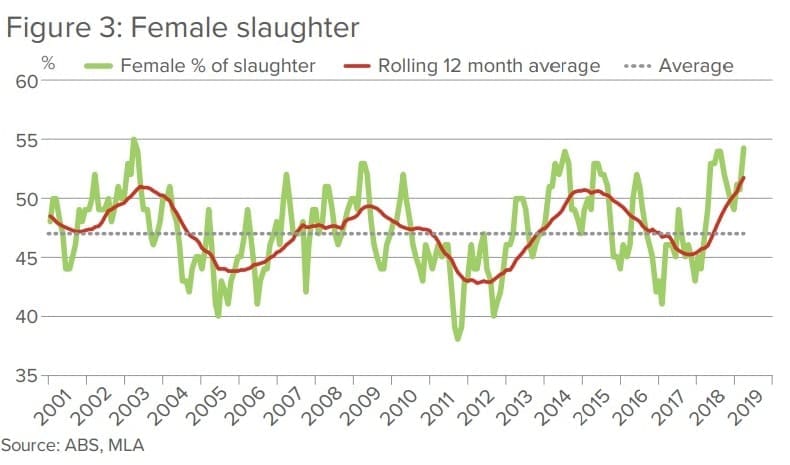 AUSTRALIA'S rates of beef cattle slaughter are expected to slow in the second half of 2019, as a result of the ongoing drought in many production areas coupled with flooding in northwest Queensland in February, which has resulted in the largest drop in the national herd in decades.
Meat & Livestock Australia's April quarterly Cattle Industry Projections update issued this morning suggests the national herd will decline by 7.7percent to 25.2 million head in the year to June, driven by elevated drought-induced turnoff, lower branding rates and estimated stock losses from the unprecedented Queensland flood event.
MLA's market intelligence manager Scott Tolmie said forecast adult slaughter for 2019 has been revised slightly higher, but is still expected to be below 2018 levels at 7.7 million head.
"The revision is largely driven by harsher-than-expected seasonal conditions during the first quarter and subsequent accelerated slaughter," he said.
For the year-to-February, adult cattle slaughter was 1.28 million head, 11pc higher than the same period in 2018 and the highest opening kill since 2015.
"The Queensland floods will have reduced the pool of available slaughter and export cattle," Mr Tolmie said. "However, this is overshadowed by the current elevated drought-induced turnoff with the poor conditions set to persist across many parts of the country and the latest Bureau of Meteorology forecast showing no strong indication of significant immediate relief."
With a reduced pool of available slaughter cattle, any widespread autumn and winter falls would be pivotal to how slaughter tracks in the second half of the year.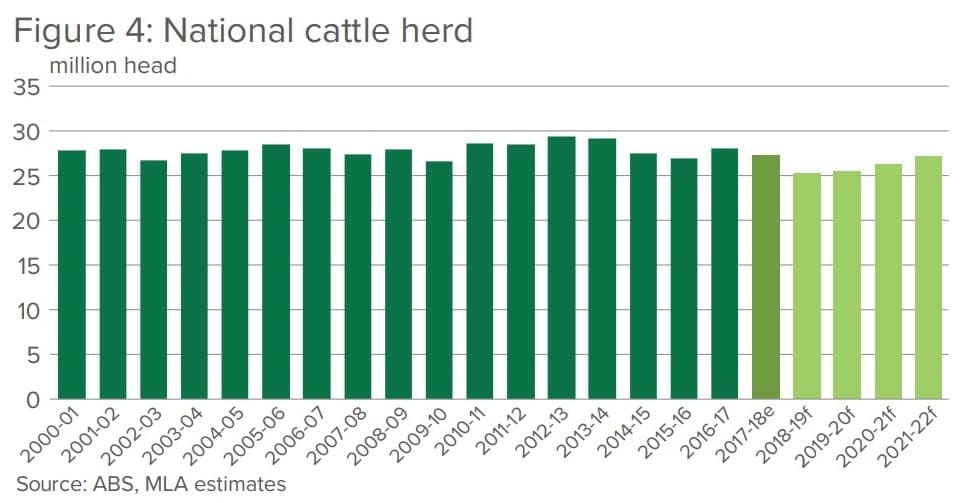 Female kill at 16-year highs
Mr Tolmie said the female portion of total adult cattle slaughter had remained elevated this year, reaching 54pc in February, its highest monthly level since June 2003.
On a 12-month rolling basis, the percentage of females in adult slaughter stands at 52pc – well above the 47pc mark typically indicating a herd in contraction.
"Feedlots have remained near capacity, but lower entry weights and the high cost of feed has impacted feeding margins," Mr Tolmie said.
Elevated female slaughter and lighter sale weights, due to poor pasture conditions, have led to lower carcase weights so far this year. This trend in carcase weights is forecast to continue, which combined with slaughter figures, will underpin a 3pc decline in beef production this year, to an estimated 2.2 million tonnes carcase weight.
Beef exports for 2019 have been revised marginally higher since the January projections, to 1.09 million tonnes shipped weight – a 3pc contraction year-on-year but still above any level recorded prior to 2013.
"At a time of drought-induced elevated cattle slaughter, global demand for Australian beef has been strong, supported by a low Australian dollar and fresh tariff reductions in the new year," Mr Tolmie said.
In the first quarter, Australia exported almost 265,000t beef, up 11pc year-on-year, and underpinned by increased grassfed beef production. Export growth has been led by China and the United States, with first quarter shipments up 67pc and 16pc year-on-year, respectively.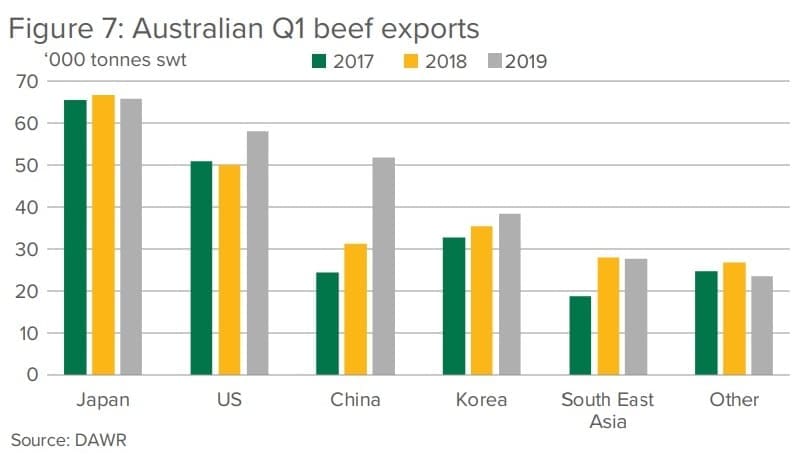 Finished cattle prices likely to remain strong
Mr Tolmie said looking ahead at prices, strong demand fundamentals and limited supply should see continued support and stability for finished cattle prices.
"Prices for store condition cattle are expected to remain under pressure until seasonal conditions allow restockers to re-enter the market with confidence and producers to hold onto more cattle," he said.
"While a return to more average seasonal conditions could see herd rebuilding recommence later in the year, the prolonged dry conditions will restrain the pace of any rebuild."
"Furthermore, the run of poor seasons since 2012 may have left farm finances drained. The longer the herd remains in liquidation, the sharper the expected price correction when it re-enters rebuild territory," he said.
"Even if there is a consistent string of reasonable seasons, it is expected to take a number of years before the national herd is back to its longer-term average of 28 million head."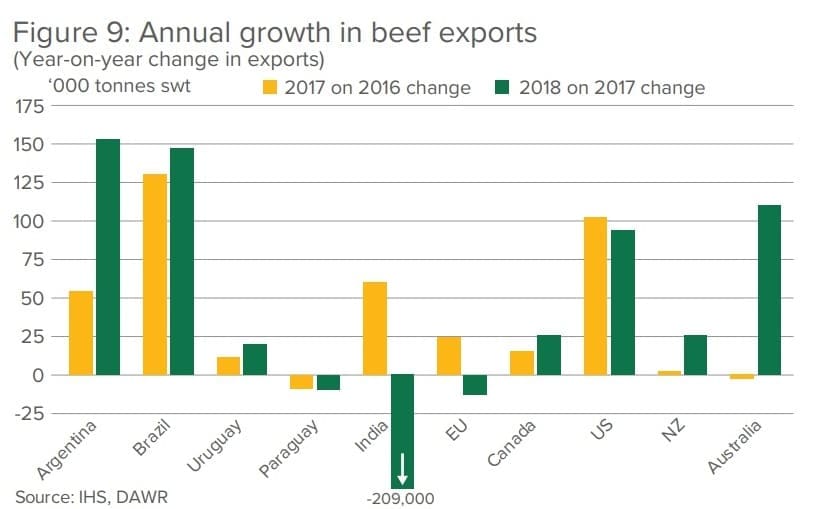 The cattle market has displayed heightened volatility in recent months, with weather the driving force, MLA's April projections update said.
Looking forward, store condition cattle are expected to remain under pressure until seasonal conditions allow restockers to re-enter the market with confidence and producers to hold onto more cattle. On the other hand, strong demand fundamentals and limited supply should see continued support and stability for prices at the finished end.
In early March, high feed costs, limited pasture availability and severe water shortages saw an influx of cattle on the market. Yardings rose substantially in saleyards from central Queensland to southern NSW. The weight of supply had a strong impact on prices, with the Eastern Young Cattle Indicator falling to 385¢/kg carcase weight – 26pc below the five-year average and the lowest level since 2014. Cow prices saw the largest declines, with the eastern states medium cow indicator falling to 131¢/kg liveweight – 33pc below the five-year average.
Following this, the widespread rainfall across Queensland and a decline in overall yardings saw prices quickly recover much of these losses through late March. With the optimal window for pasture growth now drawing to a close, store condition cattle are unlikely to see strong demand stemming from northern restockers until spring.
That said, any autumn rainfall would benefit winter forage crops and have a positive effect on the market. Incentivised by strong export demand for grainfed beef, feedlot buyers continue to provide a crucial base level of support to the young cattle market. In the absence of decent autumn rain, those in the market for feeder suitable cattle could potentially see supplies tighten during winter. As such, animals of desired specifications will likely receive a continued level of price support.
Despite store market volatility, finished cattle prices have been much more stable during 2019. Supply levels have been hampered by poor pasture and crop growing conditions, while a weak A$ and robust export demand have provided an added boost.
For the year-to-date, the national heavy steer over-the-hook indicator has averaged 500¢/kg, 8pc above the five-year average, and alludes to upside potential in the store market if conditions were to improve markedly.
There has been a sustained lift in the US imported 90CL beef indicator since the beginning of the year (see earlier Beef Central report). However, the indicator has accelerated more rapidly in recent weeks as widespread rainfall in Queensland lifted competition amongst US buyers, looking to secure grinding beef supplies over the summer grilling season.
The current spread between the 90 CL indicator and domestic prices highlights the fact that export markets are generating strong returns and domestic prices are yet to fully react, due to ongoing dry conditions.
Outside seasonal influences, key factors that may place downward pressure on Australian cattle prices include the strength of the US beef market – which is exposed to any US economic downturn and fall in meat demand – or an unexpected strengthening of the A$. However, global demand for Australian beef remains strong and the spread of ASF in China presents further upside potential for export prices – albeit the full extent this will have remains to be seen.
Source: MLA