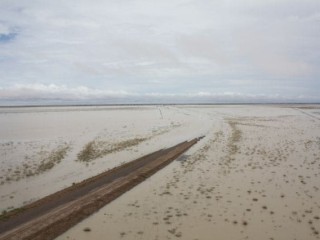 Eleven shires in northwest and western Queensland will hold a forum later this month to identify essential infrastructure needs for the region's beef industry.
The Northern Outback Beef and Roads Forum has been formed by the local government authorities of Cloncurry, Flinders, Richmond, McKinlay, Mount Isa, Burke, Carpentaria, Croydon, Charters Towers, Etheridge and Doomadgee, the Mount Isa to Townsville Economic Zone (MITEZ) and Gulf Savannah Development.
The group will conduct a forum on August 31 to address critical infrastructure issues of importance to the region.
Chairman of the steering committee Andrew Daniels, mayor of the Cloncurry Shire, said the forum aimed to provide people who live and work in the region with a platform to discuss opportunities and constraints affecting the future growth and development of the region.
The forum will look at development issues such as enhanced access to and use of water, improved infrastructure, particularly roads, reform of leasehold conditions and improved pasture.
Cr Daniels said the Northern Beef industry had the opportunity to expand considerably and sustainably for the future provided the necessary infrastructure was there to support that growth.
The forum will also discuss the North Beef proposal to build a northern meat works which has recently received Queensland Government funding for the development of a feasibility study.
The study will research the viability, location and design for the facility that would process cattle from the Northern Territory, Gulf of Carpentaria, North West and Western Queensland.
State and Federal ministers will also attend, he said.
Cr Daniels said that with the challenges cattle producers were currently facing to keep their industry alive, organisers were expecting a considerable turnout to send a clear message to Government.
The forum will take place in the Cloncurry Shire Hall from 8am on August 31 with a meet and greet function to be held at the Cloncurry Saleyards on the evening of August 30.
For further details contact the coordinator on 0400 089 222.