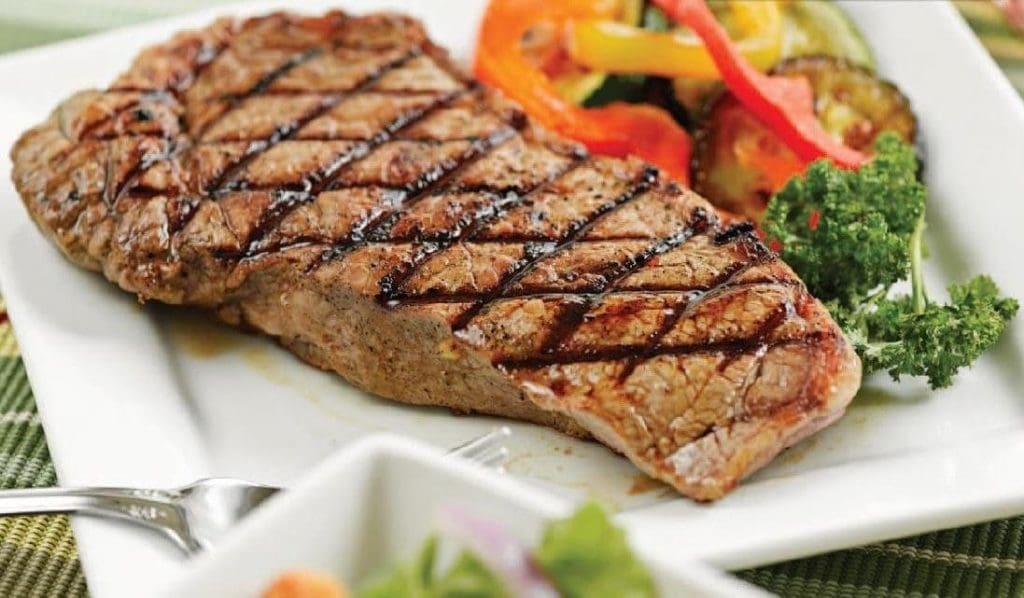 NEW research into the compounds that define the flavour of beef from different regions of Australia may not only provide greater opportunities for regional branding of products, but also help protect supply chains from substitution or mislabelling.
These were some of the signals to emerge from a session on red meat provenance and the Australian flavour story for meat held during last week's TropAg conference in Brisbane.
Dr Heather Smyth, a sensory scientist from the University of Queensland, told the gathering that the word, 'provenance', was usually associated with artworks or artifacts, but more recently it had been used in association with food.
"It's being driven by today's consumers who are more interested to know where their food  has come from; whether it is safe to eat; whether it has been grown and produced under ethical and sustainable conditions; and whether it is good quality, and if so, worth paying more for," Dr Smyth said.
"Provenance implies and verifies the food's origin, the qualities and distinct attributes of the food, and in many cases implies an increased value," she said.
Branding with food provenance provided an excellent opportunity for Australian food industries, and meat was no exception.
"But in having the provenance story, and using that effectively in communication with consumers, the meat industry is still a long way behind other food sectors, such as wine," she said.
"The great thing about provenance using regional branding is that it can generate added value for a product. The provenance story, however, needs to be tied to specific and recognisable attributes in the product that the consumer could identify with, and relate to.
"That point of difference must be communicated effectively in marketing and branding. And that is all part of consumers knowing and understanding the value that they are paying for. That gives integrity to the brand and the product," Dr Smyth said.
Regional flavour precursors
Regional flavour was an aspect of provenance which did communicate to consumers that there are unique qualities in a certain piece of meat that could only be found in a particular product, from a particular region.
"The wine industry does this very well, where the soil types, the environment, and even the harvest, handling and wine-making methods can be quite specific to a region. They elaborate these flavour precursors, which any expert can distinguish."
Dr Smyth said 'terroir' was a fancy French word for regional flavour which meant the interplay of natural elements that make up the myriad environment in which the grape vine grows.
"We could easily substitute the words beef or lamb for the word vine," she said, "in that the environment in which the product originates has an impact on the distinctive eating qualities that can be enjoyed."
"That is the point of distinction that Australian meat needs to focus on."
Complex volatile compounds
Beef was in fact similar to wine in terms of the number of volatile compounds that had been identified in the product, Dr Smyth said.
"In wine, it is somewhere between 800 and 900 compounds that have been identified, while in beef it is more than 880 compounds. Like wine, they make up less than 1pc of the total composition of the beef – but only a tiny amount can have a big impact on the odour and flavour qualities of the product – which makes them a little difficult to study."
"But just because there were 880 volatile compounds present in beef did not mean all of them were 'active' in the product, Dr Smyth said.
"It may be only a small fraction – perhaps five to twenty – that are really key impact compounds within a product. It is within those that researchers are able to differentiate a product from a particular region, based on the available feed source and other influencers, versus another region," she said.
Flavour influencers in meat
So what are the attributes that influence flavour in meat?
Similar to wine grapes, environmental aspects like soil type and climate also relate to beef cattle, together with genetics, age, condition of the animal, the nutrients available in the feed-source consumed, and the way the animal is managed. All can contribute to flavour.
"In this country, the land that we run cattle on, what we feed them and the ethical way that we treat these animals is all a part of the provenance story, and can impact the flavour and the sensory qualities of the product," Dr Smyth said.
"That's a really special and important story to put together, and to understand scientifically," she said.
She and fellow researchers had been working on other food and beverage items like craft beer and seafood, but more recently had turned to beef – "putting some science behind why Australian beef tastes better, why it is distinctive, and helping build that provenance story."
Dr Smyth said the research was still in its early stages, but in a year or two, answers to questions such as the range of compounds present in grass and grainfed beef might be much better understood.
South Africa's Karoo lamb provides case study
One of the regional products which has successfully applied for registration under the European Union's Geographical Information (GI) scheme, is South Africa's prized Karoo Lamb.
Prof Louwrens Hoffman from the University of Queensland's Queensland Alliance for Agriculture and Food Innovation (QAAFI) told the TropAg conference that Australia exported meat into increasingly competitive markets, and the need would continue to rise to be able to back those products with brands, and prove each product's unique characteristics.
"That is where scientific evidence using advanced analytical techniques is required to indicate provenance," he said.
Prof Hoffman said free-range lamb from the Karoo region of South Africa was known for its excellent quality and unique flavour.
Because of its higher value, concerns were raised that the name might be commercially exploited. That's where the idea came around to trying to define the attributes of Karoo lamb, focussed on analytical methods," he said.
Within the Karoo region, six indigenous plants had been identified that gave the product its unique flavour profile.
"What we wanted to do at the end of the day was protect Karoo Lamb's food heritage provenance," Prof Hoffman said.
"With the competition in the market these days, we have to start putting a value on a product like Karoo Lamb, and then go about protecting that value – by proving that it is as such, and that's where proving it through the science behind it comes in."
Researchers started measuring the compounds found in Karoo lamb, in order to determine origin and provenance – essentially, that it was the 'real thing.'
Different analytical techniques focused on chemical structure and sensory characteristics, including fatty acids and a range of other volatile compounds, were used to try to characterise Karoo lamb meat.
"We could show chemically and analytically that the different key forage plants in the Karoo region produced different fingerprints in terms of compounds. And we found the more stressed the plants were (through drought), the more of these volatile compounds they produced," he said.
The question then was, could researchers also find those fingerprints in the meat itself, and analysis found the same compounds in the lamb meat and fat.
"Now we could use those unique chemical fingerprints to link lamb to a specific area, allowing us to distinguish Karoo and non-Karoo lamb," he said.
Another line of analysis looked at carbon isotopes, which showed differences in different regions based on the abundance of Carbon4 grasses or Carbon3 bushes present.
Sensory testing also supported the differences in Karoo lamb from product from other regions.
"Definitely, the analytical and sensory testing showed a unique flavour in the Karoo lamb, to prove region of origin and provenance," Prof Hoffman said.
"We have now given South African farmers from the Karoo a methodology to catch any fraudsters, by determining the origin and provenance of the meat, and to test for the real thing" he said.
"Scientific evidence has confirmed the uniqueness of Karoo lamb, and consumers now cannot be misled."
One of the remaining challenges was that currently, South Africa – like Australia – was in the depths of drought.
"Many South African farmers are currently weaning their lambs and putting them in a feedlot to finish them. The next research phase will be to see how long this unique Karoo lamb flavour lasts when lambs are grain-finished. The same could apply to beef cattle, and that's a research area that we definitely need to do some more work on," he said.
Analytical techniques
Dr Sarah Erasmus, a researcher with Wageningen University in the Netherlands, told the TropAg conference there were now 363 meat products, ranging from fresh meat to offal and value-added items on the European Union's Geographical Information (GI) scheme.
While most were prdocued within EU member countries, some, such as South Africa's Karoo Lamb, came from other regions.
The GI scheme defined food products by quality, reputation or other characteristics according to their origin. Some of these regional products include provenance references made to breed, age, husbandry practices, diet and origin.
"These extrinsic factors all add up to provide unique intrinsic quality characteristics," she said.
The EU's GI system was also designed to help prevent misuse, imitation and food fraud, Dr Erasmus said.
"That's because there's often so much value linked to these specific names. But together with this type of legislative protection, brand owners also need analytical testing and traceability systems to prevent food fraud," she said.
Analytical techniques included the use of mass spectrometer testing, providing finger print markers to verify the nature of the food commodity – and hence it origin or specific ingredients.
"But analytical testing in itself is not a silver bullet for provenance. It is best used in a combination with different techniques (both screening and targeted) to verify products," she said.