BEEF Central publisher and co-founder Jon Condon has been honoured for a distinguished 40-year-career in rural journalism at the Beef 2021 in Rockhampton.
In front of a 650-strong crowd of prominent industry stakeholders at the Rural Press Club of Queensland on Thursday morning, Jon was inducted into the Queensland Rural Journalism Hall of Fame, joining a small list of fine broadcasters, writers and photographers who have contributed greatly to the industry (see other inductees below).
The honour comes within close proximity to two key milestones in Jon's journalism career.
February 2021 marked 40 years since he started on his path in agricultural journalism as a first-year reporter with Queensland Country Life after completing a degree in journalism and marketing at the University of Queensland.
An early journalistic posting in Townsville led him to breaking his first big story surrounding the now infamous theft of 6000 cattle from Queensland Stations' NQ property Strathmore – to this day the largest episode of cattle theft in the world.
He also reported extensively on the Brucellosis and Tuberculosis eradication campaign (BTEC) and its impacts on individual property owners. His reporting played a pivotal role in convincing the Federal Government to increase compensation to a more appropriate level to enable producers to survive the vast culling of their herds.
"It was an important learning experience to me – how one person with an old Hermes Media special typewriter, could have an influence on outcomes for the betterment of a broader community" Jon remarked during his acceptance speech on Thursday.
He also noted that this coming Tuesday, 11 May, marks exactly 10 years since he and Beef Central co-founder James Nason "left the comfortable cloak of corporate media and stepped off a cliff to launch Beef Central."
"We remain incredibly grateful to our loyal readers, advertisers and incredibly supportive industry colleagues and contacts across the industry," he said.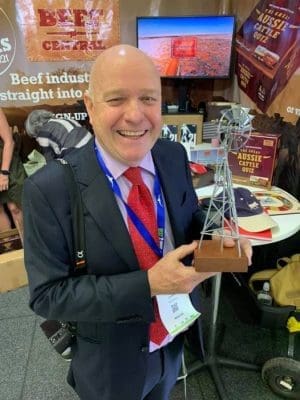 In announcing Jon's induction to the Hall of Fame, former Australia Red Meat Advisory Council and Australian Meat Industry Council chair Terry Nolan said from his earliest encounters with Jon, the-then young Queensland Country Life journalist's "passion to drive to the heart of a good story was palpable".
"From that first meeting onwards, I, like his ever-increasing readership, would look for his weekly articles and I noticed he took a genuine interest in the red meat processing sector; not just report on straight livestock," Terry said.
"He understood the holistic approach and importance of a demand chain.  I enquired one day as to why he had such a passion for the downstream processing. He told me that his family had built, and successfully operated, an export beef processing plant at Katherine in the Northern Territory.
"They also ran an extensive cattle enterprise on the Drysdale River in the east Kimberly. It all made sense that he wanted to burrow down into the variables and the triggers of 'cause and effect' within our industry.
"He covered many and varied topics for Fairfax/Rural Press, always wanting to bring a slightly different angle, a new perspective, for a typically 'real trenchant' story."
Mr Nolan said a fundamental characteristic any young journalist working in agriculture needs, apart from the obvious ability to string a few words together, is a well-developed sense of natural curiosity.
"Without it, it is very hard to make sense of what happens in our industry. The complexity, the volatility, the emerging technology, the markets, the evolution, the people, even the politics unscrambles just a little if you are curious enough to dig that little deeper. This guy has curiosity in spades."
Jon's depth of depth of understanding and historical perspective had "in many ways helped Australian agriculture at large to understand", he said, adding that his evidenced based approach and strength of conviction were also hallmarks of his career.
"As editor he has clearly demonstrated the courage to challenge both conventional wisdom and inaccuracies fed back in readers' comments. I am sure people find this refreshing so falsehoods are not cultivated and promoted.
He noted that in the 10 years since Beef Central has been in existence it has become "very much a part of the fabric of our industry": "Rather than just 'outsiders looking in', they are entwined in our industry. I suspect their business fortunes rise and fall on the fortunes of the broader meat and livestock industry, whether it be seasonal cycles, market collapses or whatever they are in the trenches with us.
"Beef Central in many ways has taken the lead as communicators and disseminators of helpful information to our industry. Given the global access to such online publications and the sensitivities of international trade, they have occasionally drawn the wrath of industry. However, I am sure they still take their responsibilities very seriously as evidenced by the number of breaking and nuanced stories they provide.
"Ten years on, many of you, if not all of you, scan your email inbox and invariably log on for your daily fix of Beef Central. Apart from numerous awards and recognition already bestowed on him personally, more importantly, the repeated patronage of any business is the key measure of its success."
In his acceptance speech Jon described his induction into the Rural Journalism Hall of Fame, where his name joins the late Malcolm McCosker, Rod Green, Kerry Lonergan, Pip Courtney and Robin McConchie, as a "great honour".
Jon's 40-year-career in journalism has spanned the transition from newspapers typeset in hot-metal to smartphones which give every person the potential to be a publisher, broadcaster and communicator in their own right, a development that has dramatically changed the face of modern media.
However one thing that had not changed was the importance of the role journalists provided in helping people to better understand often complex issues by breaking them down into digestible packages of information.
In closing Jon thanked his wife Cath, Beef Central's chief financial officer, "who has given me the license and encouragement to pursue my passion in this industry".
Beef Central's James Nason recently joined the committee of the Rural Press Club of Queensland. It should be noted the the Rural Press Club's decision to induct Jon Condon into the Hall of Fame took place prior to James Nason joining the committee.