US drought conditions continue into 2013
An updated Seasonal Drought Outlook released by the US Climate Prediction Centre suggests drought conditions will continue from North Dakota to Texas and from Missouri to Nevada through the end of March, according to a report from the North American Meat Association. "The climate models have been quite consistent for below-normal precipitation amounts," David Unger, a meteorologist at the Centre, told reporters. The drought reduced the US corn harvest to the smallest in six years and sent corn prices up as much as 68pc since June. It has also contributed to the reduction in the US cow herd to its smallest size in 60 years. However, consequences of the drought go far beyond the nation's cropland and grazing areas. The dry conditions also lowered the waters of the Ohio, Missouri and Mississippi rivers, which shrank shipping channels and is slowing the flow of goods, reports the Washington Post. The drought covers 62pc of the US mainland and is second in size only to the Dust Bowl event of the 1930s.
Traceability moves into non-perishable food lines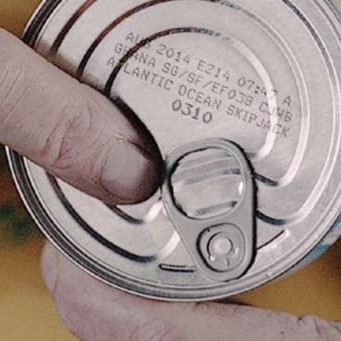 International seafood processor and canner, John West has rolled out a traceability scheme to include tinned salmon, mackerel and sardines, building on a program that started with tuna in 2011. The company's 'Can Tracker' initiative provides unique codes for individual cans, allowing consumers to pinpoint the source of John West canned fish they buy from the ocean to the fishing boat landing the catch. Shoppers enter the type of fish they bought, the country they bought it from, its barcode and a separate unique product code into John West's website. The 100pc transparency aspiration was part of a commitment on the part of the UK-based foods company to prioritise full traceability to foster sustainable fishing practices. Results of the Can Tracker program suggests it has improved consumer perception of John West. There has been a 263pc increase in website hits since the launch of Can Tracker as consumers trace their fish through the online portal. As a result, according to John West's own market research, 37pc of consumers now see the company as a sustainable champion, a 23pc increase since the Can Tracker launch.
Asian elections pose new market access questions for beef industry
Recent national elections across North Asia will help shape prospects for Australian beef trade into the region during 2013, the Australian Meat Industry Council has suggested. Japan went to the polls on December 16, producing a Conservative victory for the Liberal Democratic Party and a former Prime Minister, Shinzo Abe returned to power. Mr Abe served as PM from 2006 to 2007. December 20 also saw an election in Korea for a new President, promoting conservative, Moon Jae-in, the daughter of South Korea's former military ruler, as the country's first female head of state. There was recently a change in the leadership in China, where Party members elected Xi Jinping is the nation's new president, meaning that all three major Asian customers of the Australian beef industry now have new political leadership and fresh views about market access.
Meanwhile the US Obama Administration remains strongly committed to the Trans-Pacific Partnership multi-lateral free-trade agreement, visiting New Zealand just before Christmas to negotiate the next round of talks. China, Japan and Korea are not yet members of the TPP, while Australia is. The Obama Administration has set a target of October 2013 to conclude negotiations on the TPP, but if any or all of the three Asian giants join the Partnership, the finish date could be extended considerably, industry sources suggest. The Australian Government is sticking by its refusal to include an Investor State Dispute Settlement (ISDS) provision in the TPP threatening Australia's participation in the Pacific Rim-based trade pact. This is the same clause that has generated a hiatus in the Australia-Korea Free Trade Agreement. Japan has also now indicated it wants an ISDS clause in its FTA with Australia. The Australian Chamber of Commerce & Industry is leading the industry push to encourage the Federal government to review its position on ISDS's. AMIC, National Farmers Federation and the Australian Institute of Exports have all indicated that they are also concerned that the ISDS issue is threatening key FTAs, and with the change in leadership across the major countries in North Asia in recent weeks, this issue will require a quick resolution, the Australian Meat Industry Council says.
Countdown to first EU carcase competition
Potential exhibitors have less than a month to select and prepare entries for Australia's first-ever grainfed EU carcase competition, being staged as a special feature for June's Primex field days held near Casino in northern NSW. Intending participants should be starting the selection process for EU-eligible entries soon, as the cattle will be inducted into Warwick's Maydan feedlot, which is hosting the trial, on February 4. A second feedlot/carcase performance class will be held for domestic 70-day grainfed MSA cattle, to be inducted at the same time. The EU steers will be processed and graded at the Northern Co-op Meat Co plant near Casino, while the MSA steers and heifers will travel north to Woolworths, Ipswich. Each entry consists of four head, with the best three in each group being used for feedlot/chiller performance assessment. There are plans to hold a mid-term field day at Maydan on Friday April 5, after the first 61 days on feed. MSA cattle will die on April 15, and the EU class in early June, after 120 days on feed. The final results briefing and award presentation will be held during Primex field days on Friday June 21.
Details can be accessed here.
$5000 scholarship for Ag students
A Government-run scholarship is offering first-year university students $5000 per annum if they study an agriculture-related degree. The Horizon Scholarship is an initiative of the Rural Industries R&D Corporation in partnership with industry sponsors and not only offers students financial support but also work placements, mentoring and professional development opportunities. The Horizon Scholarship also provides students with opportunities to network and gain knowledge at a range of industry events.To be eligible, for The Horizon Scholarship students must be entering their first year of university and studying a degree related to agriculture (such as agricultural science, rural science, livestock/animal science, veterinary science or agribusiness). Scholarship recipients will be selected on the basis of their commitment to a career in agriculture, as well as their leadership potential and high school academic record. Sponsors of The Horizon Scholarship relevant to the beef industry include Woolworths, Lallemand, DAFF, Meat & Livestock Australia and RIRDC. Applications close on February 1, with scholarship winners announced in late February. Application forms can be downloaded from the RIRDC website at www.rirdc.gov.au/horizon
Russia aims to be leading meat exporter by 2020
Russia's president Vladimir Putin has called for the country to become fully self-sufficient in meat production and become one of the world's leading meat exporters by 2020. Speaking in his annual message to the Federal Assembly, Mr Putin said that Russia, which currently imports 2.3 million tonnes of meat each every year, should aim to abandon meat imports by 2018. He suggested that by 2020, the country should increase meat exports to 600,000t per year – about 20 times the current volume. "In the next four to five years, we should reach full independence in all major types of food, and then Russia should become the world's largest supplier of food. This will open up vast new opportunities for us," he said. In recent years Russia has invested heavily on domestic production of poultry and pork, and reduced import quotas for white meats. Some investment has also taken place to build beef breeding resources, but this is much less further advanced. Beef quotas have remained almost untouched. Russia is now a member of the World Trade Organisation, achieving full membership in August, meaning it must abide by WTO rules in future trade access issues.
JBS gets go-ahead on Canadian beef plants…
JBS has received approval from Canadian authorities to buy the troubled XL Foods plants it assumed management control over in October, but has struck greater resistance in the US over the potential purchase of other XL Foods processing assets. The provincial government of Alberta has approved an exemption that will allow JBS Canada to buy XL Foods' Brooks, operations. The province's Foreign Ownership regulations limit foreign ownership of land to no more than two parcels of rural land of no more than 8ha each, according to reports, but exemptions can be granted if an economic benefit can be shown. In October, JBS USA reached an agreement with XL Foods to manage XL Lakeside, the plant at the centre of the largest beef recall in Canadian history. XL Lakeside is one of Canada's largest beef processors with capacity to process 4000 head per day. The agreement also gave JBS USA an exclusive option to acquire Canadian and US operations owned by XL Foods, including US beef packing plants in Nebraska and Idaho.
…but strikes resistance in US
While the acquisition of XL Foods' Canadian operations has gone smoothly, the company's plans for US operations has met with opposition. A coalition of 40 US agricultural organisations led by the National Farmers Union recently asked the US Department of Justice to investigate a proposed merger of JBS USA and the two US-based beef packing plants run by XL Four Star Beef. "We firmly believe that this proposed merger would reduce competition and seriously harm both cattle producers and consumers," a letter from the lobby groups states. In 2008 the US Department of Justice initiated anti-trust enforcement action that prevented JBS USA from acquiring National Beef Packing, the fourth largest beef packer in the US.
JBS paper pulp venture to be world's biggest
Meanwhile parent company JBS Friboi has invested about A$2.9 billion in a paper pulp production facility in Brazil. The El Dorado Brazil complex located in the southernmost state of Rio Grande do Sul will have an initial production capacity of 1.5 million tonnes of pulp annually. The company expects an annual turnover of A$1 billion in its first year of operations and to double production by 2017 before carrying out a new expansion in 2021. When finished it will be the world's largest single-line pulp mill. This output – the raw material for which will be wood from planted eucalyptus forests – is to be exported to paper producing markets in South America, North America, Europe and Asia.
Top 2013 restaurant menu trends
The US National Restaurant Association recently released its 'What's Hot' culinary forecast of menu trends for 2013. The NRA surveyed more than 1800 professional chefs and members of the American Culinary Federation, to find that children's nutrition and local sourcing will continue to be the hottest trends on US restaurant menus this year. The top 10 menu trends for 2013 include:
Locally-sourced meats and seafood
Locally-grown produce
Healthful kids' meals
Environmental sustainability as a culinary theme
Children's nutrition as a culinary theme
New cuts of meat (such as Denver steak, pork flat iron, teres major)
Hyper-local sourcing (for example, restaurant gardens)
Gluten-free cuisine
Sustainable seafood
Whole-grain items in kids' meals.
Also included in the surveys were questions about other restaurant trends. More than half of the chefs surveyed said they were making efforts to adjust dishes and recipes to be more healthful, while 37pc said they cooked with nutrition in mind, but that not all recipes were easily adjusted. When asked how to best handle the increasing cost of ingredients, 32pc said changing menus, 25pc said adjusting plate composition, and 24pc said exploring new sourcing options. Only 4pc said that raising menu prices was the best strategy.
Top speakers for International Livestock Congress
A top lineup of international speakers has been engaged for the 2013 International Livestock Congress to be staged January 15 in Denver, Colorado. The Congress will be staged as part of Denver's 107th National Western Stock Show. Attendees will hear first-hand from world-renowned speakers including Colorado State University's Professor Gary Smith; John Lundeen from the US National Cattlemens Beef Association; Phil Seng from the US Meat Exporters Federation and Professor Russell Cross, Texas A&M University. Speakers will cover the latest information on environmental impacts on beef production, sustainability, knowing international customers and competitors plus current market issues domestically and internationally. A contingent of Australian industry stakeholders often attends the conference. More information can be viewed at http://www.nationalwestern.com/international
South American trade grows
The growing demand from Brazil and Chile for high quality imported beef has been reflected in Australia's beef trade in 2012, with shipments to South America jumping 37pc in the first ten months of 2012, totalling 17,953t. Underpinning the rise in exports to South America has been an increase in shipments to Chile, up 30pc year-on-year, to 15,200t – 90pc of which was chilled. Australian exports to Brazil for January-October have doubled year-on-year, reaching 2400t. Brazil imports mainly primal cuts from Australia, with the main cut being frozen rump cap – representing 86pc of total shipments. The significant growth in Brazil's middle class population has increased protein consumption in both Brazil and Chile. Along with Australia, Uruguay has also increased exports to Brazil in 2012, rising 4pc year-on-year, to 9050t, while shipments to Chile have surged 82pc, to 18,000t.