Dry conditions still impact US beef regions
While moisture conditions have improved in the US cornbelt, the western half of the US – an area quite important to the nation's beef industry – remains parched. As of May 7, two-thirds of the High Plains (Kansas, Colorado, Wyoming, Nevada and the Dakotas) remained in drought conditions classified as severe or worse by the NOAA's National Drought Mitigation Centre. The same was true for 47pc of the West and 44pc of the South region which runs from major cow states, Texas and Oklahoma, eastward to Mississippi and Tennessee. "It is obvious that pasture conditions are still poor in these areas and summer is just around the corner," Daily Livestock Report said recently. An estimate earlier this month suggested that 45pc of the nation's January 1 beef cow herd resides in states with 40pc or more of their pasture and range land rated either poor or very poor. That figure compared to just 6pc one year ago. These conditions would influence three key supply factors, DLR said: the flow of US cows to slaughter; the number of heifers that move into the fed cattle supply; and the productive capacity of the US beef industry for several years to come. "This is a slow-change business so the challenges of today will be visited upon the supplies of tomorrow. Productivity is more and more important, but you still can't get a calf without a cow," DLR said.
New 'grassfed' emphasis for NZ beef in Japan
Beef + Lamb New Zealand (BLNZ) changed its brand logo and tag line for New Zealand grassfed beef in Japan for the first time in six years. The new brand logo incorporates imagery of breeze-blown grass and is designed to promote NZ grassfed beef's high 'nutritional value and healthiness' in addition to safety. The new tag line is "New Zealand Grassfed Beef: Healthy Beef Raised Naturally". With only one significant feedlot in operation in NZ, the industry has squarely placed its product image behind the positive consumer attributes associated with grassfed product.
EU introduces new food safety laws
In response to Europe's recent horsemeat fraud scandal, the European Commission has announced revisions to its food safety laws that include increasing unannounced inspections and higher penalties. The EC says the changes provide a modernised and simplified, more risk-based approach to the protection of health and more efficient control tools to ensure the effective application of the rules. Over the last three months, three people have been arrested over the fraud. The proposed new rules would reduce regulations covering the food chain from almost 70 individual pieces of legislation to just five. The goal is to simplify the regulatory environment that creates a more efficient system that reduces the administrative burden and creates more transparency. The proposal must be passed by EU member governments and the European Parliament. If adopted, the new regulations will impose financial penalties directly related to profits from 'fraud'" and mandatory spot- check testing.
Changing consumption patterns
Estimates by ABARES show per capita consumption of beef in Australia has halved over the past 25 years, while consumption of pork and chicken have doubled and tripled respectively. The trends are in line with global figures which suggest chicken is poised to overtake pork as the most widely consumed meat in the world. According to the United Nation's Food & Agriculture Organisation, pork accounts for more than 36pc of world meat intake, followed by poultry at 33pc. The poultry sector however is the fastest growing meat sector worldwide, consistently expanding at a rate of more than 5pc a year since the 1960s, according to a 2011 FAO working paper.
Canada to mandate labelling of mechanically-tenderised beef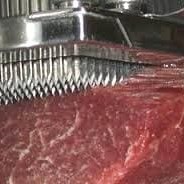 Canada plans to taking action on the labelling of mechanically-tenderised beef following the preliminary findings of a recent risk assessment of the technology. So far Health Canada's study shows that the risk of E. coli contamination is higher for mechanically tenderised beef products than untreated beef. To reduce this risk, Canada plans to mandate labelling for domestic and imported product that is mechanically tenderised. By early July federally-registered plants that produce mechanically tenderised beef cuts, such as steaks or roasts, will be required to label those products as tenderised and with cooking instructions. Health Canada also intends to propose broader mandatory labels to identify beef that has been mechanically tenderised at retail outlets like supermarkets. The theory is that the mechanical 'needling' of muscle meats has enhanced potential to introduce microbes within the muscle itself, rather than being contained to the surface. Mechanical tenderisation is practised on some beef items sold in the Australian market.
Japanese Wagyu prices on the rise
Wagyu calf prices in Japan are on the rise, with the average price of black wagyu calves at 113 markets nationwide reaching JPY465,448 per head in April, up 11.5pc from a year earlier and the highest in around five years. The higher prices are mainly due to a decline in the number of calves following the outbreak of FMD in 2010 in Miyazaki Prefecture and the impact of the East Japan Great Earthquake in 2011.
From Canberra to the bush
Cattle Council of Australia this week hosted the 21st annual Rural Awareness Tour across Queensland. The RAT tour, an initiative of the CCA inaugurated in 1991, provides an opportunity for government officials and key industry stakeholders involved in the development and implementation of policies that impact beef producers, greater on-the-ground understanding of the beef cattle industry and a chance to expand their networks and knowledge. "The 2013 RAT extensively explored Australian cattle production systems in regional Queensland," CCA chief executive Jed Matz said. The week-long tour began in Brisbane, travelling to Roma, Emerald, Normanton, Cairns and the Atherton Tablelands. The tour visited one of Australia's largest cattle saleyards; an abattoir; a high-end butcher shop and wholesale distribution centre; and a number of different properties in Australia's largest beef producing state. "The RAT provided opportunities to form relationships with industry leaders and beef producers. Participants came away with a greater appreciation for state and national issues impacting the Australian beef industry," Mr Matz said.
Red Meat Updates event for Tasmania
A Red Meat Updates field day targeting Tasmania's beef and sheepmeat producers will be held at The Tramsheds, Launceston next month. The event is being staged on Thursday June 20 through a partnership between MLA, Roberts and Macquarie Franklin. The event is free and anyone involved in Tasmania's red meat sector is encouraged to attend. The program aims to:
Better connect red meat producers, industry and researchers;
Increase the awareness of relevant R&D projects and outcomes;
Showcase innovative practices being adopted by Tassie producers;
Provide information on the 'hot topics' relevant to Tasmania's red meat industry; and
Highlight future industry R,D&E needs.
The full program has many highlights, including presentations from:
Steve Wyn-Harris, NZ – The value of science to today's farm business
Richard Gardner, Tunbridge – Our irrigation story
Peter Greenham – A processor's perspective of MSA
Doug Piper, MLA – Master Butcher presentation
Lachie Bowtell, MLA domestic region manager – Global red meat outlook.
A lunch showcasing local Tasmanian meat will be provided, and drinks served at the conclusion. Free buses have been organised to assist with transporting producers from the North West, North East and South of the state. Places are limited and must be booked. Registration is required. Call Macquarie Franklin on 6427 5300 or go to www.macquariefranklin.com.au/events.html
New DNA cattle test beefs up meat quality
www.Phys.org reports a genomics technique developed at Cornell University to improve corn can now be used to improve the quality of milk and meat, according to research published in the journal Plos One. A team led by Cornell assistant professor of animal science Ikhide Imumorin, is the first to apply a new, inexpensive yet powerful genomics technique to cattle called genotyping-by-sequencing (GBS). The protocol contains only four basic steps from DNA to data, and the group's work demonstrated it generates enough markers to fast track cattle genomics, it said. "Breeders are interested in cattle with traits such as high meat or milk quality, disease resistance and heat tolerance, but identifying the best animals means sorting through thousands of unique gene variants in the genome," said Dr Imumorin. "Until recently, the cost of genomics techniques has set too high a bar for breeders." Dr Imumorin's team used GBS to identify more than 50,000 genetic markers for genetic profiling. The team's analysis showed the markers were preferentially located in or near the gene-rich regions in the arms of the chromosome, making them well-sited for tagging genes in genetic studies. The researchers also demonstrated that the markers accurately detect the relationships among the breeds analysed. While a genetic profile could cost $70-$150 per individual using commercially available methods, GBS brings the cost down to around $40 a sample or less. He predicts that GBS will be deployed by breeders and geneticists scanning herds for superior breeding stock. He cited the example of how selection of bulls for use in breeding programs will be streamlined through GBS-driven genome analysis around the world, without the steep cost of commercial SNP chips, the standard tool based on gene variants discovered in European cattle breeds and made into off-the-shelf genotyping chips.