Draft Biosecurity regulations
Draft Regulations for the Biosecurity Bill 2012 and the Inspector-General of Biosecurity Bill 2012 for are available for public comment. DAFF deputy secretary Rona Mellor said the new legislation was designed to support a responsive biosecurity system that intervened where risk needed to be managed: off-shore, at the border and on-shore. "During consultation on the primary legislation, interested parties said they wanted to better understand how it would work in practice. These regulations will help to inform the community," Ms Mellor said. Subject to passage of the Biosecurity Bill 2012 and Inspector-General of Biosecurity Bill 2012, the full package of regulations is proposed to be re-released during a formal consultation period. The DAFF website has more information about the draft regulations www.daff.gov.au/bsg/biosecurity-reform/new-biosecurity-legislation/regulations.

Hendra Virus simulation exercise
DAFF chief veterinary officer Mark Schipp has announced that a simulation exercise on detection of Hendra virus will take place in Victoria on June 4. The exercise will revolve around the simulated detection of Hendra virus in a horse and will commence with a short practical exercise and will be followed by a desktop exercise. The exercise will involve participants from the Department of Environment and Primary Industries Victoria (DEPI) and the Australian Animal Health Laboratory (AAHL). The objectives of this simulation exercise are to give staff practical experience in sampling procedures for a suspected Hendra virus case and transfer scientific knowledge regarding Hendra virus and response to detection.
Calling for knowledge on calf saleyards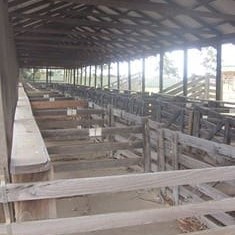 A Western Australian-based heritage architect is seeking historical information about calf saleyards, which used to be common not only in WA, but across Eastern States as well. Prue Griffin has particular interest in the remnants of the calf selling yards near Harvey in WA. Part of her work is in the preparation of surveys of heritage places for local government, and such a survey is currently progressing for the Shire of Harvey in the south west of Western Australia. "Some years ago the Harvey calf saleyards stopped being used and is now lying idle and subject to vandalism and decay," Prue told Beef Central. "We would like to establish the following:
Were calf saleyards rare?
Are there many left in Australia, if so where?; and
What is the history of this type of structure?
Contact can be made with Prue at Hocking Heritage Studio, Shenton Park WA. Ph 08 9388 2810 or email prue@hockingheritagestudio.com.au
Nominations open for Qld red meat awards
AgForce Queensland is calling for nominations for the Queensland Red Meat Awards to be held in Brisbane during the Ekka week in August. AgForce Queensland Events Manager, Wendy Allen, said the awards were important toencourage continued high performance and innovation in the red meat sector and to promote the superior quality of local product. "This is a chance to pay tribute to those who are setting the agenda and leading the way forward in the industry and to help to continue to promote Queensland as a leading supplier of red meat," Ms Allen said. Categories are: Innovation in Red Meat – Beef Producer of the Year; Innovation in Red Meat – Sheepmeat Producer of the Year; Best Red Meat Restaurant – Metropolitan Award; Best Red Meat Restaurant – Regional Award; Innovation in Red Meat – Retailer of the Year Award; and Red Meat Industry Emerging Leader. Nominations opened on May 27 and close on July 1. The 2013 Queensland Red Meat Awards will be held at Brisbane's Victoria Park Golf Club on the Wednesday, August 7. Email nominations to redmeatawards@agforceqld.org.au or post to: Queensland Red Meat Awards, c/- AgForce Queensland, PO Box 13186, North Bank Plaza, Brisbane QLD 4003. Red Meat Awards guidelines and judging criteria can be viewed at www.agforceqld.org.au

Waybills online are way faster
Livestock owners can now take advantage of the new electronic waybill available on the Australian Business Account (ABA) website. Queensland's chief biosecurity officer Dr Jim Thompson said it was a legal requirement for travelling stock to be accompanied by a completed waybill or an equivalent document, such as National Vendor Declaration (NVD)/Waybill or PigPass. Until now, livestock owners have manually filled out forms in a printed waybill book purchased from the Department of Agriculture, Fisheries and Forestry or requested single waybills. "We are now moving to an online 'smart form' system, which will be a more convenient option for accessing, filing and distributing waybills." Waybills are available online at: https://forms.business.gov.au/aba/qldgov3/waybill/ <https://forms.business.gov.au/aba/qldgov3/waybill/> Users with an Australian Business Number (ABN) can create an account on the ABA site and immediately start completing waybills. Records can also be stored within the user's account.
OIE warns against release of Rinderpest
The World Organisation for Animal Health (OIE) has launched a digital media campaign warning against the risks of accidental or deliberate release of the rinderpest virus. The campaign is centred around a video that calls all OIE Member Countries to respect their commitment to OIE and either destroy the virus, or safely store it in a minimum number of facilities approved by OIE and FAO. Rinderpest was officially declared eradicated by the OIE and the Food and Agriculture Organization of the United Nations (FAO) in 2011. Rinderpest also called cattle plaque, did not affect humans but left millions of dead animals in its wake, causing major economic and social disruption. While the virus no longer circulates in animals, dozens of laboratories still hold stocks of the virus, posing a risk to global security. The video highlights the risks for virus escape, as a result of negligence, an accident or a deliberate act, and that storing the rinderpest virus comes with a great burden of responsibility. It calls on countries and laboratories to identify their stocks of the virus and provides a checklist of actions to take to ensure rinderpest does not resurface.This video clip will be shown on digital media in different regions of the world in English, French, Spanish and Russian over four weeks.