Reunion for Buntine/RTA staff
Former staff who worked for either Buntine Roadways or its successor, Road Trains of Australia are invited to attend a reunion being held at the National Road Transport Hall of Fame museum in Alice Springs on August 29. Both companies are legends in the history of livestock transport in northern Australia, and RTA featured prominently in Beef Central's recent Top 25 Livestock Transporters feature (click here to view). In 1994 the National Road Transport Hall of Fame built and named its first building the Buntine Pavilion, in honour of industry pioneer, Noel Buntine. "It will be 20 years old this year and also 20 years since Noel passed away," said Liz Martin, Hall of Fame chairman. "We are holding the Buntine/RTA reunion to celebrate his life and our building. So many of those early driving legends, including Noel himself, are not with us today," Liz said. "While this is essentially a reunion celebrating the green and white of Noel Buntine's early days, it is also important that we acknowledge and celebrate the passing of the baton through people like Dicky David, Ken Warriner, Mike Flynn and Jim Cooper to Hamptons." Stakeholders interested in attending can contact Liz on 0429 201549 or at the museum on (08) 8952 7161. Her email address is info@roadtransporthall.com
Readers can check out the museum at www.roadtransporthall.com
PPP Group pledges $27,000 to rural rescue services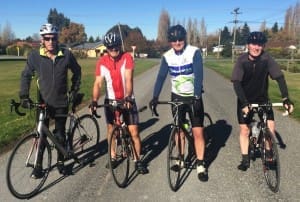 The Platinum Primary Producers (PPP) Group, an annual gathering of strategic thinkers across the livestock industries in Australia and New Zealand, has sponsored NZ rural radio host, Jamie Mackay to the tune of $27,000 to cycle 240km from Queenstown to Invercargill in one day. Mr Mackay, who broadcasts a popular daily agricultural show across NZ radio, set out last Friday to raise money for the NZ Westpac Rescue Helicopter, in recognition of its role in helping rural farming communities.
The PPP Group, of which Mr Mackay is a key member, is made up of over 120 of Australasia's leading rural movers and shakers. The Group committed to the sponsorship at its recent annual conference in Queenstown, NZ. PPP chairman Shane McManaway said the group liked to do as much good for rural communities as it could, and fully supported the fantastic job that rural rescue services do in both countries. "As such, we've decided to donate $16,500 (all the money pledged by our NZ members) to the Westpac Rescue Helicopter and $11,000 (the total pledged to date by Australian members) to Australia's Royal Flying Doctor Service." Pictured: Jamie Mackay (2nd from right) with two Riversdale farmers and the Landlord from the local pub during training for his epic fundraising ride.
Call for nominations for CCA's 2014 Rising Champions initiative
Cattle Council of Australia is calling the next generation of beef industry leaders for the 2014 NAB Agribusiness Rising Champions Initiative. State Finalists will convene in Canberra to gain insight into the workings of industry and government, develop interpersonal skills and meet like-minded people with a passion for the Australian beef industry. The 2014 NAB Agribusiness Beef Industry Rising Champion will travel to the Five Nations Beef Alliance conference in 2015. Applications will close on May 16. Applications can be made online at: www.cattlecouncil.eom.au/risingchampions
Marcus Oldham offers five $10,000 Drought Relief Scholarships
Marcus Oldham College will launch a new Drought Relief Scholarship program in Longreach tomorrow, in which it is offering five study awards worth $10,000 each to students in drought affected regions of Queensland and New South Wales who are eligible to commence studies in the Marcus Oldham Farm Business Management Program in 2015. The program produces graduates who will be professionally prepared for the workforce and can operate a full range of agricultural systems. For more information email courses@marcusoldham.vic.edu.au or freecall 1800 623 500.
Jamie Oliver butchery suspended on hygiene practices
A UK butchery owned by celebrity chef Jamie Oliver was temporarily closed recently over food hygiene issues. Despite being approved for decades by the USDA, Oliver infamously attacked Lean Finely Textured Beef (LFTB) on one of his television programs several years ago, describing it as 'pink slime'. The episode almost crippled Eldon Roth's Beef Products Inc, which produces LFTB in the US, and destabilised the US red meat supply chain for months. An inspection of Oliver's Watling Street, London butchery by UK environmental health officers in January, saw it receive one star out of five on the UK Food Standards Agency's food hygiene rating scale. The agency said major improvement was necessary after finding mould on meat carcases and mouse droppings on the premises, among other hygiene breaches. A statement issued by the Jamie Oliver Restaurant Group said it took immediate action to voluntarily close the butchery in order to urgently address the issues raised. "We reopened within 24 hours and the EHO noted that improvements had been made," the statement said. "Issues such as this are extremely rare within the JO Restaurant Group and are treated with the upmost severity."
2014 Export Awards  open for entries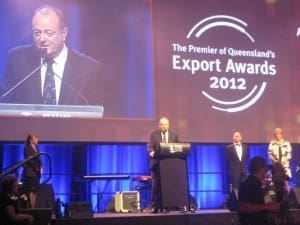 Queensland exporters are encouraged to enter the 2014 Premier of Queensland's Export Awards, entries for which open on 19 May. The beef industry has had considerable success in the awards, now in their 25th year, at both state and national level. Each state has a similar set of awards, with state winners gathering in Canberra for the Prime Minister's national export awards.
Last year and 2012's Queensland state agribusiness export award winner was the Australian Agricultural Co, while Tasmanian Quality Meats won last year's national small business exporter award. For the first time, live webinars will be held during July to assist companies with their application process. Entries close on 30 July. Visit the website here. 
APVMA offers training over chemicals legislation
The Australian Pesticides and Veterinary Medicines Authority (APVMA) has developed a training program to help industry get ready for the changes occurring from 1 July to agricultural and veterinary legislation and regulations. The training program is based on feedback received from individuals and industry groups, and from legislation information sessions held earlier this year. The timing of sessions is designed to assist people in the lead-up to, and following, the commencement of the new legislation on 1 July. A free two-day training event has been planned in Canberra on 2 and 3 June, pending sufficient interest. The format will be flexible and allows participants to decide whether to attend all sessions or just pick those of greatest relevance to their sector. Participants will have direct access to a range of specialist APVMA staff over the two-day program for both networking and one-on-one discussions. Interested parties are encouraged to register as soon as possible as the workshop will only go ahead if there is sufficient interest. In a second phase, APVMA will offer eLearning training modules on its website from June. These modules will focus on key areas such as the pre-application process, making applications, preliminary assessment and permits. These self-paced modules will continue to be available after the new legislation comes into place. The draft regulatory guidelines and information about how to get ready for the changes are available now.
See the APVMA website for details about the training options.
US plant will offer 'unique' traceback
A new US beef processing plant in Iowa plans to allow consumers to trace its beef right back to the farm of origin. Lime Springs Beef is building a boutique-scale 3000sq m plant processing about 80 head a day, which it hopes to have operating in November. It will produce only 'Natural' beef from cattle raised without HGP, the company says. The plant will feature several special environmental and energy features. Consumers will be able to scan a barcode on the company's beef packaging in the retail chilled cabinet and trace the beef back to the farm and learn about the family that raised the cattle. All its cattle will come from within 100 miles of the plant and it will sell all its beef within 200 miles, under 'Food Miles' principles. The plant's location puts it within easy reach of the large Minneapolis-St Paul metropolitan market. Lime Springs Beef was incorporated in February 2012, raising $4 million in 55 equity investments, mostly from cattle producers. It is also receiving another $1.4 million in local, state and federal US grants.
Australia's Fast-Food Choices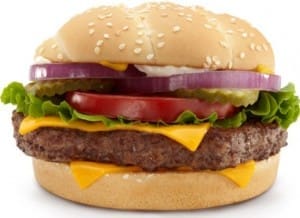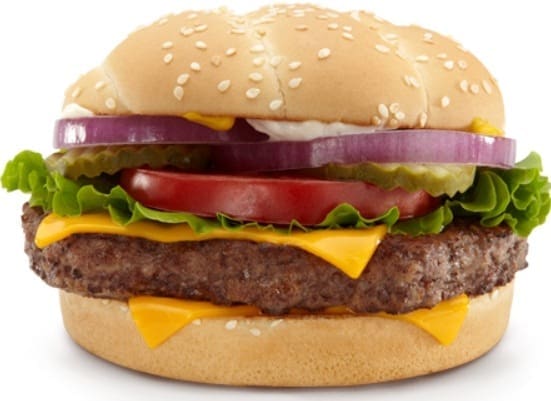 According to recent findings from market research group, Roy Morgan, more than half the Australian population (55pc) visited at least one fast-food restaurant in an average four-week period during 2013, for either takeaway or dine-in. McDonald's was the clear favourite visited by three out of ten Australians. With its customers paying around 2.7 visits in an average of four weeks, McDonald's had a convincing lead over Subway (2.3 visits), Hungary Jacks (2.2 visits) and Nando's (2 visits). Despite having the second highest total customer count, KFC only managed fifth position for average visitation. "The supremacy of McDonald's in terms of total customers and average visitation rate isn't surprising" said Roy Morgan Research. Not only is its menu extremely affordable but many of its 900 plus Australian restaurants offer drive-through, extended opening hours and/or playgrounds for kids. In today's time-poor society, such ease of convenience is a real drawcard." Brand loyalty was also crucial in any industry, with fast-food being no exception.
Walmart suppliers commit to sustainability
US supermarket giant Walmart and more than a dozen of its major suppliers have signed commitments to boost the sustainability of the products the retailer sells, from more 'sustainable' agricultural practices and recycling, the global retailer said in a news release. The pledges are part of what Walmart is calling its Sustainable Product Expo, a three-day collaboration to expand the availability of products that 'sustain people and the environment.' The participating suppliers include Cargill and seven other food companies whose efforts are projected to "bring 8 million acres of farmland into sustainable agriculture programs and eliminate 6 million tonnes of GHGs," the release said. Additionally, companies joined with Walmart in a recycling initiative called the Closed Loop Fund, with the goal of making recycling available to all Americans. Working with Cargill, Walmart is developing a small-scale pilot program focused on investigating the best ways to communicate information about farm-to-fork sustainability to consumers. Walmart's goal is to source 15pc of its beef supply with environmental criteria by 2023, according to the release. Walmart also unveiled plans for a 'sustainability store' (accessible via www.walmart.com). The shopping portal will allow customers to easily identify brands that are making efforts to lead sustainability within a category by identifying them with a special icon. The portal is expected to be in place online by the end of 2014.
NZ processor launches MSA-like grading system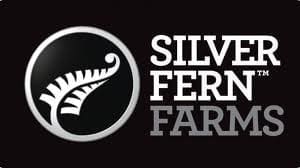 Large New Zealand meat processor Silver Fern Farms has launched an eating quality grading system which is said to closely resemble Australia's Meat Standards Australia program. The cooperative owned processing business recently showcased its new eating quality grading system for beef to directors, company representatives and suppliers at its Finegand plant last week. Silver Fern group category manager Grant Howie said the aim was to create a demand and premium for NZ grassfed beef. "Beef farmers produce a huge range of beef – from very good to bad – which used to go in one box. Now we are able to sort it out and ask a premium for very good quality beef which will be guaranteed reserve grade," Mr Howie said. The new beef grading system is backed by 97,000 taste tests in NZ and the United States and 13,900 individual consumers trying various cuts of beef. Silver Fern has been trialling the new grading system over the past two years and it had also been implemented at its Belfast and Pacific plants. The grading system measured criteria such meat colour, fat colour, rib fat, marbling, eye muscle area and pH. Mr Howie said beef quality could be influenced behind the farm gate with genetics, feeding and minimal stress playing an important role. Producers who met the reserve quality standard would receive a premium for their beef, he said. Silver Fern's branded beef was launched in supermarkets in March and consumers could now buy premium grilling cuts, medallions, stir-fry and roast in conveniently packaged portions. Mr Howie believed a significant number of consumers would be willing to pay a premium for quality beef. "NZ beef has been underselling for years. Now it's time to take it to the best paying markets in the world," he said.
Indonesia-Australia host FMD simulation trial
The Australian and Indonesian governments, through the Australia-Indonesia Partnership for Emerging Infectious Diseases (AIP-EID), have recently recently worked together to prepare for the possibility of an outbreak of Foot and Mouth Disease via a simulated trial on the eastern Indonesian island of West Nusa Tenggara (NTB). Indonesia has been free of FMD since 1986, but the potential of the disease's return is considered high via the flow of trade and livestock smuggling from nearby countries to Indonesia which are not yet free of the disease, including Malaysia, Thailand, Vietnam, Myanmar and Laos, are not yet free of the disease. Indonesian agriculture ministry spokesperson Tjahyani Widiastuti told the Jakarta Post that Indonesia always had to be vigilant and raise alertness among even the lowest level of farming communities, as the disease is very detrimental, especially to the economy. With early detection of the disease and quick response, we believe that we could minimise impacts in the event of an attack," said Tjahyani. The simulation trial aimed at improving the coordination of veterinary services at regency, provincial and national level, and to build capacity for quarantine and laboratory services. AIP-EID senior veterinary advisor John Weaver said Australia had the same interests in anticipating a foot-and-mouth outbreak in Indonesia and to resolve other animal health issues. Australia, through AusAID, has set aside A$22 million (US$20.5 million) for the AIP-EID program through 2015.
US, NZ renew WTO talks against Indo import barriers
The United States Government has stated it is taking Indonesia back to the World Trade Organisation to loosen its rules on the import of agricultural products, saying that reforms have been insufficient. The US has been joined by fellow agricultural exporter New Zealand in seeking WTO consultations Indonesia over its barriers to imports. If talks fail, the two countries have said they will ask the WTO to set up a panel to settle the dispute, Channel News Asia has reported. In early 2013 the US held WTO consultations with Indonesia over its "opaque and complex" rules on imports. In response, Indonesia streamlined its import licensing process and removed a number of items from regulation including garlic, chili powder and cabbage. "Unfortunately, the revised system still appears to breach WTO rules and restrict US agricultural exports," US Trade Representative Michael Froman said in a statement announcing the new WTO move. "Accordingly, we will continue to press Indonesia to bring its import licensing system into compliance with WTO rules so that US farmers, ranchers, and businesses are able to have the access to Indonesia's market that we negotiated in the WTO." The United States said it was concerned about restrictions on its exports of fruits, vegetables, flowers, beef, poultry and other products to Indonesia, the world's fourth most populous nation.
Thought for the Day:
"Expecting the world to treat you fairly because you are good, is like expecting the bull not to charge because you are a vegetarian."