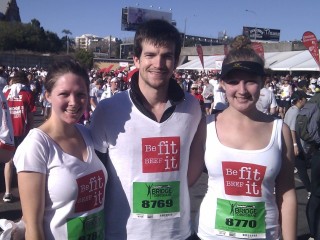 Beef Central's friends, colleagues and family hit the road for a good cause yesterday, joining and estimated 40,000 others in the annual Bridge to Brisbane Fun Run.
The Beef Central team, resplendent in their "Be fit: Beef it" T-shirts, finished in a time of one hour, four minutes – good enough for a 'Top 25' finish (thousand, that is).
Key nutrition and healthy lifestyle messages in the consuption of beef include:
Beef is one of the best sources of five essential nutrients
It is an important source of top quality nutrients (iron, zinc, omega-3, B vitamins and protein)
Consumed three-times weekly by most Australians, red meat plays an important role in the Australian diet – being the largest contributor of readily-available iron and zinc and the second largest contributor of omega-3, after fish.
Consuming red meat 3-4 times weekly makes it easy to meet your body's iron and zinc needs.
With less than 4pc saturated fat, trimmed red meat has the Heart Foundation's Tick of Approval.
Beef Central could not help but notice the politicisation happening within the annual Bridge to Brisbane fun-run event this year, with a range of causes and campaigns represented on T-shirts throughout the crowd.
The vegan movement was out in numbers, pushing an anti-meat protein agenda based on the usual ill-informed environmental damage argument.
The 2011 Bridge to Brisbane raised more than $300,000 for this year's chosen charity, Legacy.
Pictured above: Some of Beef Central team-members Annabelle, Josh and Sally, wearing their 'Be fit: Beef it' gear, who joined 40,000 others to raise funds for Legacy at yesterday's Bridge to Brisbane Fun Run.