KFC tries its hand at beef burgers
KFC for the second time is stepping beyond its chicken home territory, but this is the first time it has tried a beef menu item. In Japan, KFC has introduced the Bistro Hamburg, a 30pc pork/70pc beef patty with mushroom demi-glace on a burger bun. A TV commercial (above) shows Shuzo Kishida, chef-owner of Tokyo fine-dining restaurant Quintessence, tasting and approving the burger. The burger is priced at ¥490 (AUD$5.32) a la carte or ¥770 ($8.35) in a combo meal with coleslaw and beverage. Last year, KFC offered a BoxMaster Fish sandwich in France during Lent and it has occasionally menued a fish sandwich in Indonesia.
Burly bull video sparks steroid claims
A You Tube video showing extremely heavily muscled Belgian Blue bulls in Europe has divided opinion on social media, with many users claiming their size is due to steroid injections. The Belgian Blue breed is genetically predisposed to producing double muscling and reduced fat for efficient carcase production. The above video has triggered more than 1 million social media views, with many users commenting that the bulls' appearance is due to steroids. One social media user wrote: "This should be illegal to inject so much hormones and steroids into any animal it takes it out of its natural healthy looking character. This is sick and sad. [sic]". But another fired back: "This is a belgian breed of cattle that looks like this because of a genetic mutation that results in increased muscle mass!!! So stop this steroid and animal cruelty nonsense and waste your energy on something with more relevance. [sic]"
Russian giant to supply beef to McDonald's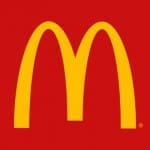 Russian Agribusiness giant Miratorg, which has been importing large volumes of Angus breeders from Australia, the US and Canada to build up its beef production herds in Russia, has announced that is now supplying high-quality beef to McDonald's restaurant chain throughout Russia. In a news release Miratorg says it has built from scratch the largest vertically integrated production "from the field to the shop counter" in Europe. More than 250,000 Aberdeen Angus cattle are now raised on 43 company farms in the Bryansk and Kaliningrad regions. Two grain feeding sites and a processing plant are also included in the operation. "The most advanced plant in Russia for cattle processing in Bryansk region has already supplied the market with more than 3300 tonnes of fresh high quality products and is going to increase the production capacity up to 40 thousand tonnes in 2015," Miratorg president Victor Linnik said. "We have been doing business with McDonald's for a long time – we supply chicken nuggets and chops for burgers. Now they are made of our own beef. " He added that the company will guarantee that the animals are grown without hormones and growth stimulators, only with the help of natural feedstuffs, with care and following the most strict quality standards. "Miratorg is going to increase supplies to the Russian market and is ready to cooperate with all HoReCa market participants. No matter what market segment they would work – our beef is enough for everybody."
Oklahoma meth addicts fuel cattle rustling surge
One of the oldest Wild West crimes, cattle rustling, has been making a comeback in Oklahoma in recent years, with major culprits being methamphetamine addicts selling stolen livestock to pay for their drug habits, officials said. Reuters news service reports that authorities in Oklahoma identified five people suspected of being in a cattle-rustling ring, arresting two suspects. "Cattle rustling has been around since Moby Dick was a minnow, but the price of cattle has doubled and tripled in the past few years, and theft is on the rise," said Jerry Flowers, chief agent of investigations for the Oklahoma Department of Agriculture. "Meth is a significant problem with people who steal cattle. We found the presence of meth to be more and more common with people who steal livestock. It's easy, quick money." All the suspects identified in the ring this week are from 16 to 22 years of age. They are thought to have sold tens of thousands of dollars worth of cattle over the past several months, including $27,000 in a single sale. About three in four people arrested for cattle rustling in Oklahoma have a methamphetamine addiction, he said. Read more on the Reuters news site
Aerial cow art
A Kansas farmer who has clocked up millions of views on You Tube with videos serenading his cattle with a trombone and parodying the "What does the Fox say?" song has produced yet another viral hit. In his latest video Derek Klingenberg puts a feed truck and an aerial camera-mounted drone to move his herd into the shape of a smiley face when viewed from the air. The video takes nearly nine minutes. Technology news site CNET notes just how complicated art-making can be when cattle feed is your "paintbrush" and cows are the "paint." At one point, the eyes of the face have to be redone because the cows quickly chowed through the strategically placed nosh. It takes some vocal encouragement and fancy feed-truck driving to get the cows to line up in the right places.
Record cattle exports in 2014, Darwin prices av 221c
Live cattle exports in 2014 surged to a record 1.29 million head, 52pc higher than the previous year and 33pc above the previous record of 971,880 head exported in 2002. The trade was valued at $1.23 billion (ABS). Largely contributing to the rise in exports was strong demand from South East Asia, especially Indonesia and Vietnam, evident by prices improving despite increasing supplies. Light steers out of Darwin to Indonesia averaged 221c/kg in 2014, up 25pc year-on-year and 16pc above the five-year average. Asia remains the primary market for Australian live cattle, taking 87pc of shipments in 2014, while exports to the Middle East shrunk year-on-year from 16pc to 9pc.
3D printed meat is feasible
The likelihood of being able to produce meat with 3D printers is almost assured, Professor Keith Belk at Colorado State University's Center for Meat Safety and Quality says. Scientists are successfully 3D printing human muscle tissue. What makes the endeavor less compelling for researchers, as well as food producers, according to 3D print news, is the issue of consumers' potential aversion to a food that is unarguably processed at a time when, more and more, people are interested in organic products. Professor Belk says it is one thing to create a 3D printed meat — whether chicken, pork, or beef — it's another to simulate the complexities of a given kind of animal tissue and make it palatable. Texture and flavor are pretty much where it's at for humans when it comes to consuming meat products. Arguments in favour of persisting with the technology are based on perceptions that cattle production is bad for the planet and innovative ways to produce more feed will need to be found to feed a rapidly growing global population. "While this might be an alternative," said Professor Joseph Sebranek from Iowa State University, "I wouldn't expect it to replace the industry, especially with consumer interests in natural, organic products."
Have you seen this stolen horse float?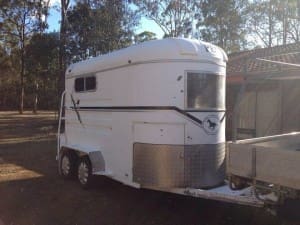 Queensland Police are asking for the public's assistance in relation to a horse float which was stolen from Coominya, which is near Lake Wivenhoe between Brisbane and Toowoomba, on Tuesday, February 10. The horse float was taken between 8.30am and 9.30am from a property on the Coominya Connection Road. The float is described as a white 2008 PBL extended front 2 horse float with Queensland Registration 196QQC. Also in the float at the time of the stealing was an Engel fridge, Honda generator, a saddle and bridle. Any information in relation to the whereabouts of the float can be forwarded to Plain Clothes Senior Constable Paul Linneth, Toowoomba SARCIS on (07) 4614 2114.