First jail sentence from horsemeat scandal
The first jail sentence related to the 2013 UK horsemeat scandal has been handed down. Dutch meat trader Willy Selten was this week found guilty by a Dutch Court of falsifying delivery notes and invoices and using the fake documents for the trade of meat products. He was sentenced to 30 months in prison, according to the Dutch Food and Consumer Product Safety Authority (NVWA). European news media have reported that it is the first custodial sentence to be awarded to anyone related to the scandal, however others, such as UK abattoir boss Peter Boddy have been prosecuted. Mr Selten was the director of two companies engaged in the purchasing, deboning, cutting and marketing of beef, which were found to have supplied meat marketed as 'pure beef' to companies in the UK and Ireland, which in fact contained horse DNA. He argued that the falsified documents were actually unintentional inaccuracies and errors related to the administration of the business, however the court reportedly dismissed these claims. The trader has also been declared bankrupt and is reportedly facing damages claims of €11 million.
NT EPA directs AA Co to prevent odour nuisance
The Northern Territory Environment Protection Authority (NT EPA) says it has issued a direction to AA Co under the Waste Management and Pollution Control Act, directing the company to immediately take measures to prevent offensive odours from its Livingstone abattoir. NT EPA chair Dr Bill Freeland said the authority met with senior AA Co management in Darwin recently to discuss the company's proposed plan for improving the quality of wastewater used for irrigation, and the impacts of odour on neighbouring residents. "The members required that AA Co provide an immediate, satisfactory and reasonable solution to the odour issues," Dr Freeland said. He said the NT EPA will continue to closely monitor compliance with the direction and the existing environmental protection licence.
2011 outbreak of E. coli cost Europe $1.3b
The World Health Organisation has totalled up some economic costs of the 2011 outbreak of the rare and deadly E. coli O104:H4 outbreak centred on Northern Europe, finding farmers and industries lost $1.3 billion, and emergency aid provided to 22 European states cost another $236 million.
The E. coli epidemic in May and June 2011 saw 3950 people infected, with 53 deaths blamed on the deadly pathogen. All but two of the deaths occurred in Germany. There were scattered cases reported in Switzerland, Poland, the Netherlands, Sweden, Denmark and the UK, but these people typically were in Germany or France immediately before being sickened.
Public health officials in Germany initially thought the source of the contamination was cucumbers imported from Spanish greenhouses, but that theory proved incorrect. It was a mistake that Spanish growers said cost them $200 million a week during the crisis. Russia banned imports of all EU fresh produce. Meat protein was also mentioned as a possible source. It was finally determined that bean sprouts was the source of the outbreak.
US cow beats one-in 11 million odds in producing four calves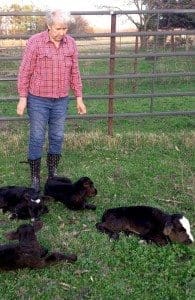 A cow in the US has defied odds of one in 11 million by giving birth to four calves, later called Eeny, Meeny, Miny and Moo.
AAP reported that local veterinarian Mike Baird called the multiple births "extremely rare", suggesting the odds of so many live births from one cow are one in 11.2 million.
"We knew she was pregnant, but we didn't know she was going to do this," said owner Jim Barling, who farms with his wife Dora on the Arkansas/Oklahoma border.
DNA tests will be done on tissue samples from the three bull calves and one heifer calf to satisfy those who may question the births from one mother.
NAB partners with 2015 Ag in Asian Century conference
The Toowoomba and Surat Basin Enterprise's Ag in the Asian Century National Export and Innovation Conference will be held in September this year, with NAB Agribusiness as a major Conference Partner. The 2015 conference will focus on giving delegates the knowledge and expertise they need to engage successfully in the Asian marketplace. NAB Regional Head of Food & Agribusiness, Asia, Patrick Vizzone will feature as a guest speaker. TSBE and NAB Agribusiness have a very similar strategy to support our clients and partners to expand their business into the Asian region by assisting in the development of contacts and introductions to potential new business opportunities," NAB Agribusiness Regional Agribusiness Manager Jason Lipp said. The 2015 Ag in the Asian Century Conference will be held on September 23 and 24 at the Empire Theatre in Toowoomba, with a number of industry tours being held on September 22.
Beef forum bound for Broome
Opportunities to increase the value of beef production from the Kimberley and Pilbara and to access new export markets will be presented at an industry forum in Broome this month. The Department of Agriculture and Food is hosting the Northern Beef Futures industry forum at the Broome Civic Centre on Wednesday 29 April 2015. Northern Beef Futures (NBF) is a four-year $15 million project led by the department and made possible by the Royalties for Regions program. NBF Project Leader Brad McCormick said the project aimed to transform the northern beef sector to become a more prosperous, sustainable and resilient pastoral industry through market diversity and improved business models and supply chains. "The forum is a great opportunity for people from all facets of the beef supply chain and the region to come along and learn more about the project and how they can benefit," Mr McCormick said. "Members of an industry delegation will present their findings on market opportunities for WA beef and live cattle, following a visit to Indonesia and Vietnam." The forum also includes sessions on beneficial practice and business change activities to increase on-station productivity and 'market pull' ─ delivering the right products to suit customer requirements. More information is available here agric.wa.gov.au/r4r/northern-beef-futures
Growers compete for Feed Central national hay competition
More than 1000 hay samples have been entered so far in the 2015 Feed Central National Hay Quality Competition and organisers hope to receive more entries before the closing date of June 30. Feed Central Quality Assurance and Supply Manager Ian Wickham said the inaugural Feed Central National Hay Quality Competition in 2014 was a great success and helped to build awareness of hay quality. A total of 753 lots weighing 180,000 tonnes were inspected in 2014 but already the 2015 competition has surpassed that figure with 1080 submissions. With the increased quantity has come increased quality, Mr Wickham said. All growers who have their hay inspected on-farm by Feed Central are eligible to enter the awards. Mr Wickham said the competition was designed to promote hay quality nationally; allow benchmarking of hay quality both visually and via feed testing; and to recognise individual growers and contractors for producing high quality hay. The competition includes all main classes of hay – lucerne, vetch and cereal.  National and state award winners will be announced on September 25. Producers can enter the competition by listing their hay in the Feed Central system. An inspector will visit properties for an on-site inspection. More details can be found at www.feedcentral.com.au.