Wild Dog website launched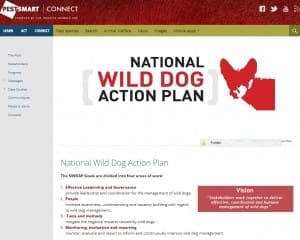 Australian livestock producers can now instantly access information about The National Wild Dog Action Plan following the launch of a new website. The National Wild Dog Action Plan website provides updates about the Plan's progress, key messages and case studies, as well as back issues of media releases and communiqués. The website is part of the broader Invasive Animals CRC PestSmart Connect portal which provides information about invasive vertebrate pests in Australia; their biology, ecology, impacts and best practice management. The National Wild Dog Action Plan was established to deliver and support safe, humane and effective wild dog management activities that are financially and environmentally viable.
Study finds global antibiotic use in livestock growing
Global use of antimicrobials in livestock production is growing, according to a new study published this week in Proceedings of the National Academy of Sciences. According to the study, livestock producers across the globe used more than 63,000 tons of antibiotics in 2010. That number is expected to rise by 67 percent in the next 15 years and double in Brazil, Russia, India, China and South Africa, a projection that reflects soaring demand for meat worldwide, the researchers said. "People are getting richer and want to eat more meat," Thomas Van Boeckel, a Princeton University epidemiologist who co-authored the study, told The Huffington Post. "Antibiotics help to provide a lot of meat for people who can afford it." The report said that while antibiotics can prevent disease and increase growth in cattle, chickens and pigs, bacteria exposed to the drugs can become antibiotic-resistant, posing a threat to both livestock and humans. Ramanan Laxminarayan, the study's senior author and director of the Center for Disease Dynamics, Economics & Policy in Washington, D.C. told NPR that the "circumstantial evidence, linking use in animals to drug-resistant bacteria in humans, is exceedingly strong."
Field day: Benefits of legumes in buffel grass pastures
Central Queensland graziers and pasture advisors are invited to attend a field day showcasing the benefits of legumes in buffel grass pastures on 1 April at Moura. Queensland Department of Agriculture and Fisheries (DAF) Senior Agronomist Stuart Buck said the trial site located at 'Thisit' established in 1997 would demonstrate clear differences in pasture production. "This field day is a rare opportunity to observe a long term, side-by-side comparison of paddocks with and without legumes in a buffel grass pasture," Mr Buck said. "Topics we'll be discussing on the day include the long term benefits of a perennial legume in buffel grass, legume benefits to pasture yield and quality, grass-legume interactions, grass and legume responses to phosphorus fertiliser and more. "I will be speaking throughout the field day, along with my DAF colleague, Sown Pasture Agronomist Gavin Peck." For more information on the field day, directions to the trial site and to RSVP, contact Stuart Buck on 13 25 23. Those wishing to attend the field day are required to RSVP by 27 March 2015 for catering purposes.
Biosecurity concerns in focus at Wandoan field day
AgForce Projects will bring together representatives from the Livestock Biosecurity Network (LBN), the Grazing Best Management Practices (BMP) program and the Coal Seam Gas (CSG) Compliance Unit for a Biosecurity Field Day in Wandoan on April 14.
AgForce Projects CSG Project Leader Daniel Phipps said biosecurity has become a significant concern for landholders, partly due to the increase in coal seam gas activities occurring on property and it was important to bring together organisations and projects to help landholders deal with these issues holistically. "Landholders that have CSG activity occurring on property will find the field day particularly useful because it links LBN, the Grazing BMP program and the CSG Compliance Unit together with the AgForce CSG Project to show how producers can mitigate potential biosecurity breaches while maximising positive negotiation outcomes with CSG companies." LBN will provide free record-keeping templates on the day as well as an overview of animal health management and managing weed introduction and spread. The Wandoan CSG and Biosecurity Field Day is free for all landholders and runs from 8.30am to 4pm on Tuesday 14 April.
Southern Qld council collects 2000 wild dog scalps in 2014
More landholders throughout the Maranoa region of Queensland are joining the fight to control wild dogs, with a record number of scalps presented to the Maranoa Regional Council last year as part of its 2014 Golden Dogger Awards. Maranoa Regional Councilor Jan Chambers said  over 2000 scalps were collected last year to help reduce wild dog numbers. "With the number of scalps and participants increasing each year, this yet again highlights the commitment of Landholders in helping Council with our control measures." Cr Chambers said. "I'd like to congratulate everyone who participated, especially the Golden Dogger for the third year running Danny Sutton of Bymount." Danny Sutton handed in 182 scalps for the year to win the award.
75pc drop in number of young farmers since 1976
Research indicates there has been a 75pc drop in the number of farmers in New South Wales aged under 35 years since 1976, primarily due to fewer opportunities for younger people to enter agriculture. NSW Young Farmers councillor Tim Carroll said: "The barriers faced by young people wanting to enter agriculture continue to be a hot topic at our young farmer meetings."Mr Carroll said: "We are calling the next NSW Government to create meaningful programs and not just about succession planning between family generations. We need strategies to attract new entrants and help them build resilient farming operations. It's about know-how – being able to get the funds together and ensuring the investment will create a viable business." Mr Carroll believes a stakeholder roundtable is needed on the issue.
Vic Govt moves to re-ban Alpine grazing
The Andrews Labor  has introduced legislation into the Victorian Parliament banning grazing in the Alpine National Park, as well as in the River Red Gum national parks. The introduction of the National Parks Amendment (Prohibiting Cattle Grazing) Bill 2015 is designed to amend the National Parks Act 1975 to prohibit cattle grazing for any purpose in these national parks. The legislation comes 10 years after the Bracks Labor Government passed legislation to end cattle grazing in the Alpine National Park. A cattle grazing trial was introduced in the Alpine National Park last year by the previous Coalition Government, which it was said was part of a three-year trial to investigate the role of grazing in mitigating fire risk. A Victorian Government media release says extensive scientific research has shown that grazing in Victoria's alpine areas is detrimental to the environment and doesn't have any value in reducing bushfire risk or fuel loads in alpine areas. "The Labor Government will ensure a range of bushfire mitigation measures continue, including planned burns and other fuel management methods. River Red Gum national parks include Barmah, Gunbower, Hattah-Kulkyne, Lower Goulburn, Murray-Sunset and Warby-Ovens."