Quad bikes stolen from Cloncurry
Detectives from the Cloncurry Stock and Rural Crime Investigation Squad (SARCIS) are seeking assistance from the community in relation to an investigation into stolen quad bikes. Between 6:30pm on Friday April 17 and 6:45am on Saturday April 18, two quad bikes have been stolen from an industrial address in Cloncurry. One quad is described as a 2007/08 Kawasaki KVF360 Workhorse, maroon in colour. Vin: JKBVFHA11CB587348. The second quad is described as a 2008 Honda TRX, red in colour. Vin: UX74262036. Both quads are in poor overall condition, both quads have flat tyres and flat batteries and were not able to be started at the time of the offence. These pictures are examples only and not the actual quads. Kawasaki 360 Workhorse maroon in colour around 2008 model, Vin: JKBVFHA11CB587348.
Missing cattle panels in NQ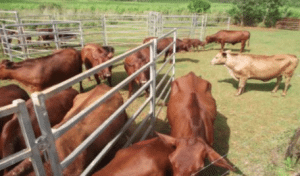 Mareeba Stock Squad are investigating the theft of 16 portable cattle panels stolen from a rural property at East Barron. Some time between March 13 and 14, 2015 the unknown offender/s have driven onto the property and disassembled the panels pictured above and loaded them onto an unknown vehicle. The offenders have also taken one sliding gate before leaving in an unknown direction. Mareeba Stock and Rural Crime Investigation Squad are appealing to the public for any information that will assist in this investigation which can be forwarded to Plain Clothes Constable Mick Hinchcliffe (07) 4030 3321 or by contacting Crime Stoppers.
Farmer and grandson injured by post hole digger
An elderly man and his young grandson were injured in a freak accident on a farm west of Dalby this week. The pair was standing next to a post hole digger when the rotating auger lifted a piece of sharp metal which swung around cutting both on their lower legs. The grandfather sustained a deep laceration to his lower left leg, the boy's injury was minor. QAS treated the pair on scene and then drove them to hospital. The Toowoomba RACQ CareFlight Rescue helicopter was then called in to airlift the man. He was flown to the Princess Alexandra Hospital for further treatment in a stable condition.
Gasfields Commission guide to help tackle invasive weeds
Queensland's Gasfields Commission has released a new guide for landholders to document the weed status of their property and help to prevent the spread or introduction of weeds of concern. The Landholder Guide to On-farm Weed Baseline Assessments was developed by the Commission in conjunction with the Department of Agriculture and Fisheries, and with input from individual landholders, AgForce and onshore gas industry representatives. Chairman John Cotter said the guide was produced in response to the challenges faced by both landholders and the onshore gas industry in looking to prevent or control the spread of a range of invasive weed species on agricultural properties in Queensland. Control of invasive weeds is estimated to cost the State's economy and environment in the vicinity of $2 billion per annum and its hoped this practical new guide will complement other biosecurity initiatives being undertaken by government and industry. Copy of the guide can be downloaded from the Commission's website http://www.gasfieldscommissionqld.org.au/gasfields/land-access/landholder-guide-to-on-farm-weed-baseline-assessments.html
AgForce: Drought threatens land area six times the UK
Queensland Premier Annastacia Palaszczuk this week toured some tour of 135,000,000 ha of land in western Queensland now under drought declaration – nearly six times the size of the area of the United Kingdom. AgForce general president Grant Maudsley told the premier that the financial and personal strain on many producers who are now experiencing their third consecutive failed wet season should not be underestimated. "The general rule of thumb is it takes two years to recover financially from every one year of drought equating to at least a six year process for these families, rural businesses and regional communities and that's making the assumption rain will come soon," Mr Maudsley said. AgForce welcomed the Premier's announcement of additional funding to enable drought-affected families to further their children's education and her honouring of an election commitment to inject $5 million into addressing the escalating wild dog problem across Queensland. "We are now looking forward to working with the Premier to understand the details of the wild dog announcement including how these funds will be targeted and to providing advice on how this may be done to reduce the severe impact wild dogs are having on the state's sheep and cattle industries," he said.
Katter: Farmers left high and dry as water rebate runs out
KAP Federal Member for Kennedy Bob Katter today says farmers have been left high and dry by the Federal Government after funding allocated to the Emergency Water Infrastructure Rebate (EWIR) had run dry with no warning to farmers who had outlaid moneys in the expectation that rebates would be forthcoming. The Emergency Water Infrastructure Rebate (EWIR) was offered to primary producers in drought affected areas enabling farmers to build infrastructure to supply water for emergency animal welfare needs. Under the scheme 50pc of their costs would be reimbursed by State Governments and 25pc by the Federal Government. However Mr Katter said the Federal Government's allocated funds ran out in January this year, and farmers have been told there is no more money in the coffers and many who spent money have been left short. Mr Katter said that many of the payments rejected by the Federal Government were insignificant by Government standards but made a huge difference to the bottom line of farmers who were already struggling to survive. He called on the Federal Government to immediately extend the allocation of funding to cover those who have been left short, and called for every station property to be given 150 hectares of freehold irrigation land. "It costs the Government nothing and in the much longer term it will address the perennial problem of drought. I say perennial as we have a climatic drought just about every year as well as the current predicted El Nino weather patterns," Mr Katter said.