Paraguay aims to become world's fifth largest beef exporter
Paraguay has set its sights on becoming the world's firth largest exporter of beef by 2018, according to Mercopress news. The land-locked country is currently the world's eighth largest exporter of beef. To increase production it has incorporated an estimated 120,000 small cattle farmers into a national beef production program, applying modern technology and sanitary practices. A surge in agriculture and livestock production last year, following a prolonged drought, helped Paraguay's economy to expand by a record 13.6pc last year, the best performance in Latin America. Last year Paraguay exporters $1.33 billion worth of meat products. Beef and soybeans are the country's largest exports. Paraguay's Industry and Trade minister Gustavo Leite said the country also wants the country to become the world's third per capita consumer of beef behind Uruguay and Argentina. "Let's not forget that Paraguayans love to eat beef and love their barbecue,'" he said.

Japan to export beef to Indonesia
The Japanese Government has expressed interest in exporting frozen beef to Indonesia, according to the director general of Indonesia's ministry of agriculture, Syukur Iwantoro. Reporting on a meeting between Indonesian and Japanese Government officials late last week, Tempo.co said the Japanese government emphasised that its livestock is free from foot and mouth disease. "Therefore, they hope that the can have opportunities to export frozen meat to Indonesia," Syukur said in Jakarta on last Friday. He said the Indonesian government welcomed the plan provided the meat complied with regulations including livestock must come from slaughterhouses that have been certified halal by the Indonesian Ulema Council's Food and Drug Analysis Agency (LPPOM MUI) and have been audited from the technical aspects by the Indonesian Ministry of Agriculture. "Frozen meat from Japan can reduce our dependencies on the Australian livestock," Syukur said. He added that the Indonesian Government now hoped Japanese investors would make investment in Indonesian's beef cattle husbandry sector. "The Japanese investors would immediately come to Indonesia to embark on investment in Aceh, Central Java and West Nusa Tenggara," Syukur told Tempo.co.

Domino's launches Wagyu pizza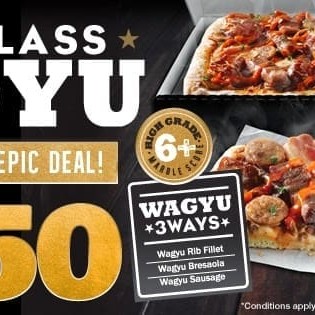 Australian pizza company Domino's has launched a $50 Wagyu pizza offer. Domino's Group CEO Don Meij says the Wagyu Duet Pizza product is part of the company's premium range of pizzas which are made with 'restaurant quality' ingredients. The $50 price buys two Wagyu pizzas in a specially designed box. One, the Wagyu 3 Way, is described as being stacked with three types of Wagyu (rrib, bresoala and sausage), smokey rasher bacon, ground beef and a zesty tomato capsicum. The Wagyu and Truffle Hollandaise involves a combination of truffle hollandaise, Wagyu rib fillet and camembert cheese. Dominos said the beef is purchased from butchers and restaurants at an average of $100 per kilogram, and maintains that consumers would find it challenging "to find the same amount of quality wagyu for this value". Dominoes says it is offering the Wagyu Duet pizza box for a limited time only.

Search on for 12 Young Farming Champions
Expressions of interest are now open for the 2014 Art4Agriculture Young Farming Champion (YFC) program. The program is looking for 12 young farmers or others following a career pathway in agriculture to create an Australia wide network of enthusiastic young professionals to promote Australian agriculture as a dynamic, innovative, rewarding and vibrant industry. 12 Art4Agriculture Young Farming Champions (YFC) are selected by their industries to act as ambassadors. They undertake a series of workshops to provide them with the skills and knowledge to lead agriculture's next generation. Art4Agriculture's Young Farming Champions program for 2014 will train a team of 12 young farmers from regional Australia to actively engage with students in their local schools. The student groups will enter their project work to win the 'Archibull Prize'. By actively engaging in two way conversations the Young Farming Champions program is aimed helping to bridge the gap between city and rural communities by increasing knowledge, generating trust and understanding of modern farming practices. For more information or to nomainte contact Lynne Strong at lynnestrong@art4agriculture.com.au or on mobile 0407 740 446
Qlders invited to have say on new agricultural hub
Queenslanders are being asked to have their say on the draft terms of reference for the environmental impact statement of a proposed new agricultural hub in North Queensland. The proposal includes 240,000 hectares of grazing land, 65,000 hectares of cropping land, 18,000 hectares for water storage, and 2,000 hectares of infrastructure in an agricultural hub west of Georgetown. It is proposed the enterprise will produce sugar and guar beans for Asian markets. Longer term plans include a potential sugar mill, meat processing plant, aquaculture operation and alternative energy facilities. Deputy Premier and Minister for State Development, Infrastructure and Planning Jeff Seeney said the release of the draft terms of reference by Queensland's Coordinator General was the first step in a rigorous environmental assessment process for the potential Etheridge Integrated Agricultural Project. He said the environmental impact statement process should not be construed as the green light for the project to proceed, rather it was the first step in what will be a lengthy and rigorous assessment of the proposed project. Members of the community can comment on the draft terms of reference until Monday, February 10, 2014. The Coordinator General will then review the terms of reference and release the final version for the proponent to address in its environmental impact statement. The proposed integrated agricultural project was declared a coordinated project on 23 December 2013.
The Etheridge Integrated Agricultural Project's environmental impact statement draft terms of reference can be viewed online atwww.dsdip.qld.gov.au/etheridge-project

Vic wild dog aerial baiting bid clears first hurdle
The Victorian Coalition Government's new application for aerial baiting to combat the destructive wild dog populations in North East Victoria and East Gippsland will now proceed for public consultation.
Speaking at the annual gathering of Victoria's Mountain Cattlemen's Association, Minister for Agriculture and Food Security Peter Walsh said the revised application was submitted to the Commonwealth Government in December, as promised to farmers and land managers. "Late on Friday (Jan 10) the Commonwealth responded that the revised application was sufficient for Victoria to proceed to the 20-day public consultation period required under the Environment Protection and Biodiversity Act," Mr Walsh said. "If the application secures final approval from the Commonwealth, Victoria will be ready to deploy an aerial baiting program across six sites in North East Victoria and East Gippsland this autumn." Mr Walsh said the revised application also included new information that the Victorian Government believes clearly demonstrates aerial baiting will not adversely impact spotted-tail quoll populations. Mr Walsh said the previous Labor Federal Government rejected Victoria's original application on ridiculous grounds, treating Victoria differently to New South Wales where aerial baiting has been permitted. He said Victoria has been greatly encouraged in dealing with a new Commonwealth Government that has more pragmatic views on aerial baiting for wild dog control.