ATSB investigates Ocean Drover fire
A preliminary report by the Australian Transport Safety Bureau (ATSB) and the WA Department of Fire and Emergency Services indicates that a fire on board Wellard Rural Exports' Ocean Drover livestock carrier last October started in one of the central forward cabins on the upper deck, before spreading to the bridge deck above. The fire occurred on October 9 in while the vessel was berthed in Fremantle. It quickly spread, forcing the ship's 51 crew members and several port emergency response teams to battle the fire for the rest of the day. One of the ship's crew was hospitalised for smoke inhalation and burns, while four others suffered smoke inhalation and required medical treatment. The accommodation areas and the ship's navigation bridge were extensively damaged. The ATSB has not made any official findings in its preliminary report and its investigation is ongoing. The Bureau says it will examine the circumstances of the fire, its spread, crew training and shipboard emergency response, and the operation of the ship's fire detection, protection and extinguishing systems.
15 quad-bike deaths reported in 2014
A total of 15 quad-bike related deaths were reported across Australia in 2014, according to an Australian Centre for Agricultural Health and Safety (ACAHS) report released yesterday. Of the 15 reported deaths, 12 (80pc) occurred on a farm, with two further cases involving quads entering/exiting a farm onto a public road. Of the 15 reported deaths, 9 (60pc) were rollovers.  Every year the ACAHS monitors Australian print media reports around the country to compile data on quad-related injuries and deaths. More details are available in the report here
Don't overlook importance of ag, Qld parties urged
With the Queensland election just over two weeks away, rural groups are calling on politicians of all colours not to overlook agriculture. Property Rights Australia is asking all party leaders and independent candidates to commit to one simple, straight forward principle – that is that each and every  landowner or regional community should experience "No Disadvantage" due to the resources industry or resource infrastructure. "Landowners should not be subsidising mining, coal seam gas projects and associated infrastructure which is exactly what is happening when negative impacts on landowners and communities are not being recognised, not compensated for or no priority given over resource activity when there is no current solution to unrepairable damage to things of fundamental value such as the very small percentage of high quality soils,: PRA chair Dale Stiller said. Among its election priorities AgForce wants Queensland political parties work to create business and environmental framework conducive to rural prosperity. General president Grant Maudsley said that in addition to helping to address short-term challenges including drought and unnecessary red tape, AgForce wants political parties to recognise the growing role agriculture will play in the Queensland economy.
World's biggest beef eaters consuming less
Argentina may be famous around the world for its beef but consumption of red meat keeps decreasing and has fallen below 60-kilograms per person per year, the eleventh lowest figure in the last century, according to the Ciccra beef industry chamber. A Buenos Aires Herald report says each person in Argentina ate an average of 59.4 kilograms of beef per year in 2014, a 5.7 percent reduction when compared to 2013, when the average was around 63 kilograms per person. In that time chicken, pork and fish consumption have grown from around 93 kilograms per person in 2009 to around 123 kilograms today, according to the latest estimates. According to the most recent international comparison available, using data from the Food and Agriculture Organization (FAO), Argentina still tops the world in beef per capita consumption, followed by Luxembourg, the United States and Australia, all of whom consume slightly above 40 kilograms per person. Neighbours Brazil and Uruguay, meanwhile, consumed around 37 and 15 kilograms respectively.
Thieves target bushfire fences
Victorian police have expressed shocked at the alleged theft of replacement fencing materials on properties affected by bushfires two weeks ago. Ararat crime prevention officer, Eddy Macdonald told ABC Radio this week that information had been received that fencing laid out in preparation for the next day's work had been taken before volunteers arrived to erect replacement fences. "To me it's bewildering that anyone could stoop that low," Mr Macdonald said. "We will be doing everything that we possibly can to find out who you are and then we will process you for it."
John Deere ATV stolen at Rockhampton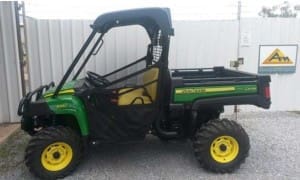 Police are seeking assistance from the public in relation to a brand new John Deere All Terrain Vehicle which was stolen from the yard of Vanderfield Rockhampton, Gladstone Road, Allenstown. Overnight on January 6- 7, offender/s have allegedly cut the chain fence at the front of the business and stole the ATV which had been on display in the front yard. The ATV is a 2014 green and yellow John Deere, model XUV855D Gator, and valued at $19,000. Any information in relation to the where abouts of this vehicle can be forwarded to the Rockhampton Stock and Rural Crime Investigation Squad on (07) 4932 3681, or 0427 031 630. The picture is the same as the stolen ATV. Anyone with information which could assist with this matter should contact Crime Stoppers anonymously via 1800 333 000 or crimestoppers.com.au 24hrs a day.
Think stock surveillance in the new year: AHA
With 2015 now here, Animal Health Australia (AHA) is encouraging producers across the country to reduce the potential impacts from diseases, pests and weeds by making it their New Year's resolution to undertake regular stock surveillance on their properties. Duncan Rowland, AHA's Executive Manager of Biosecurity Services said undertaking general stock surveillance is already a core biosecurity practice for a number of producers, but more producers should be undertaking it in 2015 to protect their farm profits and stock trading options. "The 2013 Farm Biosecurity Producer Survey showed that 33 per cent of livestock producers actively conducted routine stock monitoring as a biosecurity practice on their property and we would like to see that increase when we undertake the third biennial survey later this year," he said. Steps producers can take to improve their chances of early pest or disease detection include:
Establish an active monitoring program and record the results, even when nothing is found.
Become familiar with the usual animal and disease symptoms.
Look out for insect pests and weeds found on your property. By knowing what's normally found on your property will increase your chances of discovering something unusual and consult with neighbours on anything suspicious, as it is unlikely that the cause of the problem doesn't stop at a single property's boundaries.
Know what the high priority biosecurity threats are for your industry. As well as being available from the Farm Biosecurity website (www.farmbioscurity.com.au) this information is available through local veterinarians, industry groups or state/territory departments of primary industries.
Ensure your farm personnel know how and where to report any unusual diseases, pests or weeds.
AHA runs a number of programs and projects that support a nationally integrated surveillance system that underpins trade and supports the adoption of new and innovative technologies for data generation and information management systems. Information about these programs can be found on the AHA website at www.animalhealthaustralia.com.au