Cattle prices highest since 1980s
Australian cattle prices this financial year are set to reach their highest level in real terms since the 1980s. ABARES's latest quarterly commodity outlook forecast released this morning predicts that saleyard prices for cattle will average 500c a kilogram in 2015-16, 37pc higher than 2014-15. Australian cattle slaughter is expected to remain relatively high through to December, supported by strong international demand. However demand is tipped to ease into the first half of next year, as US beef production increases. In 2015–16 Australian cattle slaughter is forecast to fall by 9 per cent to 9.2 million head, from a 36-year high of 10.1 million head in 2014–15. However, the forecast volume for 2015–16 is still 7 per cent above the 10-year average to 2013–14. To read the full ABARES commodity forecast for the September quarter click here
Beef production dips for first time in three years
Australian beef production during July declined 1% year-on-year, at 235,020 tonnes cwt (Australian Bureau of Statistics). This marks a small but significant reduction, as it is the first occurrence in 34 months and more than likely signals the commencement of a longer term trend. Underpinning the decline in July was a 3% year-on-year fall in the number of adult cattle slaughtered, at 842,141 head. The gender breakdown of cattle contributing to monthly processing remains a concern, with cows and heifers accounting for 52% of the kill in July, at 439,097 head – continuing the prolonged run of high female liquidation. While there were year-on-year declines in the monthly figures, adult cattle slaughter and production for the first seven months remained higher, driven by the extraordinary turn-off during the first half of the year. For more details on the year-to-July visit the MLA website here.
$250,000 crackdown on free range egg claims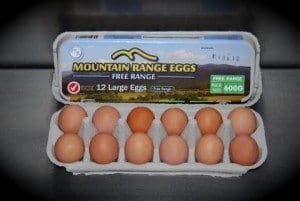 The Federal Court has declared that RL Adams Pty Ltd, trading as Darling Downs Fresh Eggs, engaged in misleading conduct and made misleading representations in its labelling and promotion of eggs as 'free range', in proceedings brought by the Australian Competition and Consumer Commission. The Court ordered that Darling Downs Fresh Eggs pay a pecuniary penalty of $250,000. The ACCC alleged, and Darling Downs Fresh Eggs admitted, that from 31 December 2013 to 6 October 2014, Darling Downs Fresh Eggs supplied eggs marketed and labelled as 'free range' when in fact the laying hens had been continuously confined to barns and had never had access to the outdoors. Images below. The Court found that by labelling and promoting eggs as 'free range', Darling Downs Fresh Eggs represented to consumers that the eggs were produced by hens which were able to move about freely on an open range each day, and that most of the hens did in fact do so on most days. In fact, as Darling Downs Fresh Eggs admitted, the doors to its barns were kept shut at all times so that none of the laying hens were able to access or use the outdoor range. "The issue of free range is very important to many consumers and the Australian Consumer Law requires egg producers to make truthful, and not misleading, claims," ACCC Chairman Rod Sims said. "People are willing to pay a premium for free range eggs which they believe meet ethical or welfare standards. Businesses should not be benefitting financially from misleading claims about farming practices."
$10k fine for false "Product of Australia" label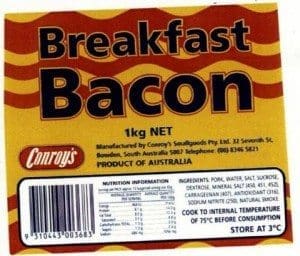 Conroys Pty Ltd (Conroys) has paid a penalty of $10,200 following the issue of an infringement notice by the Australian Competition and Consumer Commission. The ACCC issued the infringement notice because it had reasonable grounds to believe that Conroys made a false or misleading representation about the place of origin of its Breakfast Bacon – 1kg (the Bacon Product) in contravention of the Australian Consumer Law (ACL). In February 2015, Conroys supplied the Bacon Product labelled as a 'Product of Australia' when in fact it was produced using imported pig meat. The Bacon Product was supplied in a one-off shipment of 1020kg to a wholesaler in WA. In addition to paying a penalty, Conroys has also provided a court enforceable undertaking to the ACCC that it will not represent that any of its products are the produce of Australia, unless Australia was the country of origin of each significant ingredient or significant component of the product, and all, or virtually all, processes involved in its production or manufacture happened in Australia. Conroys has also undertaken to publish a corrective notice on its website and establish a competition and consumer compliance program. "False claims of this kind not only mislead consumers but can also disadvantage competing suppliers, particularly those who source local ingredients for their products," ACCC chair Rod Sims said.
Views sought on heavy vehicle driver fatigue laws
Australians have been asked for their views on how to collect better information to inform improvements to heavy vehicle driver fatigue laws. A National Transport Commission (NTC) discussion paper proposes an agreed terminology, systems and processes that will enable a new framework to support comparable and accessible data across industry, governments and enforcement agencies. "We know that drowsy drivers are more likely to crash. Finding the best option to prevent these crashes relies on us developing a framework that may be used to inform changes to policy settings and amendments to fatigue laws." NTC Chief Executive Paul Retter said. "This project won't be proposing changes to Australia's fatigue laws, but it will ensure that we have consistent and more accurate data about how fatigue affects drivers and the safety of our nation's roads. The Heavy Vehicle National Law has prescriptive work and rest hour rules, in addition to chain of responsibility obligations and an overarching duty not to drive while impaired by fatigue. At the moment there is no simple test for driver alertness like there is for alcohol or speed, because fatigue levels are relatively difficult to establish and measure. In the future new technologies may be able to tell drivers whether they are in a fit condition to drive. The challenge is to collect enough robust evidence about what fatigue level should be considered safe, Mr Retter said. A copy of the NTC's discussion paper is available here and submissions can be lodged between now and Friday, 16 October 2015.