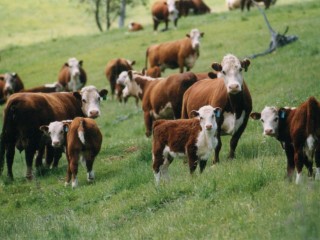 The livestock industry again found itself at the centre of negative media headlines last week when the the unlikely story emerged that the US Department of Agriculture was encouraging people to avoid eating red meat.
It all began when the USDA released an internal newsletter last Thursday encouraging its employees to help the planet and improve their health by participating in the Meatless Monday initiative, a vegetarian campaign that aims to reduce total meat consumption by 15 percent.
Not surprisingly the revelation triggered immediate condemnation from the US livestock industry and several senators, many of whom questioned how a department responsible for promoting agricultural production could be drawn so strongly into promoting a one-sided vegetarian initiative.
As a storm of media headlines and outrage from livestock industry leaders erupted the USDA quickly distanced itself from the controversy, releasing a statement to stress that it does not endorse Meatless Mondays. It explained that the newsletter was posted to its website without proper clearance and had been immediately removed.
The controversy generated a few hundred media headlines, many clearly supportive of the Meatless Mondays concept and flavoured with thinly-veiled disappointment that the USDA had backflipped on its apparent support for the vegetarian campaign.
Indeed some mainstream articles in titles such as the New York Times, Time and the Huffington Post described the claims that meat is bad for the planet and bad for human health as "seemingly innocuous".
While short lived, the event underlined an increasingly worrying trend for the global meat industry.
That is the almost guaranteed acceptance that exists in the mainstream media for the views of environmentalists and animal rights activists about red meat, and the apparent reluctance of journalists to dig a little deeper to test if their claims are supported by evidence.
If they were to look more closely, they would find that many criticisms are far less meaty than they appear at face value.
One of the most common sources of information used to attack the environmental impact of red meat production is the "Livestock's Long Shadow" report prepared for the United Nations Food and Agriculture Organisation in 2006.
It contains the often quoted finding that the livestock sector is responsible for 18 percent of the world's greenhouse gas emissions, more than the emissions of the total global transport industry.
If that sounds a little hard to believe, it turns out that there is a good reason for that.
One of the report's authors has since conceded the research was fundamentally flawed and exaggerated the impact of meat production on climate change.
This was largely because, in calculating total emissions for livestock production, the authors listed every emission they could think of including those from the fertiliser and crops grown to produce feed for cattle and the burning of fossil fuels by vehicles used to transport cattle and meat products at all points of the supply chain.
They also included the emissions generated by the deforestation of the Amazon rainforest in their calculations for the livestock sector.
However, in calculating emissions for the transport sector, they included only the exhaust emissions from trains, planes, buses and cars, and failed to acknowledge the production of fuel and vehicles.
Livestock's Long Shadow author Pierre Gerber conceded the error in a BBC radio interview: "We factored in everything for meat emissions, and we didn't do the same thing with transport."
US-based air quality specialist Professor Frank Mitloehner, who first publicised the report's major flaw, said he believed total cattle and pig production was more likely to account for just 3 percent of total greenhouse gas emissions in the US.
"Producing less meat and milk will only mean more hunger in poor countries," Dr Mitloehner said.
Despite the acknowledged flaws in its methodology, Livestock's Long Shadow is still routinely used by vegetarians and environmentalists to undermine the red meat industry on environmental grounds, and often still cited in media reports.
While critics focus only on the emissions of livestock production systems, most ignore the countering effects of carbon sequestrations.
A study of the carbon footprint of Queensland's beef industry conducted by the Queensland Government in 2009 concluded that if all carbon sinks were taken into consideration, the state's cattle herd (47pc of Australia's national herd) would be close to carbon neutral.
Meat & Livestock Australia's research shows that a range of environmental management initiatives undertaken by Australian sheep and cattle producers have resulted in a 10.7pc reduction in emissions since 1990, while emissions from other sectors such as transport and electricity had increased by 26.9pc and 54.1pc over the same period.
US cattle industry leader JD Alexander, the president of the National Cattlemen's Beef Association, stated last week that the industry had made major advances in improving environmental sustainability over the past 30 years.
"A study by Washington State University found that today's farmers and ranchers raise 13pc more beef from 13pc fewer cattle," Mr Alexander said.
"When compared with beef production in 1977, each pound of beef produced today produces 18pc less carbon emissions; takes 30pc less land; and requires 14pc less water.
"When it comes to health, beef has an amazing story to tell. Beef is a naturally nutrient-rich food, helping you get more nutrition from the calories you take in."
Another often-cited statistic used to criticise livestock production is that it takes 100,000 litres of water to produce one kilogram of beef.
Author of the book: Meat: A Benign Extravagance and former editor of The Ecologist Simon Farlie told The Australian newspaper last year that to get through that amount of water, a pasture-fed steer would need to consume 12,500 tonnes of water in the 500 days of its life – or 25,000 litres per day.
He said the figure was grossly exaggerated because it took into account every drop of rainfall that fell upon the area of land a cow might occupy. It did not account for the fact that the same amount of rain would fall regardless of whether the cow was there or not, and nor did it take into account the vast quantities of useful fertiliser deposited on the land when cattle urinated.
In contrast to the 100,000 litre claim, research by EBLEX in the UK suggests it takes just 67 litres of "blue" water to produce 1kg of beef. Blue water is water taken from a piped source, effectively taken from the water supply that could have been used for something else.
In response to arguments that cattle eat food that could otherwise be eaten by humans, livestock industry leaders point to the fact that grassland covers more than one fourth of the earth's land area, and humans cannot eat grass.
Australia sends about 30pc of its total beef herd to feedlots for between 70 to 100 days (lofted cattle still spend most of their lives on pasture) while the other 70pc are raised mainly on grass, food which is inedible to humans.
There are also no shortage of scientists and nutritionists prepared to counter the findings of studies that suggest red meat consumption is bad for human health, and to point out that such claims are far from being clinically proven.
The good news is that after years of allowing negative and often unfounded claims about animal agriculture from animal rights groups, health campaigners and environmentalists go unchallenged, livestock industry leaders are getting far better at fighting back.
Last week's Meatless Monday story was a good example of that, with a fast reaction from the NCBA leading to a fast and definitive public retraction from the USDA.
"We appreciate USDA's swift action in pulling this disparaging statement off its website," National Cattlemen's Beef Association president JD Alexander said in response to the USDA's retraction.
"The agency is important to all cattlemen and women, especially as we face unprecedented challenges, including drought and animal rights extremist groups spreading fiction to consumers who need to know the importance of beef in a healthy diet."