Click on image above to view Madeleine Hamilton's video showcasing the multitude of career pathways available in agriculture.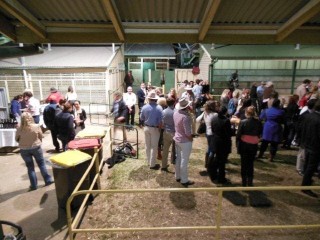 I find it a little sad that the only way I can qualify for an 18-35 year old event these days is to be invited as a guest speaker, but I was grateful for the opportunity at the Brisbane Ekka last Friday night to talk to a group of agriculture's up and coming young leaders.
The event was a combined initiative of AgForce's ag generation program and the RNA's Future Directions Committee, two leading networking groups for young rural people and agribusiness professionals in Queensland.
We are talking here about Generation Y, the 18-35 year old demographic that cops a pretty bad wrap for being self-centred, lazy, driven by a sense of entitlement, prone to job-hopping and suspicious of anyone but those they consider their friends.
It is of course nothing new for older generations to find fault with those that follow, to argue that things were tougher in their day.
But it was still fascinating to get a glimpse into the 'inner sanctum' of Ag's Gen Y to see if these famous stereotypes held true among the ranks of our own up and coming generation.
It wasn't long before we found our answer. By the time we left a few hours later, my colleague Jon Condon and I couldn't stop talking about the calibre of people we'd met, the dynamic, driven and positive nature of the group and the many amazing things they were up to in ag.
Just one example was Steph Fowler, a Charles Stuart University Wagga graduate who is completing her PhD in meat science. Her thesis is built around an exciting project exploring the use of laser technology to analyse MSA carcases in the chiller, making calls on each individual carcase's ageing requirements, rather than applying ageing on a group basis. This could produce considerable costs savings in MSA programs.
Others were playing a key role in working to improve the interface between farmers and miners over land tenure and access right issues, such as Natalie Pears from AgForce and Tori Shenstone who now works with Arrow Energy.
Many of the professionals in the crowd were young lawyers drawing on strong rural backgrounds with a deep interest in, and passion for, the ag sector – among them Thynne and McCartney's Ari McCamley and Alex Ramsey; Cooper Grace Ward's Sam Warriner and former Austrex trader Ben Polschelk who is about to finish a post-graduate law degree.
The gathering included many of the more active participants in the field of agricultural advocacy – or 'agvocacy' as it is now called.
Agvocacy is where people make an effort – often in their own, unpaid time – to share positive stories about agriculture, and to counter the spread of misinformation by the small but vocal anti-meat, anti-animal farming movement.
Just as online and social media has facilitated the spread of incorrect and misleading information to the public by opponents of ag, it is now affording people in agriculture the same opportunity to challenge and correct those claims.
And they are grabbing the opportunity by both hands.
'Dreams can come true in agriculture' is the central message of a You Tube video that has been doing the rural email rounds lately that promotes the myriad of career pathways available to young people in agriculture. The two-minute video (which can be viewed at the top of this article) was produced by the Australian Lot Feeders Association's marketing officer Madeleine Hamilton, originally from Mudgee, who was also part of last Friday night's gathering.
Also there was Kylie Stretton from Charters Towers, one of about six rural volunteers who founded the popular Ask an Aussie Farmer facebook site that invites members of the public to pose their questions about food production directly to Aussie farmers.
Kylie was one of about 20 national Young Farmers Champions on hand to mix and meet with rural people from all over Australia.
UQ ag science graduate, Future Farmers Network board member and DEEDI Beef Extension Officer Tim Emery, who is driving cutting edge research programs to improve the economics of cattle production in Southern Queensland, is also an 'AgForce Rural Champion' who donates his time to helping educate young people at shows and rural events about the importance of agriculture in Australia.
Fellow Future Farmers Network director Elisha Seekamp is a solicitor who lives and works on family owned cattle stations in central Queensland, and also donates a considerable amount of her time to organising industry events such as the Milk Tooth Muster at the recent Beef 2012 and the MLA Next Generation Beef Up forum in Capella. A few days before last Friday's event Elisha was named the Red Meat Industry's Emerging Leader at the Queensland Red Meat Awards.
Another was Jonny Arkins, a beef producer from Greenmount near Toowoomba who is exporting beef direct to Japan and is in the process of launching a new website that is designed to connect farmers with people wanting to rent their machinery, equipment, stud animals or labour – just about anything in fact – that they earn income from (the site is www.agrirentals.com).
These were just some of the many people on hand last Friday night.
Far from the self-centred, un-motivated and dis-interested stereotypes our younger generation get branded with, these are all driven, passionate and evidently self-less individuals, who's enthusiasm for agriculture is absolutely infectious.
While older generations may argue, today's young rural leaders and innovators are likely to face greater challenges than any that have gone before.
In the next 50 years farmers and food producers will have to work out how to feed twice as many people using less land and water than is available now, and with higher costs and greater regulatory burdens as public expectations about how natural resources are managed continue to rise.
Only time will tell if they're up to the challenge, but certainly the kind of dynamic and professional people coming through the AgForce and RNA ranks inspires confidence that there is no shortage of talent, ability or vision coming through.
And the consolation for the older ranks is that they too must have been good to produce an inspiring generation like this.
AgForce's ag generation is conducting an exclusive seven day tour for 18 to 35 year olds to from Cairns to Cape York in October. For details or to register click here