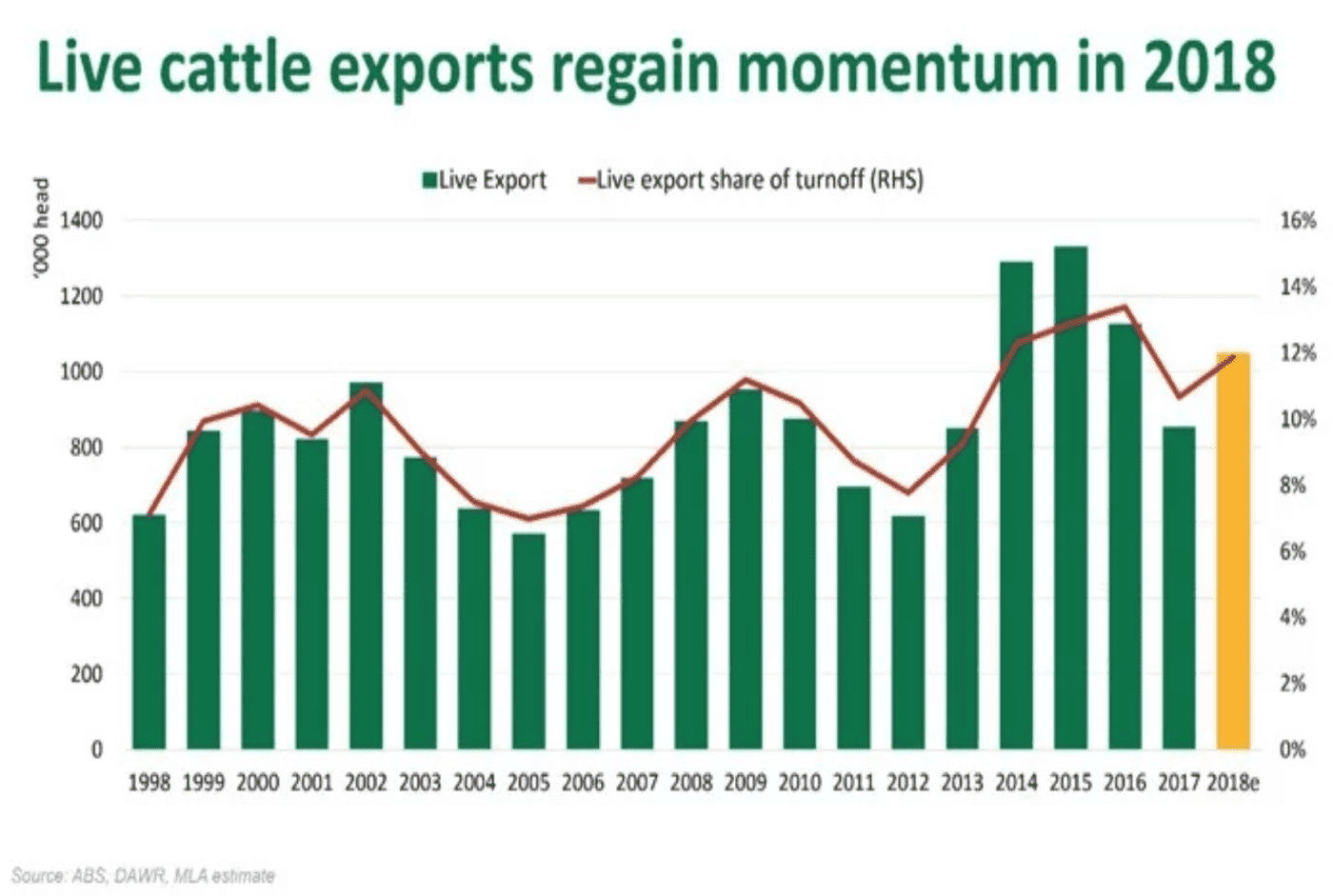 Cattle exports pass one million mark
Exports of 104,096 cattle in November have taken Australia's total exports for the year beyond one million head, making 2018 the fourth year the milestone has been passed. November was the third biggest month for cattle exports  in 2018 (October exports totalled 123,900 cattle and August 107,000). The month included 45,951 feeder cattle to Indonesia, 21,000 feeder and slaughter cattle to Vietnam and 19,500 feeder cattle to Israel. With one month left in 2018, exports for the year are currently running 27 percent higher than the same period of 2017. More detail on November cattle exports on MLA website here
Israel claims to have produced first 'cell-grown steak'
An Israel food tech start up claims to have produced the world's first cell-grown minute steak. Aleph Farms says it now has the breakthrough capability to isolate natural beef sells into a fully three-dimensional structure similar to conventional meat, obtaining not only the true texture and structure of beef muscle tissue, but also the flavour and shape, "establishing a new benchmark in cell-cultured meat technology". Aleph Farms said a barrier had been getting the various cell types to interact with each other to build a complete tissue structure as they would in the natural environment inside the animal. It says it has overcame this obstacle through a bio-engineering platform developed in collaboration with the Israel Institute of Technology. "We've transformed the vision into reality by growing a steak under controlled conditions. The initial products are still relatively thin, but the technology we developed marks a true breakthrough and a great leap forward in producing a cell-grown steak." Meanwhile, one of Silicon Valley's largest food technology companies has inked a deal with one of Japan's most revered meat producers in a bid to one day bring cell-cultured Wagyu beef to the global marketplace – see more here
MV Jawan's Australian Certificate for the Carriage of Livestock revoked
The Australian Maritime Safety Authority (AMSA) has revoked the Australian Certificate for the Carriage of Livestock (ACCL) for the Panamanian flagged livestock carrier, MV Jawan, because the vessel's approved stability data cannot be relied upon when the vessel is loaded. The Jawan was scheduled to depart from Portland on a journey from Australia to Pakistan again on Monday after the vessel's classification society, on behalf of the flag state, provided their assessment of the ship's stability. When moved from berth, AMSA said the ship demonstrated a motion that suggested the ship lacked stability. The master of the vessel requested the vessel be returned to the berth.  The attending AMSA Marine Surveyor boarded the vessel as soon as it was secured. AMSA's Chief Executive Officer, Mick Kinley, said that revoking the ACCL was considered the only option given the circumstances. "It is extremely concerning that the operators are unable determine the vessel's stability in a loaded condition since its recent dry-docking and the operator and classification society seem unable to provide a plausible explanation for this situation. It's a very basic requirement," Mr Kinley said.
Celebrities promote red meat in UK
The UK livestock industry is tapping into celebrity power to help educate consumers about the role of red meat in a healthy diet. The #LeanRedMeat campaign launched by Great Britain's three red meat organisations features Welsh and Lions rugby star Shane Williams, television presenter and Celebrity MasterChef winner Angellica Bell and ex-Scotland rugby player and Strictly Come Dancing contestant Thom Evans are fronting the campaign for Wales, England and Scotland, respectively. According to UK publication Farmers Weekly, each celebrity surprised a fan in Cardiff, Edinburgh and London to teach them a quick and easy recipe with lean red meat and to educate them on the nutritional benefits of incorporating it in a balanced diet.
Research: No detectable effect on climate from livestock methane emissions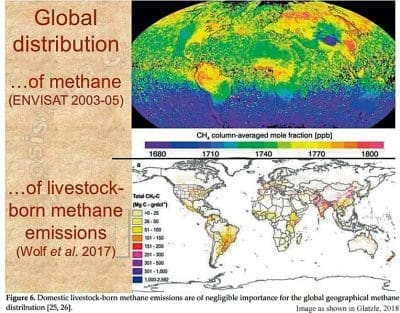 Agrobiologist and scientific researcher Dr Albrecht Glatzle, author of over 100 scientific papers and two textbooks, has published research showing "there is no scientific evidence, whatsoever, that domestic livestock could represent a risk for the Earth's climate" and the "warming potential of anthropogenic GHG (greenhouse gas) emissions has been exaggerated." "Our key conclusion is there is no need for anthropogenic emissions of greenhouse gases, and even less so for livestock-born emissions, to explain climate change. Climate has always been changing, and even the present warming is most likely driven by natural factors," he wrote. Dr Glatzle said the warming potential of anthropogenic GHG emissions has been exaggerated, and the beneficial impacts of manmade CO2 emissions for nature, agriculture, and global food security have been systematically suppressed, ignored, or at least downplayed by the IPCC (Intergovernmental Panel on Climate Change) and other UN (United Nations) agencies. "We could not find a clear domestic livestock fingerprint, neither in the geographical methane distribution nor in the historical evolution of mean atmospheric methane concentration." More information here
Global tree cover has increased 7pc since 1982, finds biggest ever study
A study published in the journal Nature shows that trees now cover 7 percent more of the earth's surface – 2.24 million square kilometres – than they did in 1982.  In the perspective popularised by environmental groups, that represents something like 320,000 football fields extra covered in trees today than there were 36 years ago. The study, led by scientists from the University of Maryland in the US, analysed 35 years' worth of satellite data to provide the most comprehensive picture ever made of the changing use of land, according to the Independent. The overall net gain is the result of a net loss in the tropics being outweighed by a net gain in the extratropics. The report warns however that tree loss in the tropics is caused by  agricultural expansion, while the new growth areas is in regions which were previously too cold to support such flourishing life, suggesting "global warming is causing previously unidentified changes to the planet's landscapes".
Blockchain trialled to monitor beef supply chain journey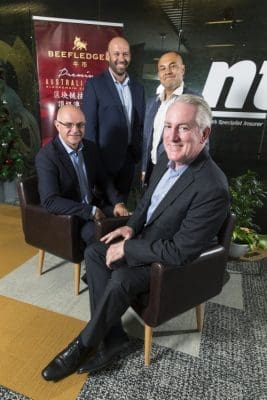 Blockchain technology is being trialed this month to track premium live cattle transported from South Australia's Limestone Coast to the processing facility at Casino in New South Wales and frozen for shipping to Shanghai, for consumption. The trial is a pilot initiative of Beef Ledger, an Australian integrated provenance, blockchain security and payments platform. The trial is designed to demonstrate the ability of blockchain to boost food safety, improve animal welfare and monitor export security for Australian beef. Also participating in the trial is specialist transport insured NTI. BeefLedger Chairman, Warwick Powell said the rise in wealth across Asia, particularly China, sees a steady growth in demand for imported beef and increased risk of counterfeiting and poor safety standards."Research shows us that ethical standards and concerns for animal welfare, along with authenticity and proof of product origin, are amongst the top priorities for Chinese consumers. It's also what's driving consumer interest in Australian products," said Mr Powell.