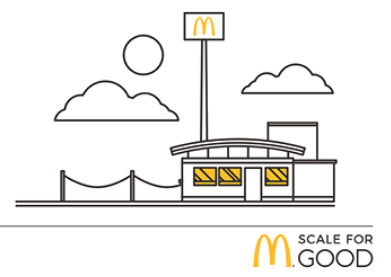 McDonald's has set a science-based target to cut its greenhouse gas emissions globally by by 36 percent, aiming to prevent 150 million tonnes of emissions from being released into the atmosphere by 2030. McDonald's says that to meet the goal, it will source its food responsibly, promote renewable energy and use it efficiency, reduce water waste and increase recyclying. The operator of 37,000 fast food outlets says it will put the greatest emphasis on the largest contributors to its carbon footprint: beef production, restaurant energy usage and sourcing, packaging and waste. Those segments combined account for approximately 64 percent of McDonald's global emissions. Reuters has reported that hundreds of McDonald's suppliers had committed to helping McDonald's achieve its aim, including one of the world's biggest meat company Tyson foods. McDonald's target has been aproved by the Science Based Targets initiative, a collaboration between the World Resources Institute, the World Wildlife Fund, CDP (formerly the Carbon Disclosure Project) and the United Nations Global Compact, which help companies address climate change. McDonald's released its 2020 goals for beef sustainability in 2017, which laid out the next steps for collaboration with beef producers and industry partners to proactively identify, share and scale beef production's most sustainable practices. More from the McDonald's website here
Indonesia's Bulog secures permit to import 100,000t of buffalo meat in 2018
Indonesian state food procurement agency Bulog has obtained permit to import 100,000 tonnes of water buffalo meat this year, according to a report in international news agency
Reuters
this morning. If executed, the volume would represent nearly double the imports last year. Bulog Chief Executive Djarot Kusumayakti told reporters that the agency purchased 20,000t of buffalo meat for April arrival.
Littleproud asks fast food providers to use Country of Origin labelling
The Coalition Government's Country of Origin Labelling laws come into effect on July 1, and this week Agriculture Minister David Littleproud has asked fast food outlets inviting them to discuss voluntarily displaying Country of Origin Labelling information. "Consumers and farmers fought for years for a simple label showing the consumer where their food comes from," Minister Littleproud said."The Coalition is delivering that. Simple bar graphs will show the percentage of packaged food which is Australian using labels which become compulsory on July 1 this year.It'd be great if fast food outlets voluntarily got on board too."
Support for fire affected farmers in Victoria
The Victorian Government has partnered with the Victorian Farmers Federation to announced $300,000 in funding for a fodder drive, through which feed will be provided to address essential fodder requiremetns for farmers affected by fires in south west Victoria. A further $100,000 has also been announced for the 'Look Over the Farm Gate' program to extend mental health support for farming communities. Financial support already announced for affected individuals in Colac-Otway, Corangamite, Moyne and Southern Grampians local government areas through the National Disaster Relief and Recovery effort includes Personal Hardship Assistance Payments (to help meet immediate needs with payments of up to $540 per adult and $270 per child (up to a maximum of $1,890 per household), including emergency food, shelter, clothing, and personal items); Emergency Re-establishment Assistance (up to $40,700 per eligible household affected by fire at their primary place of residence, available for eligible clean-up, emergency accommodation, repairs, rebuilding (principal residence), and replacing some damaged contents. Assistance information can be found on the Vic Emergency website at www.emergency.vic.gov.au/relief.
World Meat Congress set for Dallas, Texas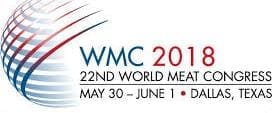 Hosted by the International Meat Secretariat and US Meat Export Federation, the 2018 World Meat Congress will be held in Dallas, Texas, from May 30 to June 1. Regarded as the world's premier gathering of beef, pork, lamb and veal industry leaders, delegates from across the world will coming together to exchange ideas and experiences on key issues affecting the international meat and livestock sector, as well as global trade. The attendance list will include producers, processors and exporters, marketing specialists, policy analysts, regulators, economists and meat scientists. The wide range of topics to be covered will include latest insights into meat production technologies, new product development, trade negotiations, sustainability, animal welfare, nutrition and consumer trends. US secretary of agriculture Sonny Perdue will be a featured speaker, presenting during the "Global Politics of Food" session. Registration and lodging details, along with a preliminary agenda, are available here.
AgForce says fury building over Qld vegetation laws
A series of public hearings by a Parliamentary Committee to examine Queensland's proposed new vegetation have been labelled as rushed, ridiculous and an absolute joke by Agforce, after five hearings were jammed into just three days. AgForce says the laws are the "worst of both worlds" because they will make it harder for farmers to grow food and they won't deliver the best environmental outcomes either.  It says proposed new codes will see farmers potentially facing tens of thousands of dollars in extra costs and months of delays to carry out routine vegetation management, which chis could make many businesses unviable. Written submissions to the Parliamentary inquiry are due at 12pm this Thursday while regional hearings will be held in Rockhampton, Townsville (27 March), Cloncurry (28 March), Longreach, Charleville (29 March) and Cairns (13 April). More details, including how to register to be a witness at the regional hearings, are available on the Parliamentary committee's website at: http://bit.ly/2IjmU0H
US research shows cattle production can be a net carbon sink
Research by Michigan State University has demonstrated that cattle production can be  beneficial to the environment as well as sustainable. Studying adaptive multi paddock (AMP) grassfed grazing systems as well as grainfed herds over four years, MSU scientists said the outcomes suggest AMP grazing can potentially offset greenhouse gas emissions, and the finishing phase of beef production could be a net carbon sink, with carbon levels staying in the green rather than in the red. More details here.
How do bugs in a cow's gut make methane?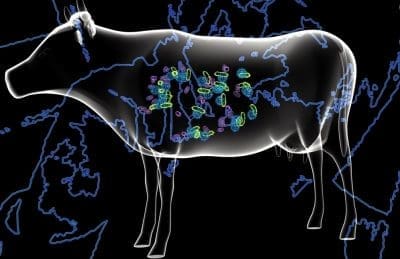 Nearly 60 scientists from 14 research organisations across nine countries have collaborated in a New Zealand led scientific project generate a reference catalogue of 501 rumen microbial genomes found in the stomachs of sheep and cattle. Before the research, 15 rumen microbial genomes were available to the scientific community. The project means scientists can now start to reveal the intricacies of how the rumen microbial community functions, and to identify targets for vaccines and inhibitors to reduce methane emissions and improve productivity. See more details on the research on the Scimex website.
Vets celebrate 100 years of Local Land Services conferences
100 years after the first conference was held in Sydney in 1918, veterinarians from across NSW and interstate converged on Orange this week for the 2018 Local Land Services annual conference. Opening the three day gathering yesterday , LLS chair Richard Bull said no other state had a level of service like the public veterinary services in NSW. "Not only are our vets responsible for assisting and advising ratepayers daily with animal health issues, they play a big part in emergency response and broader biosecurity programs. The District Veterinarian model continues to serve us well and Local Land Services staff prove time and time again that they can respond in both reactive and proactive situations in a timely manner."