ORGANISERS of Beef Australia 2015 are already wowing crowds with new ways to enjoy beef, with their consultant chef Shane Bailey taking centre stage at the Capricorn Food and Wine Festival.
Mr Bailey is the executive chef at Noosa's Boathouse Restaurant and is assisting Beef Australia in engaging celebrity chefs from around the world and developing a new food program to showcase the taste and nutritional benefits of Australian beef.
In what was a sneak preview to a new new food-focused program to be delivered by the national beef industry expo in Rockhampton next May, Mr Bailey took to centre-stage at the festival and showcased his Braised Bundy Beef Short Ribs recipe (see recipe at bottom of page).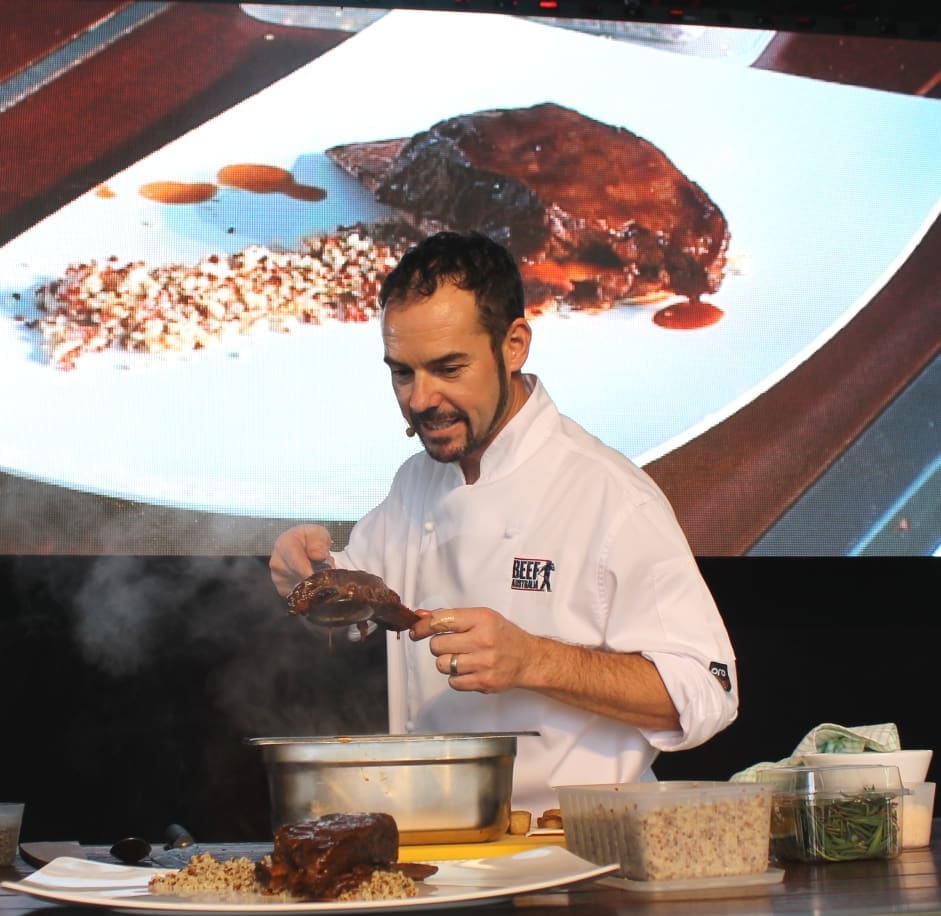 Some 300 portions of the popular dish were later served as the outback-themed course at the festival's gala dinner, along with sweet potato gnocchi, carrot and capsicum puree, quinoa and sea spray.
Beef Australia 2015 also hosted two BBQ Beef and Beer Lunches at the festival, where talented Meat and Livestock Australia chef Sam Burke taught diners how to cook their own perfect steak in the beautiful surrounds of Mercure Capricorn Resort lagoon pools.
While participants were cooking their steaks, Mr Burke provided a mixture of light-hearted entertainment and some top tips on how to choose the perfect steak; the different cuts; preparing and cutting meat; how to tell when a steak is rare, medium, or well done; and the importance of resting a steak after it has been cooked.
Beef included cuts from Kimberly Red, Nolans Meats, Cape Grim and Cape Byron.
"The event was a lot of fun and the enthusiasm from the public for high-quality beef dishes was fantastic," Beef Australia 2015 chief executive Denis Cox said.
"It was just the first of many events and activities we have planned to showcase beef up until and beyond Beef Australia 2015."
Sam Bailey's Braised Bundy Beef Short Ribs
4 large beef short ribs
50g brown sugar
3 small cloves Australian garlic
2 tablespoons Worcestershire sauce
125ml smoky bbq sauce
100ml Bundaberg rum
4 sprigs thyme
3 star anise
½ stick of cinnamon
1litre unsalted beef stock
¼ zest orange
25g honey
1/4 medium green chilli (remove seeds)
3 bay leaves
Salt and pepper
Method
Pre-set oven to 120.C (or you can use a slow cooker).
Season beef with salt and pepper, and sear in a pan over medium heat on all sides until golden will a little oil then place in a casserole style dish.
Heat a medium size pot and carefully deglaze with Bundy and allow to reduce, then add stock, bbq sauce, Worcestershire sauce and bring to heat, add all other ingredient's and bring back to simmer. Pour liquid over beef short ribs, cover and place in oven for approx. 5 hours or until meat is ready to fall off the bone.
To finish the sauce, reduce until required sauce consistency and skim off any fat.
Serve with your favourite roast vegetables, quinoa or mash
Shane's tip
If you preparing in advance you can place the finished liquid in the fridge and the fat will set on top, then you can remove and reduce sauce. "I like to use large ox ribs; they have plenty of beef on them."