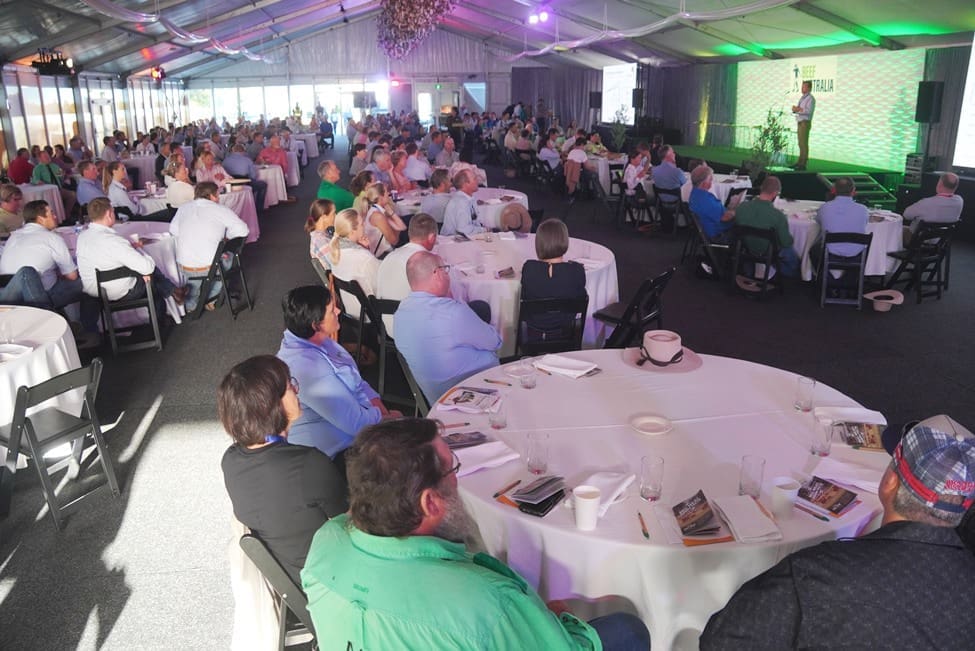 TRADE tensions aside, Australia has lost beef market share in China, and is unlikely to regain it while its beef prices remain high, according to RaboResearch China executive director and animal proteins analyst Chenjun Pan.
In her address to the Rabobank breakfast held in conjunction with Beef 2021 this morning, Ms Pan said China was expected to import around two million tonnes of beef this year as it continues to counter a protein deficit caused by the impact of African Swine Fever on its pig herd.
And while China's total beef import volume is not expected to change from last year, Ms Pan said its mix of origins is likely to keep changing – and not in Australia's favour.
"The big change is in Australia's market share," Ms Pan said, adding that Brazil, Uruguay and the United States have all increased market share at Australia's expense while New Zealand and Argentina have maintained market share.
"Australian beef is so expensive, so importers have to shift to other regions to import…  cheaper products."
Ms Pan said US and Australian exporters targeted the same distribution channels, and US competitors had set about occupying them.
With the absence of some Australian exporters, the US had seized the opportunity.
Last week, China announced another 31 US beef, pork and chicken processing plants had been approved to export to China. This followed a further 19 facilities a month before. In contrast, none of Australia's de-listed processing plants have been re-instated, and chilled access remains extremely limited.
"We are going to see an increase in US share in the rest of the year," Ms Pan said.
"However, If Australian beef can go back to previous price levels in the coming few years, there will continue to be more opportunities for Australian beef in China."
Trade data indicates Australia's market share has fallen to roughly 15 percent, now well behind Argentina, Brazil, New Zealand, the US and Uruguay.
Positive signs
Ms Pan said Australian beef was still very popular in restaurants and retail markets, and beef overall had an important to play as China south to fill a five million tonne animal protein deficit caused ASF's impact on China's pork production.
"We estimate 20-30pc of the sow herd has disappeared as a result of ASF," she said.
"We predict full recovery will not happen until 2023. That means China will still need to import a lot of protein to cover the gap."
Ms Pan said China's pork price had been volatile in recent months in response to recent ASF outbreaks, but sheepmeat and beef prices had been relatively stable.
"This shows there is tight supply… and consumer demand for sheepmeat and beef is quite solid."
She said pork's market share had declined over recent years.
"This will continue in the coming decade because consumers are looking for more variety in their diet. Also, younger generations are more westernised and they don't have a very strong preference for pork like older generations.
"In coming years, we see poultry and beef will gradually expand market share."
Rabobank proteins analyst Angus Gidley-Baird also spoke about China in his address, and said China had grown from Australia's third-biggest beef market in 2018 to its biggest in 2019, before sales fell away last year.
Last year, Japan regained its place as Australia's biggest beef market, followed by the US, China and South Korea.
"Australia is very heavily exposed to China from a trade point of view," Mr Gidley-Baird said.
"I think we've got to move away from the fact that China will take anything and everything we want.  We're never going to be able to compete with Brazil on cost… or US in volume.
"We have to become more bespoke."
China rising for US exporters
The breakfast also heard from Rabobank senior vice president and animal proteins analyst USA Don Close.
He outlined China's meteoric rise on the US beef horizon, which started from a zero base in June 2017 when the US gained its first clearance to supply beef to China.
"In that short period of time, China has become one of our top five customers," Mr Close said.
"It's displacing Mexico as being our third-largest customer. At this juncture, this opportunity for growth is not showing any signs of slowing down."
Mr Close said the new US administration was not expected to prompt any wild changes in US-China trade relations.
"What we're seeing in our interpretation of Biden's China policy, it's surprisingly similar to Trump in talking a hard position; they're just saying it in a much softer voice."
US juggles domestic factors
On the US domestic front, Mr Close said stimulus payments and social support from the US Government was a disincentive to those working in the beef supply chain.
"Our slaughter capacity has been throttled because it's more profitable to stay at home. We're having a huge adjustment to labour."
"We have seen that much escalation in US carcase cut-out values in the past 45 days that we're going to run into pressure from export customers, and the domestic market as well."
He said high corn prices were also impacting returns for US feeder cattle. In the past six months, the price of corn had increased more than what the price of corn was last year.
"The run-up in corn prices has caught the entire marketplace by surprise," Mr Close said.
He said it could force a "complete capitulation" from US cattle feeders unwilling to buy grain in the bullish market.
On the other side of the equation, Mr Close said severe drought in the western US could move east, and force some liquidation of the US beef and dairy herd this year.
"We have a lot of vulnerability for both cow and beef slaughter for this summer," he said.
Coupled with cattle already being held past their target slaughter weights because of reduced processing capacity, it could well point to a surge in US beef supply.
"We have carcase weights that are gaining counter-seasonally because of cattle being held."