AUSTRALIAN remote monitoring solutions provider Farmbot launches a next-generation camera device at Beef 2021 today which enables farmers to take images of their farm assets and view them in real-time, via two-way satellite connectivity.
In a first for the Australian agriculture sector, farmers will be able to physically see water infrastructure, gates, fences or other assets with the touch of a button on their desktop, tablet or mobile device.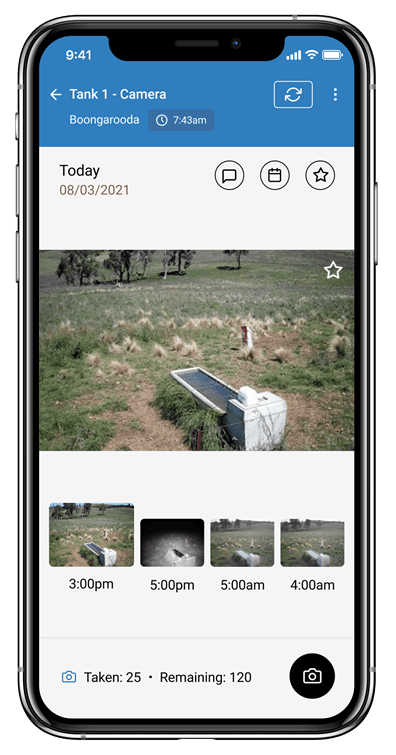 With an on-demand line-of-sight to key water infrastructure, the Farmbot Camera is the latest addition to Farmbot's remote monitoring systems offering, already widely adopted across the extensive beef industry.
"Our customers have seen significant savings and productivity boosts through real-time alerts and trend-based analysis of water consumption for many years," Farmbot managing director Andrew Coppin said.
"But this technology is a leap forward, it will revolutionise the way farmers see their property and the way they make decisions," he said.
The ability to take images of troughs, dams or tanks on demand meant that farmers can virtually be in multiple places at once, unlocking exponential productivity gains and boosting profitability, Mr Coppin said.
Without the need to physically travel to sites to view assets, producers using the Farmbot camera could free-up hours in each day, allowing them to plan their time more efficiently with time spent on higher-value, more strategic tasks.
Duplex satellite technology
During today's launch, Farmbot said its new camera was the first product in Australian agriculture to leverage duplex satellite technology, an innovation which allows two-way communication between a Farmbot monitor and user at a relatively affordable price-point. The technology is powered by leading satellite technology provider Inmarsat.
Mr Coppin said the Farmbot Camera was conceptualised, developed and tested in collaboration with Australian producers.
"Like all our product developments, the Farmbot Camera was driven by real customer requirements and feedback. Farmers are practical people, and our customers told us that being able to physically see troughs, dams and tanks without travelling to them would be game-changing for them," he said.
The product has been fully developed in Australia and is built for purpose. The durable camera housing has been made with Australia's harsh environmental conditions in mind and can be mounted in multiple different configurations depending on the intended application.
Depending on the needs of the farmer, the resolution of images can be adjusted based on the level of information they need from each image.
The camera has been launched in tandem with the next generation Farmbot unit, the Farmbot Duplex Satellite Monitor. Visually identical to previous Farmbot units, which monitor and reports on farm water ecosystems, delivering near real-time reporting on water trends, consumption and demand, the latest devices will power the duplex satellite technology.
Click here to view an earlier story on the uptake of Farmbot monitoring systems.
Producers interested in the technology can visit the Farmbot site while at at Beef21 at Rockhampton.