The much-anticipated asparagopsis seaweed-based feed ingredient that significantly reduces methane emissions in livestock is progressing its commercialisation with a large double-phase, highly anticipated feedlot demonstration.
FutureFeed, the company driving commercialisation of asparagopsis seaweed additives, has confirmed that the double study has already begun at an undisclosed feedlot site.
Both phases of the study will measure methane reduction in cattle in the feedlot environment, as well as any improvement in productivity through net feed conversion efficiency and average daily gain.
Apart from the scale of the trial, the latest studies will differ from previous work in using different asparagopsis species. The project will provide the most robust accounting of feed conversion efficiency impact to date.
A monitoring technology called GreenFeeder units will be used to measure enteric methane emissions from individual animals in the feedlot.
FutureFeed chief executive officer Dr Regan Crooks told Beef Central that the feedlot trials would look at a much larger number of animals than earlier laboratory trial work based on respiration chambers and GreenFeeders.
Earlier trials both in labs and with animals have shown that asparagopsis has a powerful effect in inhibiting methane emissions in cattle. Results to date have generally exceeded expectations.
Steers receiving the seaweed additive demonstrated methane reduction of 80pc to 98pc using the same level of seaweed in the feed base, with emissions inhibition effect varying slightly based on the feed base formulation.
Sense of anticipation
"We are quickly getting to the point where the FutureFeed product will become a commercial reality for cattle producers," Dr Crooks said.
A sense of anticipation was now evident about the product within the cattle industry, she said.
"We're already seeing huge interest from across the beef and dairy sectors, which is why we are now running these commercial demonstration trials. People are seeing the potential in the product, both from an emissions reduction point of view, as well as feed efficiency improvement. As all stakeholders in the industry know, there is increasing pressure to reduce methane emissions in livestock here in Australia, and globally."
Dr Crooks said the feedlot sector was chosen as the target for initial commercialisation because of the greater ability to control animal intake of the seaweed. Research to develop capability in extensive grazing applications was also a priority.
"Certainly applying the FutureFeed technology in grazing environments is the 'Holy Grail' for Australian cattle systems, but the feedlot sector is an obvious first target," she said. "But we are already investigating techniques to get the technology into grazing systems as soon as possible."
Supply side challenge
FutureFeed believes that forecast supplies of asparagopsis are sufficient to establish a large footprint in the feedlot sector.
Obviously in order for that to happen, adequate supplies of high quality seaweed material will need to be secured.
Dr Crooks said FutureFeed was pleased with the progress being made by cooperating seaweed growers, who were now 'laying the foundations' to produce asparagopsis at commercial scale.
"I'd expect that seaweed cultivation capability will accelerate next year. Currently there are a number of parties who are looking to grow the seaweed for commercial harvest, and we are in discussion with others seeking to join the enterprise," she said.
Australian companies known to have already embraced the potential of asparagopsis are SeaForest in Tasmania, and CH4 Global, operating out of South Australia.
Although other product forms are likely to be developed going forward, research to date from CSIRO, MLA, and JCU has proven the efficacy of freeze-dried seaweed at levels less than 0.5pc of feed dry weight. This is simply mixed directly into the feed in powdered form along with other everyday feedlot ration ingredients.
Asked whether supply of the seaweed meal was likely to be a limiting factor in the early stages of the product's commercial release, Dr Crooks said that was often the case in any new start-up company, but she was confident that the foundations were being laid for accelerated production.
"We anticipate that the timing will work nicely in matching supply with demand, by starting with the feedlot sector and then expanding into grazing systems, as supply grows," she said.
Two species of asparagopsis which grow in different water temperatures have been identified for production, which will help manage year-round supply and overcome seasonality issues.
At an approximate inclusion rate of 50 grams/animal/day, the feedlot industry would need only a 'few thousand tonnes' of dried asparagopsis meal each year to supplement a reasonable portion of the one million head on feed across the Australian feedlot industry, it has been calculated.
Feed utilisation performance gains offer second attraction
Potential for improved feed utilisation through the feeding of asparagopsis to cattle is increasingly being seen as more than 'just a bonus' on top of methane reduction.
Some earlier feedlot simulation trials have shown weight gain improvement in cattle fed with asparagopsis in their feed of 25pc over a 90-day finishing period, and topping 40pc in the final 60 days – and with no change to feed intake, over control animals. Researchers stressed, however, that such results would need to be demonstrated and confirmed in trials with much larger animal numbers and in a commercial environment.
About 12pc of feed value is lost in the digestion process as methane emissions from cattle, and with feed being the primary expense for producers, maximising feed utilisation efficiency is a prime focus.
"Some lotfeeders now see the potential feed expense benefits from feeding asparagopsis as being equally important as the emissions reduction benefit," Dr Crooke said.
Net feed efficiency and average daily gain were obviously an area in which lotfeeders were very interested, Dr Crooks said.
"We now want to demonstrate and quantify that in a larger feedlot setting," she said.
While FutureFeed was reluctant to put numbers around expectations over those gains at this stage, the company said based on earlier studies, it anticipated results to be "significant, and commercially attractive."
Any emission reductions that are achieved through the use of an asparagopsis additive would have the potential to be incorporated into commercial beef brand claims, Dr Crooke said.
Commercial launch
Assuming the upcoming feedlot trial results continue to be favourable, Beef Central asked how long how it would take to launch on the commercial market in Australia.
"Our expectation is that the initial supply is likely to be commercially available to first-adopters at the end of this year, or early 2022," Dr Crooks said.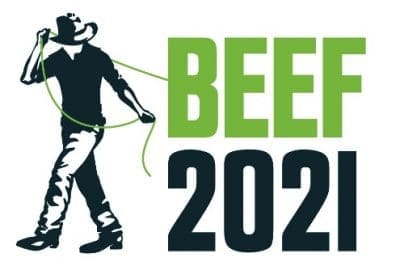 Beef 2021 presence
Representatives from FutureFeed will be attending the Beef 2021 industry event in Rockhampton from 3-7 May. Chief scientist Dr Rob Kinley will be making a presentation in the Ken Coombe Tech Yards, on Tuesday 4 May.
FutureFeed will also have a commercial display site in the Tech Yards area at TY24, and looks forward to engaging with cattle producers and other stakeholders about the technology.
About FutureFeed and the Asparagopsis seaweed additive:
The special properties of seaweed as a feed ingredient came of interest after a Canadian dairy farmer noticed cattle in his paddock near the sea-shore were more productive than his other cattle. He discovered the cattle produced more milk, were healthier and easier to manage and then provided it to the rest of his cattle.
He reached out to his friend and scientist Dr Rob Kinley, to explore why he was seeing what he was. During initial testing, it was discovered that greenhouse gas emissions were 18pc lower from the cattle that were eating the seaweed mix. Excited by this finding, a global search for seaweed with even more methane busting potency began. Dr Kinley joined the NQ beef research team at CSIRO to work with James Cook University macroalgae scientists on an MLA program in a quest to find a natural algae based feed ingredient to reduce methane.
From this, the FutureFeed company was born out of an IP partnership between CSIRO, Meat & Livestock Australia, and James Cook University.
FutureFeed Pty Ltd was established by CSIRO with investment support from Woolworths, GrainCorp, Harvest Road and AGP Sustainable Real Assets/Sparklabs Cultiv8. The company holds the global IP rights to technology developed by CSIRO, MLA and JCU.
It delivers supply chain access to its seaweed producers through a variety of license agreements.