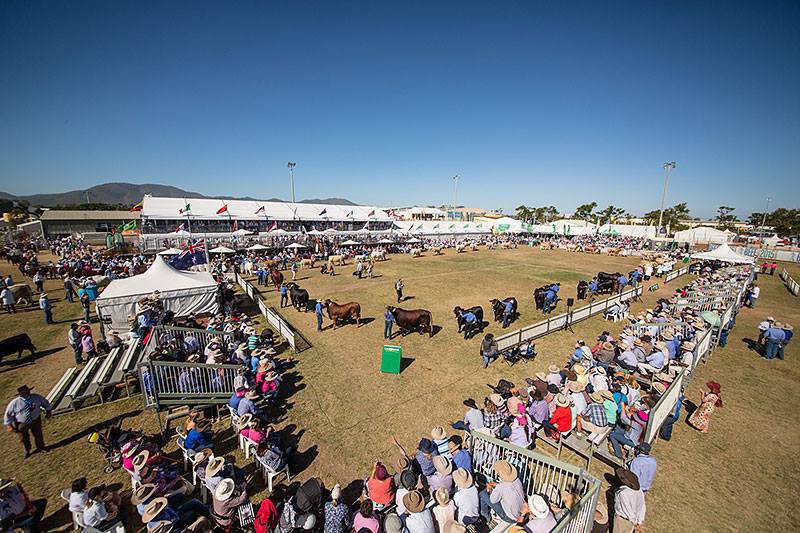 SEEDSTOCK producers have just days left to nominate entries for the nation's largest stud beef cattle exhibition, being staged during Beef 2021 in Rockhampton in May.
Entries close this Friday, 12 February for the event, which will see breed judging over two days on Tuesday and Wednesday May 4-5, followed by interbreed judging on Thursday May 6.
Late entries can still be made up to 12 March, but these attract a penalty, and should be avoided where possible.
Historically, Rockhampton's triennial Beef Expo stud beef competition is the largest in Australia, and the southern hemisphere. The 2018 event attracted some 1500 stud cattle, representing close to 30 British, European and tropical breeds. This is significantly larger than the next largest events, Brisbane RNA in August (900-1000 head each year), and Sydney's Royal Easter show (typically around 700-800 head).
Understandably, entries started slowly this year, given the uncertainty surrounding COVID, but have lifted sharply over the past ten days as the nomination deadline nears, stud cattle committee chairman Russell Hughes told Beef Central.
"We always see a late rush of entries before the closure date, and it's happened again this year," he said.
"But interest has been very high, and we've fielded exhibitor inquiries from right across Australia. We've just spoken to a Hereford bull breeder in Victoria, who has been holding-off posting his entries, because he wanted to see what's happening with state border access, etc."
Mr Hughes said a better idea of entry numbers would be available next week, but late entries could still add to that figure up to mid-March.
"We've been talking to various breed societies, and they are all talking similar numbers to what they exhibited three years ago," he said.
Asked whether the fact that there had been few regional agricultural shows over the past six months due to COVID would mean there were fewer cattle in show-preparation, Mr Hughes said it could work a couple of ways.
"Firstly, there might be a few cattle out there which aren't used to large crowds, having not competed on the local show circuit. There are certainly some people breaking-in cattle now that have not done any shows yet.
"But equally there are regional shows happening in coming months, certainly in Central Queensland, where shows like Springsure, The Caves and Marlborough will act as handy 'dress rehearsals' before Beef 2021."
The close proximity in dates this year of Sydney Royal Easter Show might also have some impact on Rocky entry numbers, some people suspect.
"But in general, stud breeders seem to perceive that it is a little safer to be heading north, rather than south, so we're confident exhibit numbers at beef 2021 will remain very healthy," Mr Hughes said.
In addition, a COVID shut-down in Sydney or Melbourne would typically affect NSW or Victorian regional livestock owners much less than their city cousins.
"There's certainly been a lot of interest shown from interstate exhibitors so far," he said. "Some have developed contingency plans with alternate routes, should NSW be closed, for example."
"One bull breeder from the Victor Harbour area in South Australia is determined to compete in Rockhampton – even if it means by-passing NSW/VIC all together (in the event of a COVID border closure), and travelling to Queensland via the Northern Territory."
Six judging rings in action
Several changes will be evident at this year's Expo. Firstly, no less than six judging rings will operate consecutively, to cater for the 30-odd breeds involved. In previous Expos, only five rings have operated.
Secondly, the Beef 2021 committee has negotiated the hire of temporary cattle rail and panel facilities from Brisbane's RNA, for temporary stud beef cattle accommodation during the May Rocky event.
Stud beef judges, and interbreed judges will be announced in coming weeks.
Click here to access the stud beef schedule.
About Beef 2021's Nutrien Stud Cattle Competition
The Nutrien Stud Cattle Competition is one of the jewels in the triennial Beef Australia program, and is recognised by the seedstock sector as the nation's premier stud cattle awards. The results of years, and for some producers, decades of work will be showcased over three days, as a team of esteemed and highly-qualified judges consider and assess around 1500 entries from 30 breeds. The competition will be closely contested, as owners vie to secure a prestigious Beef Australia broad ribbon, and be rewarded for their efforts devoted to the pursuit of excellence.