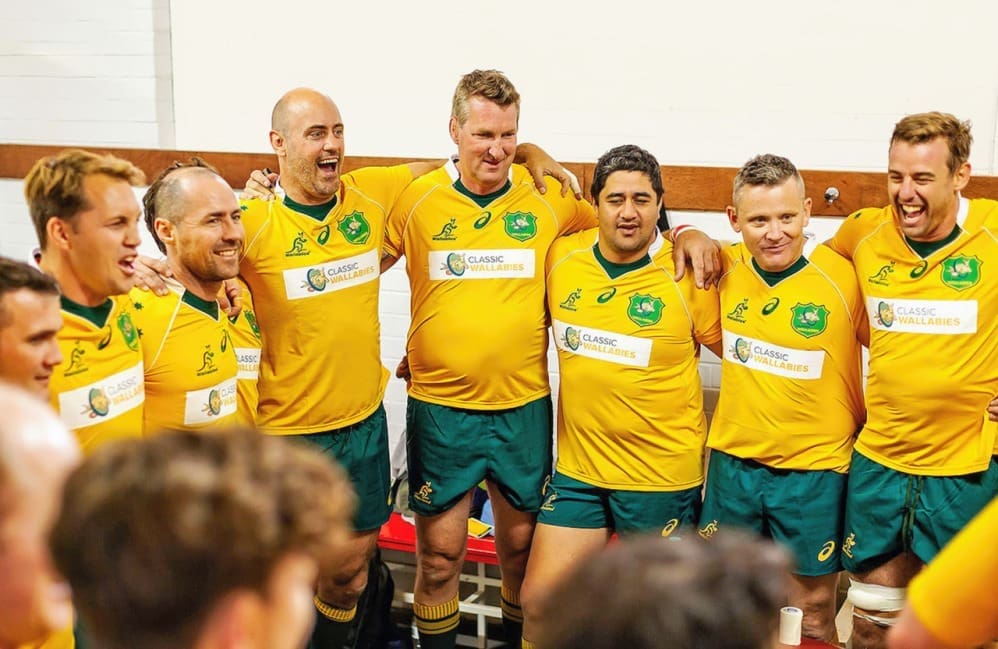 The Classic Wallabies – a team made up of former legends of Australian Rugby – is set to light up Rockhampton's Victoria Park with their fancy foot work and quick wit, when they tackle the Beef Barbarians during May's Beef 2021 event in Rockhampton.
The scratch Beef Barbarians team, made up of rugby-playing beef producers and industry identities,  has been drafted from right across the country for this one challenge , by 'Super Selector' Brad Hanson.
The challenge takes place at Victoria Park, near the Beef 2021 venue, on Friday 7 May. Action kicks off from 3.30pm with the 'Beef Capital Plate' U21s City V Country Women's 10's and 'The Beef Capital Cup' U21s City V Country Mens, followed by the Classic Wallabies Vs The Beef Barbarians clash from 6.30pm. There will be live entertainment post-match.
The Classic Wallabies are made up of former Rugby Internationals featuring Rockhampton's own local boy, Stephen Moore, a former Wallabies captain who until recently worked for the North Australian Pastoral Co.
A great place to watch what no doubt will be very spirited rugby, is to secure a ticket to the Classic Wallabies Inner Sanctum Pavilion.
The program spread over a five-hour window of non-stop action and entertainment offers families exceptional value for money, with adult at $15 Adults and kids Under 18 are free, although all attendees including the kids must secure a ticket on line under the Beef 2021 Covid Safe Event Plan.
Bars and food outlets will be operating. Everyone on ground will have the opportunity to meet the Classic Wallabies – an autograph and selfie hunters delight.
For just $95, patrons can not only see "the game they play in heaven" between two fantastic teams, but upgrade to a Private Corporate area where they will rub shoulders with the Wallabies. The Package includes ground admission, food and beverage package in a private area.
Beef 2021's Knight Frank Agribusiness Classic Wallabies Sportsman's Lunch sold out within days of the release of tickets last month, so rugby fans are urged to get in quick to secure seats for the much-anticipated afternoon of Rugby – one of the highlights of the Beef 2021 program.
The Classic Wallabies are renowned for their work right across Australia but particularly in regional and rural communities.  They allow people not blessed with a Campese sidestep or an Ella flick pass to participate in a game of Rugby regardless of shape, size, background or skill level.
Tickets are on sale now. Click here to access.